Personalized store
Diverse designs to make your store shine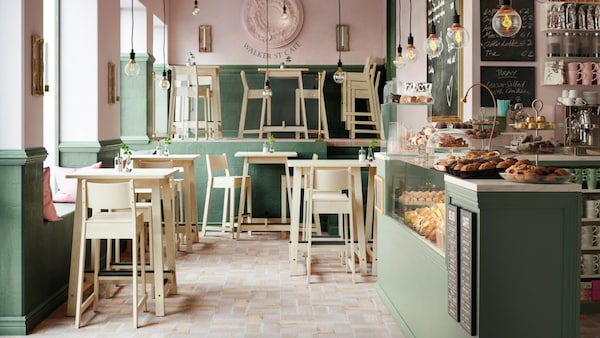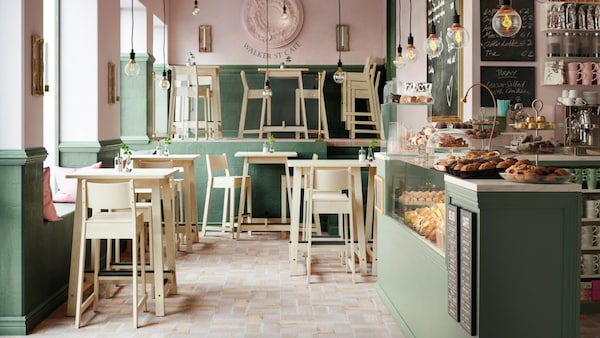 Furniture to make your shop shine
In a successful shop, display solutions, storage, lighting, workspaces and other elements all blend together perfectly. Here you can find products and ideas for creating your own retail magic formula. Don't forget, we can also deliver and assemble.

Home visit: family home meets bakery business
3 tips to make your space feel not-so-small
5 tips for a relaxing setting
Let's build your brand!
Want to create a unique concept and identity that represents the idea behind your product or service? Welcome to IKEA! We have a wide range of products that are designed to support any concept – from minimalistic yoga retreats to trendy barber shops.
Need a counter? Get a kitchen!
If you're looking for a display and storage solution for your shop or boutique, a kitchen might be the best choice. Yes, that's right. METOD, our new kitchen system, is as smart for business owners as for anybody else. Storing, organising, and showing off – this flexible system offers limitless possibilities.
Organise your business
Great storage solutions are one of the business owners' best friends. That's why we let them come in many shapes. Open and closed. On rails and hooks. In baskets and boxes. That way they're sure to meet your needs – whether you run a grocery store, a pet shop or a clothing boutique.
From idea to reality with IKEA
Use IKEA planning tools and see your dream business come to life. Play around with your choice of colours, styles, sizes and configurations and plan your way to perfection!
How to get the help you need
The easiest way to take advantage of our services is to visit your local store. You can also contact us – we'll do our best to answer any questions you might have.
You might also be interested in