The first IKEA Store in Suzhou!
Brand new IKEA Suzhou Store has 56 inspirational room settings, more than 8,500 products, 700 seats in restaurant and free Smaland which is the great place for you and your family to spend whole day to enjoy!
Flat pack is the great design of IKEA which enable you to bring the product by yourself and enjoy today! IKEA Suzhou Store has 1,000 parking spaces and easy for you to drive product home!
Opening Hours
Store: 10:00-21:00
Restaurant: 10:00-20:00
Store Address
No. 17 Chengji Road, Xushuguan Town, Gaoxin District, Suzhou (intersection of Chengji Road & Datong Road / North line of Middle ring road)
If you cannot speak Chinese, please show below address to the taxi driver:
"我要去苏州宜家家居,高新区浒墅关城际路17号,中环北线大同路路口, 谢谢。"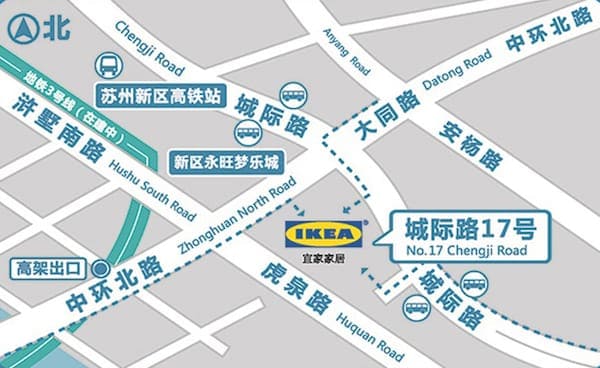 Public bus
Bus No.8, Bus No.32, Bus No.335, Bus No.356