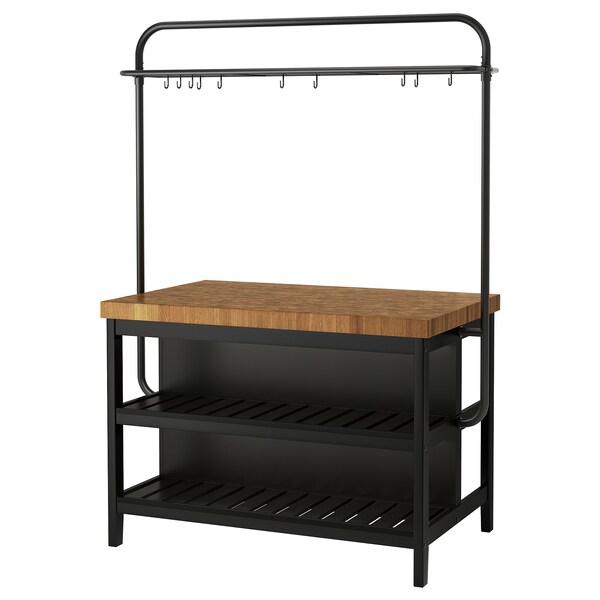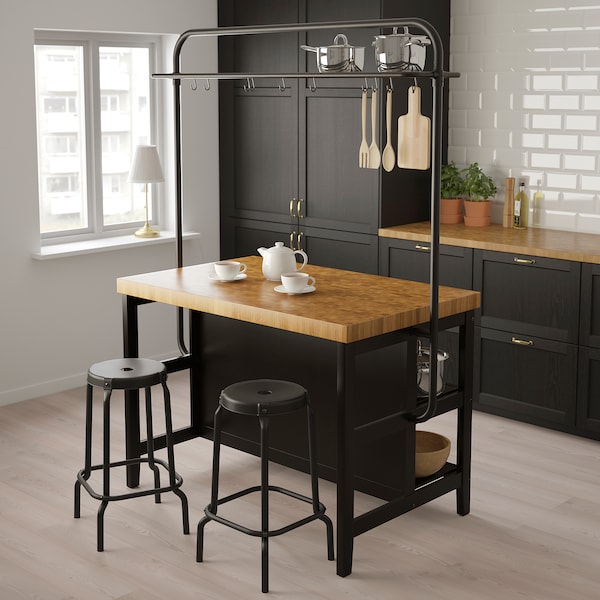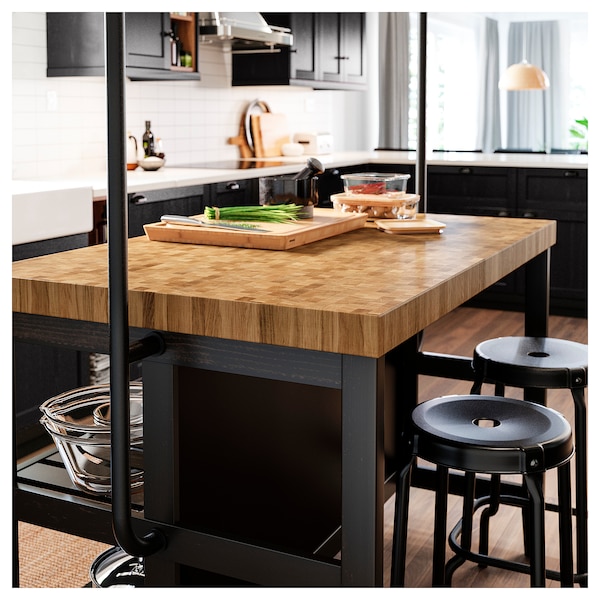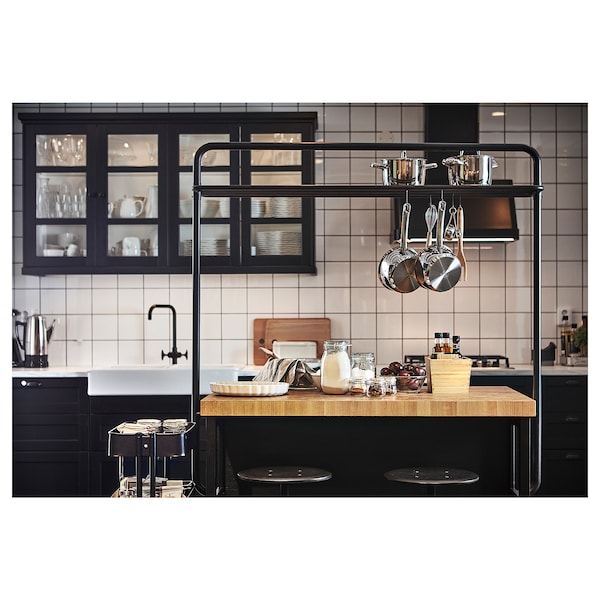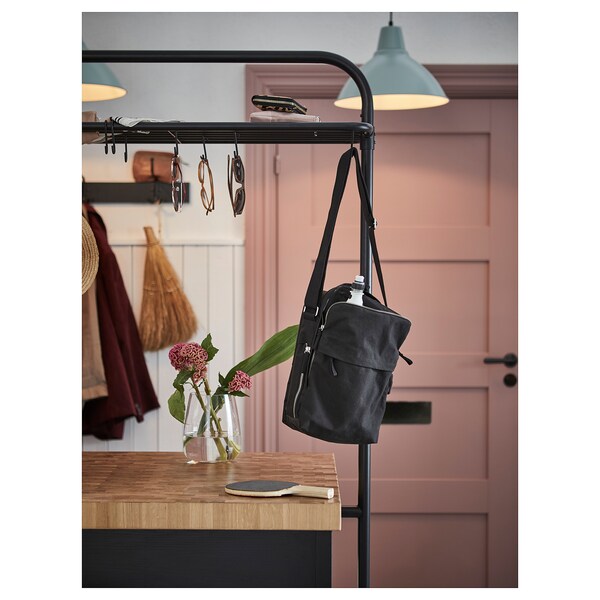 Gather around the kitchen island! VADHOLMA is the home's given meeting point and perfect when you cook together. Plenty of island and rack storage ‒ and the butcher block gives you a robust workspace.
392.762.29
Product details
Free-standing kitchen island; easy to place where you want it in the kitchen.
Gives you extra storage, utility and work space.
Worktop with a thick oak veneer, a hardwearing natural material that can be sanded and surface treated when required.
For quick installation and easy maintenance the worktop is pre-treated with hard wax oil.
Layer construction adds stability and makes the worktop less sensitive to humidity, thus, less likely to bend, split or crack than solid wood.
The worktop has an end-grain design that gives it a rustic charm that complements traditional kitchen styles. The expression is enhanced by design on the edges.
25 year guarantee. Read about the terms in the guarantee brochure.
Please refer to packaging label for country of origin.
VADHOLMA rack for kitchen island is included in the price, but packaged separately.
Can be purchased without VADHOLMA rack for kitchen island.
10 hooks for hanging up kitchen utensils are included.
Bar stools with seat height 63 cm fit in well with this kitchen island.
Designer
Ebba Strandmark
Kitchen island

Work top:

Particleboard, Honeycomb structure paper filling (min. 70% recycled), Solid oak, Oil-acrylic

Edge:

Solid oak, Oil-acrylic

Leg/ Underframe:

Solid beech, Particleboard, Solid beech, Acrylic paint

Fixed partition:

Particleboard, High-pressure melamine laminate, Plastic edging

Shelf:

Particleboard, Solid beech, Acrylic paint

Rack for kitchen island

Wipe clean with a dry cloth.

Wipe clean with a soft cloth dampened in water and a mild non-abrasive washing-up detergent or soap, if necessary.

Kitchen island

Wipe clean with a dry cloth.

Wipe clean with a soft cloth dampened in water and a mild non-abrasive washing-up detergent or soap, if necessary.

Light stains can be removed with a sponge damped in water or a mild soapy solution, or with a fine sandpaper.

Kitchen island

We have clear requirements for all the wood we use, including a ban on illegally harvested wood. By 2020, we want all our wood to come from more sustainable sources, defined as certified or recycled.

This product consists ofmes as 3 packages.

VADHOLMA

Kitchen island

Article no:

803.591.89

This product has multiple packages.

Width: 80 cm

Height: 17 cm

Length: 122 cm

Weight: 32.20 kg

Package(s): 1

Width: 82 cm

Height: 7 cm

Length: 132 cm

Weight: 24.41 kg

Package(s): 1

VADHOLMA

Rack for kitchen island

Article no:

404.023.83

Width: 35 cm

Height: 7 cm

Length: 148 cm

Weight: 10.35 kg

Package(s): 1
Product size
Width: 

126 cm

Depth: 

79 cm

Height: 

90 cm

Total height: 

193 cm
VADHOLMA
Kitchen island with rack, black/oak
126x79x193 cm