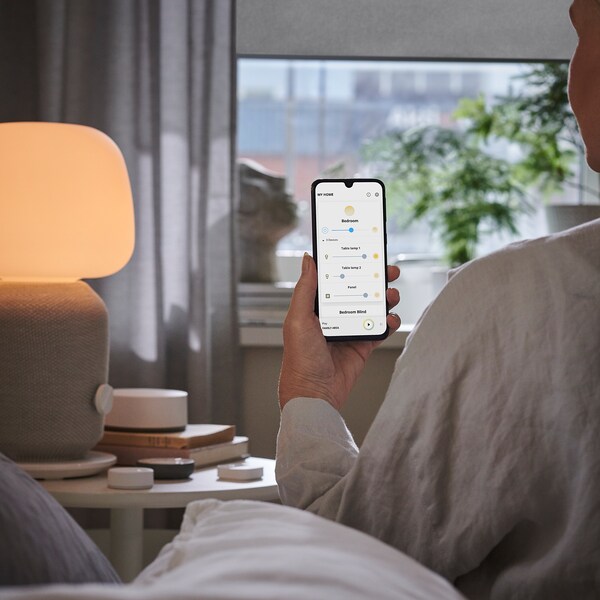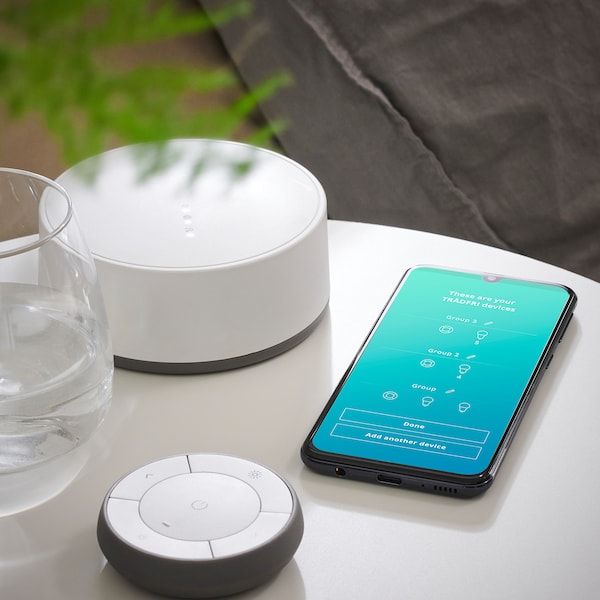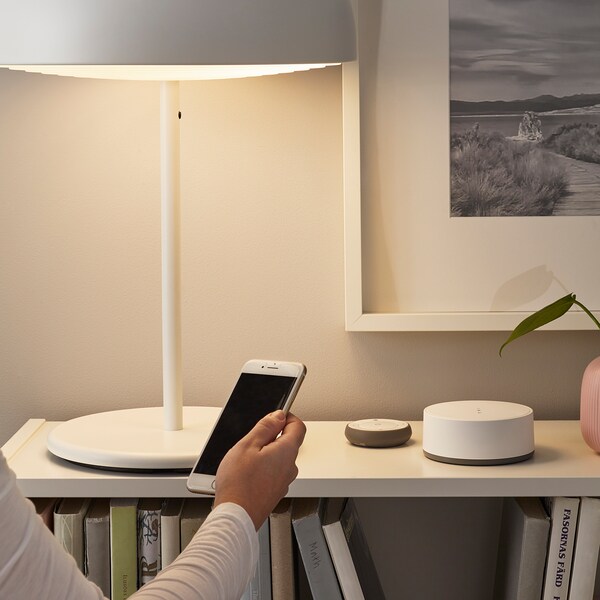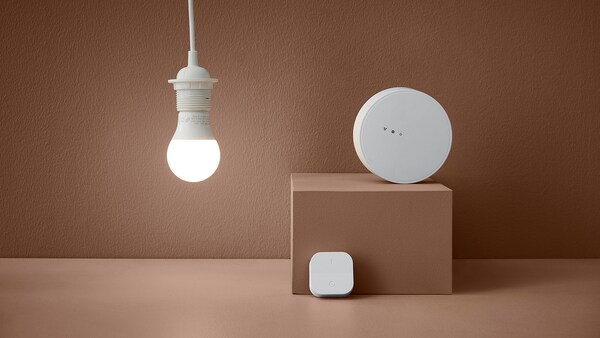 Return policy
With the gateway it's easy for anyone to use smart products. With the TRÅDFRI gateway you can connect your smart IKEA products such as blinds, light bulbs & speakers and control them with the IKEA Home smart app through a phone or tablet.
Read More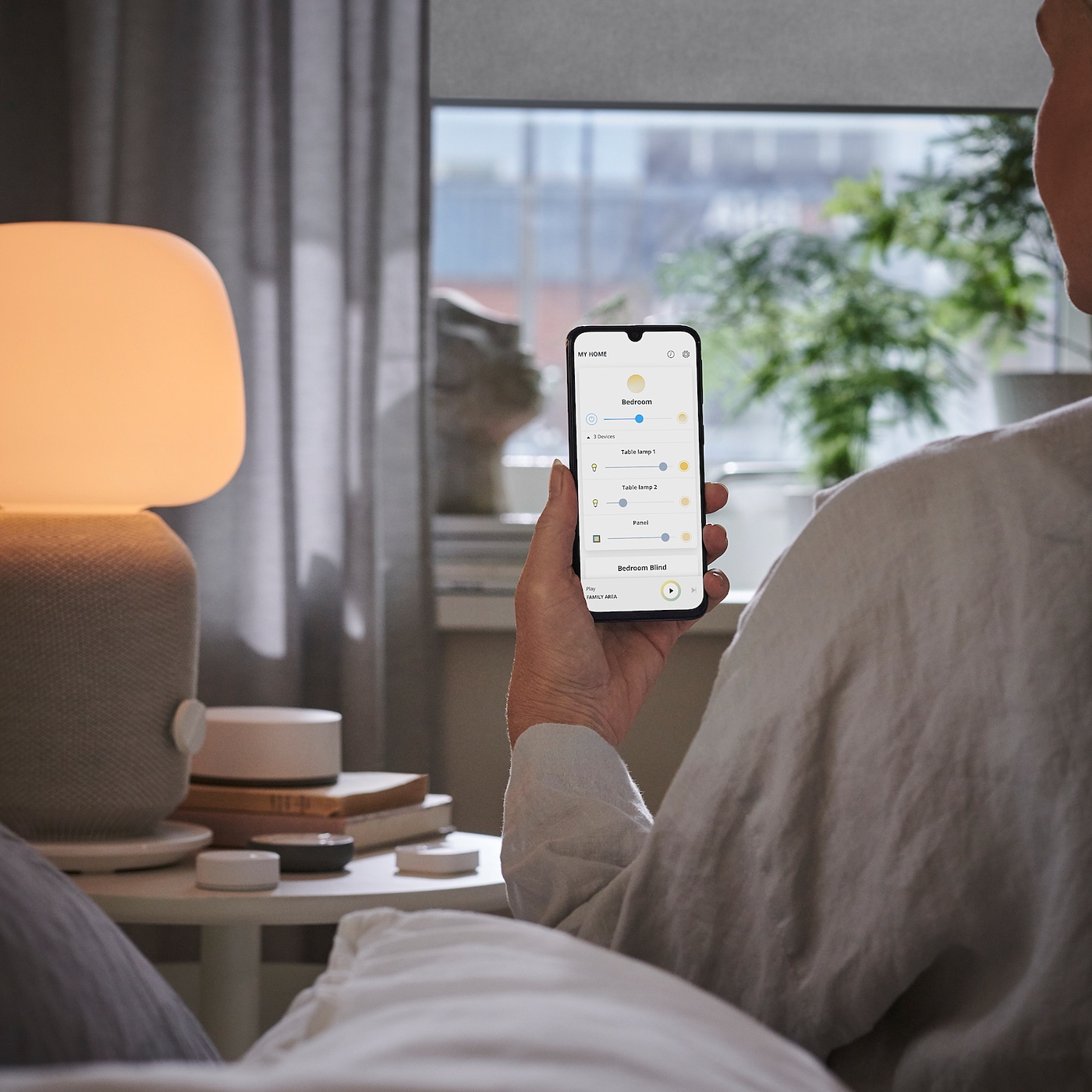 Most people who want to make their home smarter, start with the lighting. When you add the TRÅDFRI gateway, you can make it even smarter. Together with connected lamps you can set different scenes and timers – so you always wake up with a soft, gentle light in the mornings and can call 'lights out' when it's bedtime. "You can connect many different product types to the TRÅDFRI gateway. All to make your life at home more convenient, in more than one way," says Rebecca Töreman who works with connected products at IKEA.
Improving life at home
Smart lighting is one way we're using technology to improve life at home. Imagine a cosy weekday family dinner, lights glowing soft and warm. When the meal is done, the table is cleared for homework, which calls for clean, bright light. The goal of Rebecca and the Smart lighting team is to make that transition simple and smooth. Literally, it can be at the touch of a button. "Lighting is such an important part of life at home," says Rebecca. "You do so many activities every day at home and the light needs to support you in doing all these things." The range is made up of products that can be combined to create a personalised home lighting solution. It includes LED bulbs, panels and cabinet doors that can all be controlled by a remote. You can dim them and even change the tone of the light, from warm to cold. One remote can control up to 10 Smart lighting products.
Making home tech affordable
Smart lighting technology isn't new, but so far it hasn't been so accessible. "It's been very expensive and complicated," says Rebecca. "If we can develop Smart lighting that's easy to understand and affordable, it actually becomes accessible to the many people." When it comes to cost, Rebecca and her team set a personal goal. "What would we want to pay for a light bulb like this?" asks Rebecca. "We've been going back to this idea throughout the whole process." Working with large volumes has helped lower costs. And, by collaborating with experienced tech suppliers, we've been able to find smart ways to save. Those savings are then passed on to the customer.
User friendly and convenient
By offering "kits" that have everything you need to get started, we make it easier to have Smart lighting in your home. And, if you end up wanting to expand your solution, it's simple. "You can start with the function that suits you and your family's life, and you can build on that," says Rebecca. You can look forward to even more Smart lighting products from IKEA in the future. "There will be upgrades and new things customers can do to improve and build on the system," says Rebecca, who sees a fuss-free future where very little can interrupt a lazy afternoon. "If you sit in your sofa and want to turn on the light, but the light switch is over on the wall, well, obviously with the wireless remote you don't actually have to get up!"
If it's simple to use, it's smart
With the help of the TRÅDFRI gateway, IKEA connected products can be steered through the IKEA Home smart app or a voice assistant like Amazon Alexa, Apple Siri or Google Assistant. Say 'dinner time' to dim the lights and play your favourite music in the background. Or flood the room with light so no spot or crumb can hide when it's time to clean up. "We're using a standard technology and adapting it to peoples' needs as home furnishing specialists, not tech specialists. We want our connected products to be easy to use – you shouldn't have to be an engineer to make them work," says Rebecca.
More connected products are coming
From being toys mostly for people interested in new gadgets, connected products have become useful instruments to tackle common everyday inconveniences. It has inspired Rebecca and her colleagues to explore more ways to make the home more comfortable. Blinds that automatically open while you're still in bed is one example. "We're continuously adding new products that work with TRÅDFRI gateway and the IKEA Home smart app. You can update your home with new functions and make it as smart as you want, in the pace you prefer."
---