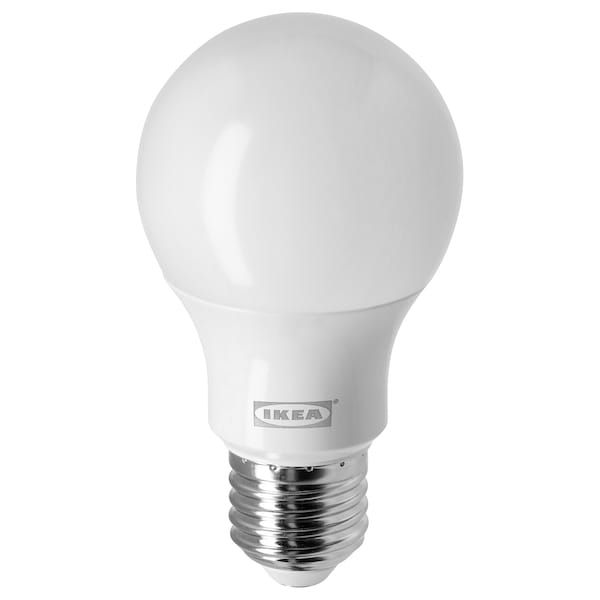 Product details
Please refer to packaging label for country of origin.
The light from this LED bulb feels as strong as the light from a traditional 40W incandescent bulb.
Not dimmable.
LED life time approx. 15.000 hours.
Light colour: warm white (2700 Kelvin).
Use an opal light bulb if you have an ordinary lamp shade or lamp and want an even, diffused distribution of light.
The light bulb can be used in temperatures from -20°C till +40°C.
Lights up directly when switched on.
Designer
IKEA of Sweden
We only offer LED lighting in our range.

Contains no mercury.

Special waste handling may be required. Please contact your local authorities for more information.

RYET

LED bulb E27 470 lumen

Article no:

804.387.09

Width: 6 cm

Height: 6 cm

Length: 12 cm

Weight: 0.05 kg

Package(s): 1
TECHNICAL INFORMATION
RYET
LED bulb E27 470 lumen
| | |
| --- | --- |
| Brand name | IKEA |
| Model identifier | LED1910G5 |
| Energy efficiency class | A++ |
| Weighted energy consumption | 4,5 |
| Nominal luminous flux | 470 |
| Nominal life time | 15000 |
| Number of switching cycles | 15000 |
| Colour temperature | 2700 |
| Warm-up time to 60% of the full light output | <1s |
| Lamp dimensions | 110x60 |
| Lamp mercury content | 0 |
| Website to consult in case of accidental lamp breakage | www.ikea.com |
| Rated wattage | 4,5 |
| Rated luminous flux | 470 |
| Rated lamp life time | 15000 |
| Lamp power factor | 0,5 |
| Lumen maintenace factor at the end of the nominal life | 70% |
| Starting time | <0,3s |
| Colour rendering | 80 |
| Instructions on how to clean up lamp debris in case of accidental breakage | www.ikea.com |
| Recommendations on how to dispose of the lamp at its end of life | www.ikea.com |
Product size
Colour Temperature: 

2700 K

Luminous flux: 

470 lm

Diameter: 

60 mm

Power: 

4.5 W

Package quantity: 

1 pack
RYET
LED bulb E27 470 lumen, globe opal white