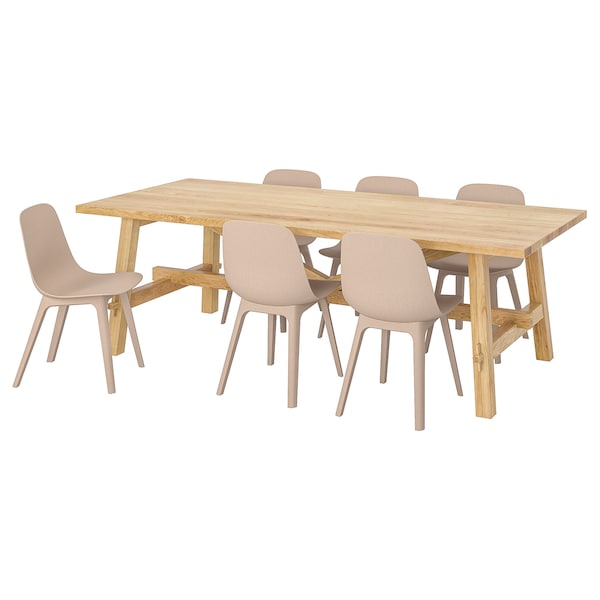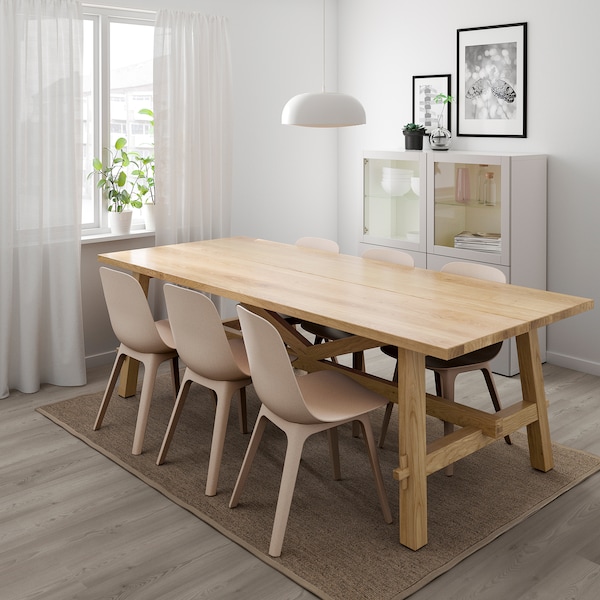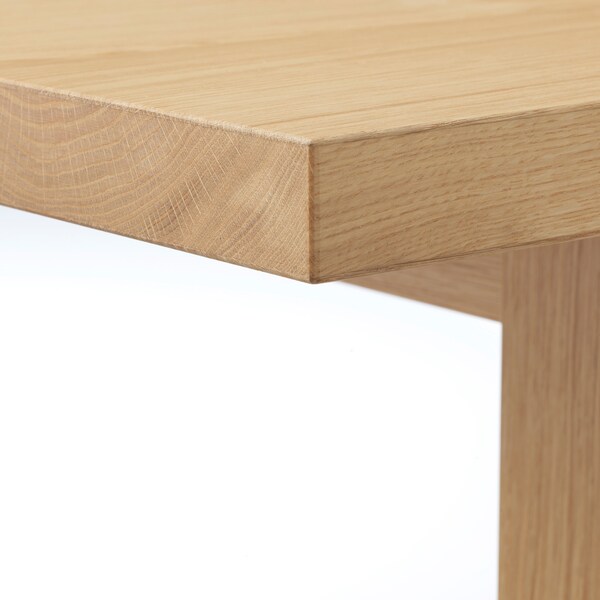 Product details
Every table is unique, with varying grain pattern and natural colour shifts that are part of the charm of wood.
Good environmental choice, because the method of using a top layer of solid wood on particleboard is resource-efficient.
Table with a top layer of solid wood, a hardwearing natural material that can be sanded and surface treated when required.
The plank expression is enhanced by the design on the edges.
The table has a full plank design that gives it an authentic plank expression with a genuine wood feeling.
Please refer to packaging label for country of origin.
Seats 6.
The tabletop has a 3 mm top layer of solid oak over particleboard.
Designer
J Löfgren/J Pettersson/Marcus Arvonen
Table

Table top:

Particleboard, Thick oak veneer, Clear acrylic lacquer

Leg/ Underframe/ Cross rail:

Particleboard, Solid oak, Thick oak veneer, Clear acrylic lacquer

Chair

Seat shell/ Leg frame/ Handle:

Wood Plastic Composite

When the surface of the tabletop starts to wear or become dry, treat it with wood treatment oil.

Wipe clean with a soft cloth dampened in water and a mild washing-up detergent or soap, if necessary.

Wipe dry with a clean cloth.

For maximum quality, re-tighten the screws when necessary.

The tabletop is pre-treated with hard wax oil and no other treatment is necessary until the surface starts to wear.

Table

Possible to separate for recycling or energy recovery if available in your community.

By using a renewable material like wood in this product, we avoid using fossil or finite materials.

This product consists ofmes as 9 packages.

MÖCKELBY

Table

Article no:

802.937.73

This product has multiple packages.

Width: 55 cm

Height: 5 cm

Length: 242 cm

Weight: 30.83 kg

Package(s): 1

Width: 55 cm

Height: 5 cm

Length: 242 cm

Weight: 30.83 kg

Package(s): 1

Width: 90 cm

Height: 9 cm

Length: 221 cm

Weight: 31.63 kg

Package(s): 1

ODGER

Chair

Article no:

403.599.97

Width: 50 cm

Height: 49 cm

Length: 55 cm

Weight: 6.44 kg

Package(s): 6
Product size
Length: 

235 cm

Width: 

100 cm

Height: 

74 cm
MÖCKELBY / ODGER
Table and 6 chairs, oak/white/beige
235x100 cm