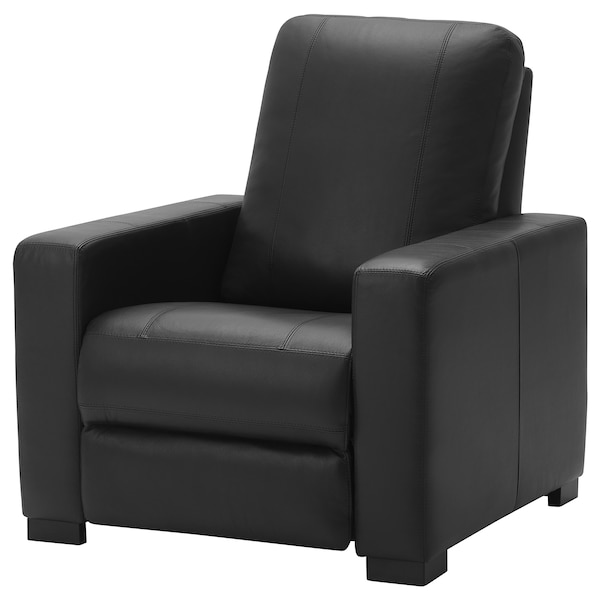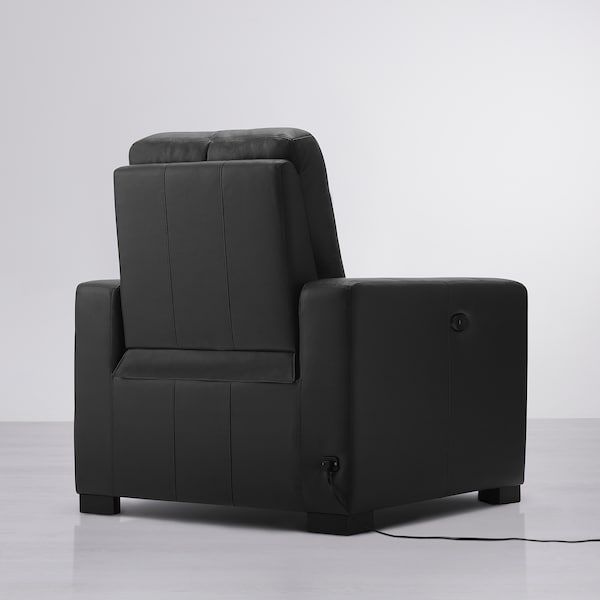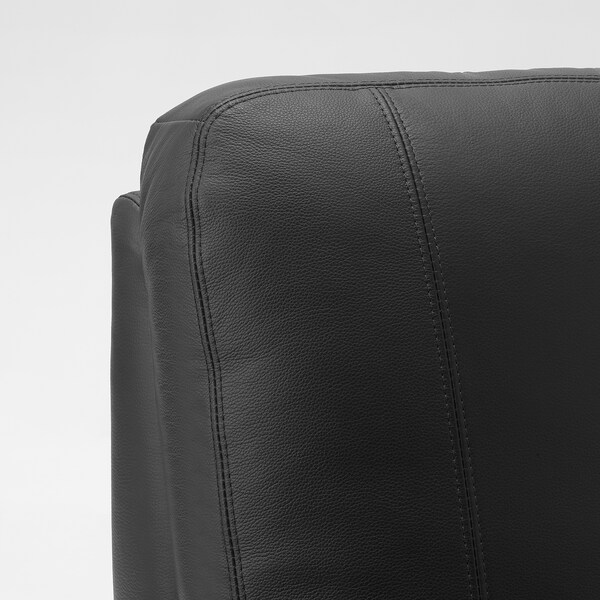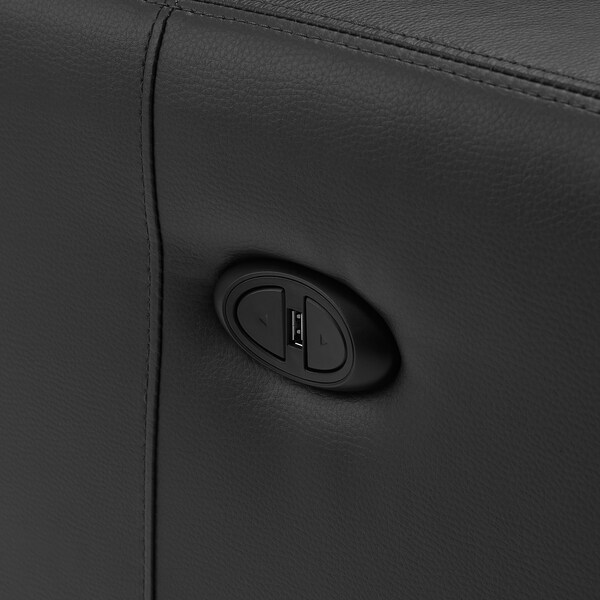 Product details
You can easily adjust the seat and back in a position that feels comfortable by pushing the built-in control in the right armrest.
There is also a USB port in the control – smart when you need to charge your phone or tablet.
The frame has a 10-year guarantee and the motor has a 2-year guarantee. Read about the terms in the guarantee brochure.
Adjustable seat and back angle; can be locked in the desired position.
Seat cushions filled with high resilience foam and polyester fibre wadding provide great seating comfort.
The contact surfaces are covered with GRANN – a soft, smooth and strong grain leather with natural variations. Other surfaces have BOMSTAD, a coated fabric that has a similar look and feel to leather.
Please refer to packaging label for country of origin.
The armchair is not chargeable - power supply occurs via a cable to the wall socket. A transformer is included.
The USB port is for IT/AV equipment use only.
Current USB port: Max. 2000mA.
Voltage USB port: 5Vdc.
Transformer included.
WARNING! Squeeze hazard. Do not allow small children to play with the control button by the armrest.
Coated fabric:

75% polyester, 25% cotton, 100% polyurethane

Basematerial:

Through dyed grain leather from cattle, with a treated, embossed and pigmented surface

Seat frame:

Plywood, Solid wood, Highly resilient polyurethane foam (cold foam) 35 kg/cu.m., Polyurethane foam 25 kg/cu.m., Polyester wadding, Non-woven polypropylene, 100% polyester, Non-woven polypropylene

Back frame:

Plywood, Solid wood, Fibreboard, Polyurethane foam 25 kg/cu.m., Polyurethane foam 20 kg/cu.m., Polyester wadding, Non-woven polypropylene, 100 % polyester - hollow fibre, Non-woven polypropylene

Armrest frame:

Plywood, Solid wood, Fibreboard, Polyurethane foam 25 kg/cu.m., Polyurethane foam 20 kg/cu.m., Polyester wadding, Non-woven polypropylene

Leather:

Grain leather from cattle

Coated fabric:

52% polyester, 31% polyurethane, 17% cotton

Vacuum clean.

Wet marks should always be dried off as soon as possible to stop moisture penetration.

Light stains can be removed with textile cleaner or a sponge damped in water or a mild soapy solution.

Protect your sofa from direct sunlight.

All leather in IKEA products is chrome-free since 2017. This prevents any risks of chrome VI which can be harmful to workers in production and to the environment when a product reaches its end-of-life.

Since September 2016, all coated fabric in IKEA products is free from DMF (dimethylformamid). DMF is a solvent that can be toxic for people in the production and to the environment.

KNOHULT

Armchair w adjustable seat/back

Article no:

803.981.24

Width: 93 cm

Height: 78 cm

Length: 98 cm

Weight: 52.00 kg

Package(s): 1
Product size
Width: 

93 cm

Depth: 

90 cm

Height: 

103 cm

Seat width: 

57 cm

Seat depth: 

56 cm

Seat height: 

47.5 cm