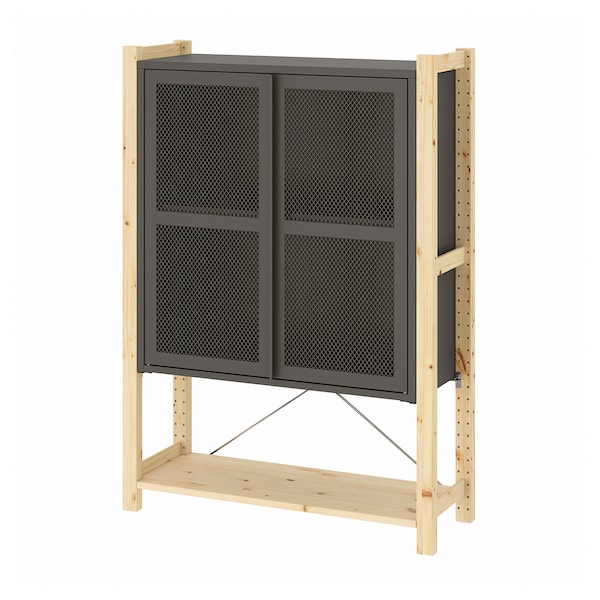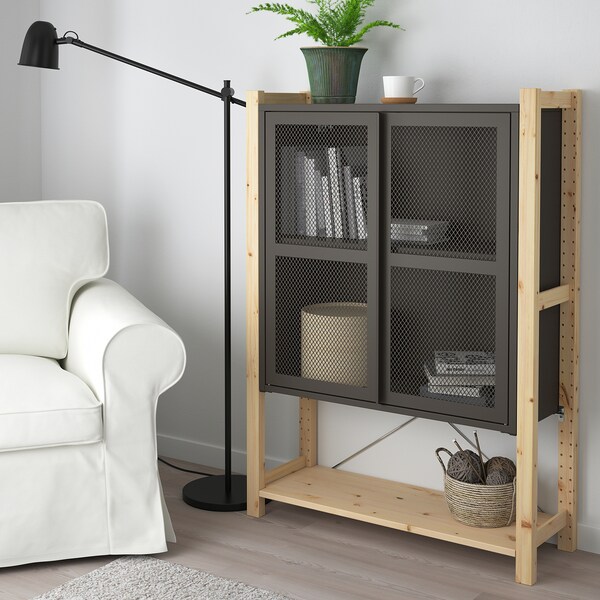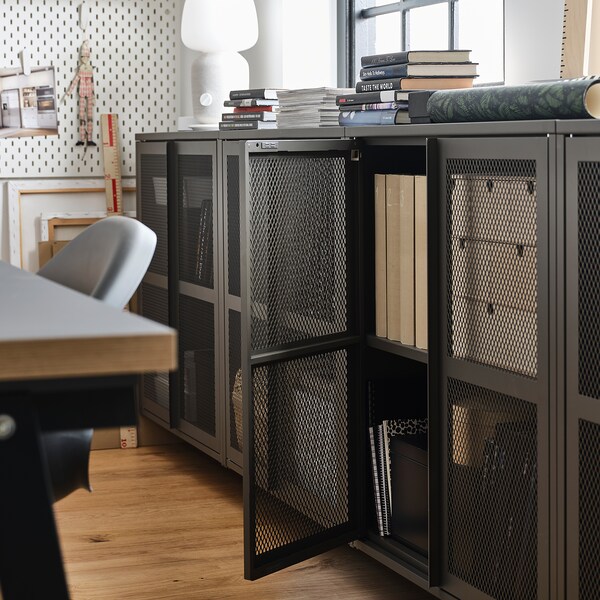 This spacious IVAR storage combination fits in a garage, living room or hallway. You can hide things in the drawers and cabinets with mesh doors – and have other things close at hand on the wooden shelves.
Article number
793.957.77
Product details
To minimise the amount of residual waste, small holes are punched in the metal which is then stretched until it eventually becomes a mesh net.
The mesh net is produced according to the "zero waste" principle, which involves minimal waste during production and that the material should be reusable after the product is used.
The cabinet fits in IVAR storage system, but you can also use it freestanding.
The sturdy solid pine in IVAR storage system has natural variations in its grain, colour and surface structure – giving each piece a unique look.
IVAR storage system is made of sustainably-sourced solid pine – a renewable natural material that only gets more beautiful over the years
You can easily customise the storage combination to your needs by completing with hooks, drawers and more shelves or cabinets from IVAR storage system. Sold separately.
Please refer to packaging label for country of origin.
1 adjustable shelf included.
Dimensioned for IVAR shelf sections 89x30x124 cm, 89x30x179 cm, and 89x30x226 cm.
Only for indoor use.
We recommend you to fix the furniture to the wall with the enclosed safety fitting to prevent it from tipping over if a child climbs or hangs on it.
Different wall materials require different types of fixing devices. Use fixing devices suitable for the walls in your home, sold separately.
For higher stability, complete every second section with a cross-brace.
Cabinet with doors

Frame:

Steel, Steel, Epoxy/polyester powder coating

Basematerial/ Door:

Steel, Epoxy/polyester powder coating

Cabinet with doors

Wipe clean with a cloth dampened in a mild cleaner.

Wipe dry with a clean cloth.

Side unit

Wipe clean with a dry cloth.

Stains can be removed by using an eraser or fine sandpaper.

Shelf

Wipe clean with a dry cloth.

Stains can be removed by using an eraser or fine sandpaper.

Can be treated with oil, wax, lacquer or glazing paint for higher resistance and easy care.

Cabinet with doors/cross-brace

Product is possible to recycle or use for energy recovery, if available in your community.

Side unit

Product is possible to recycle or use for energy recovery, if available in your community.

By using a renewable material like wood in this product, we avoid using fossil or finite materials.

We want to have a positive impact on the planet. That is why by 2030, we want all materials in our products to be recycled or renewable, and sourced in responsible ways.

Shelf

Possible to separate for recycling or energy recovery if available in your community.

By using a renewable material like wood in this product, we avoid using fossil or finite materials.

We want to have a positive impact on the planet. That is why by 2030, we want all materials in our products to be recycled or renewable, and sourced in responsible ways.

This product consists ofmes as 5 packages.

IVAR

Cabinet with doors

Article no:

804.840.89

Width: 45 cm

Height: 19 cm

Length: 85 cm

Weight: 18.50 kg

Package(s): 1

IVAR

Side unit

Article no:

701.928.40

Width: 30 cm

Height: 4 cm

Length: 124 cm

Weight: 1.86 kg

Package(s): 2

OBSERVATÖR

Cross-brace

Article no:

101.895.48

Width: 1 cm

Height: 1 cm

Length: 102 cm

Weight: 0.21 kg

Package(s): 1

IVAR

Shelf

Article no:

103.181.64

Width: 30 cm

Height: 2 cm

Length: 83 cm

Weight: 2.31 kg

Package(s): 1
Product size
Width: 

89 cm

Depth: 

30 cm

Height: 

124 cm
IVAR
Cabinet with doors, pine/grey mesh
89x30x124 cm