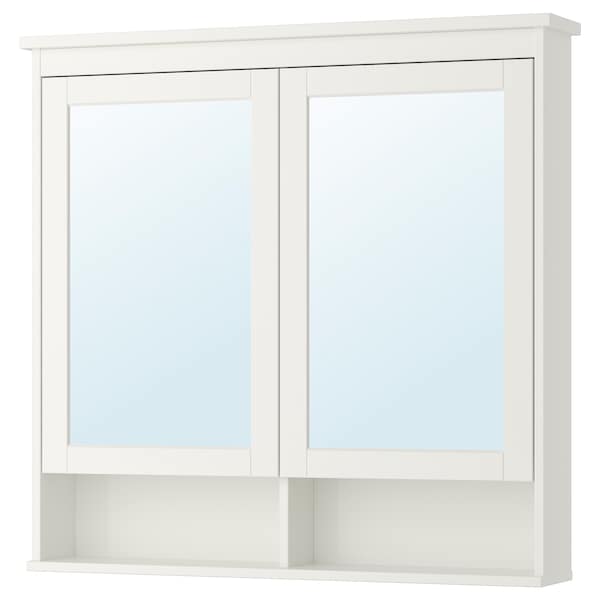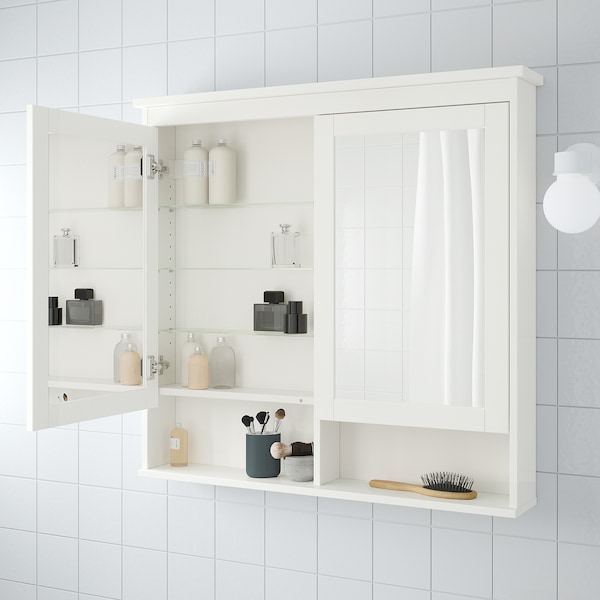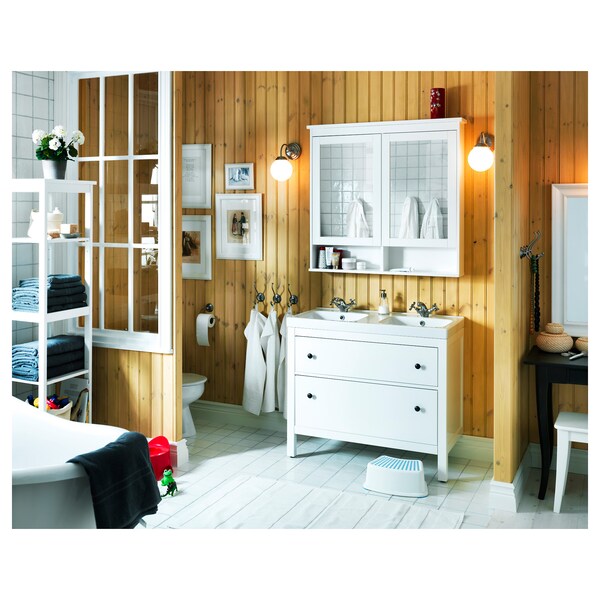 Product details
The adjustable shelves are extra heat- and impact-resistant and have a high load-bearing capacity since they are made of tempered glass.
The mirror comes with safety film on the back, which reduces the risk of injury if the glass is broken.
Please refer to packaging label for country of origin.
6 adjustable shelves included.
Different wall materials require different types of fixing devices. Use fixing devices suitable for the walls in your home, sold separately.
Two persons are needed for the assembly of this furniture.
Designer
T Christensen/K Legaard
Frame/ Door frame:

Fibreboard, Pigmented polyester powder coating

Adjustable shelf:

Tempered glass

Back panel:

Fibreboard, Acrylic paint

Wipe clean with a cloth dampened in a mild cleaner.

Wipe dry with a clean cloth.

Wet marks should always be dried off as soon as possible to stop moisture penetration.

We have clear requirements for all the wood we use, including a ban on illegally harvested wood. By 2020, we want all our wood to come from more sustainable sources, defined as certified or recycled.

Lead-free mirrors – No lead added in manufacturing of our mirrors.

At least 50% (weight) of this product is made from renewable materials.

Possible to separate for recycling or energy recovery if available in your community.

This product consists ofmes as 2 packages.

HEMNES

Mirror cabinet with 2 doors

Article no:

602.176.81

This product has multiple packages.

Width: 51 cm

Height: 5 cm

Length: 102 cm

Weight: 19.52 kg

Package(s): 1

Width: 30 cm

Height: 7 cm

Length: 106 cm

Weight: 11.50 kg

Package(s): 1
Product size
Width: 

103 cm

Depth: 

16 cm

Height: 

98 cm
HEMNES
Mirror cabinet with 2 doors, white
103x16x98 cm
limited to 10 pieces per item.
You have 365 days to change your mind. Read More