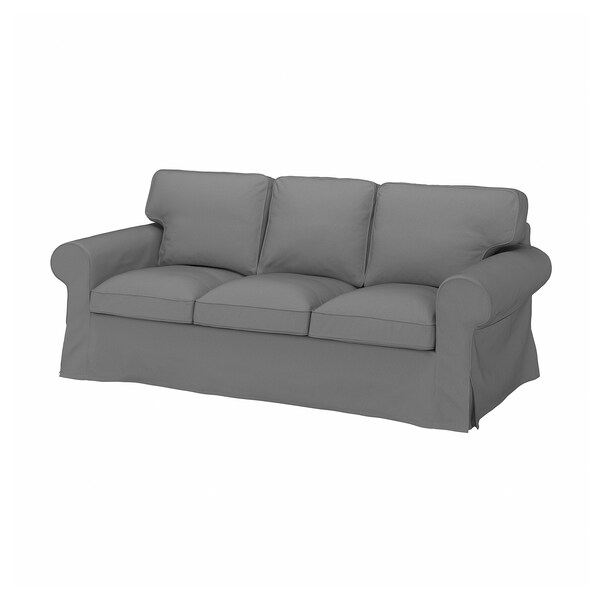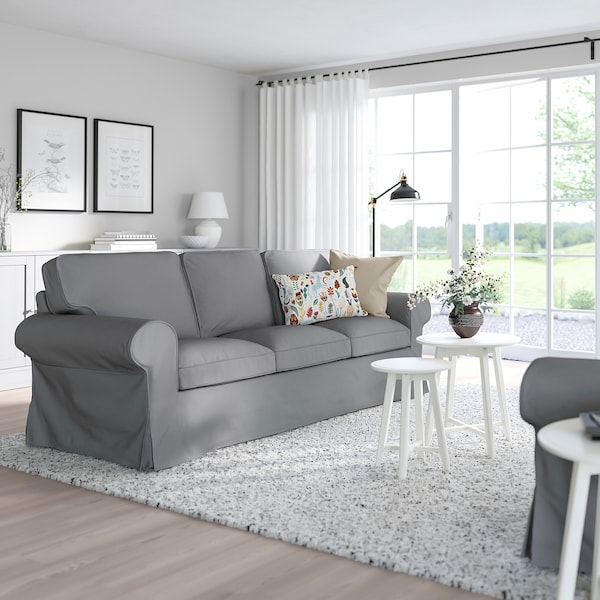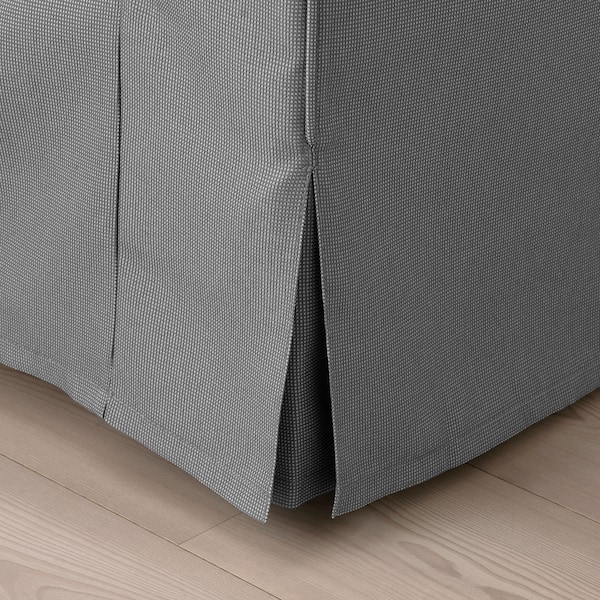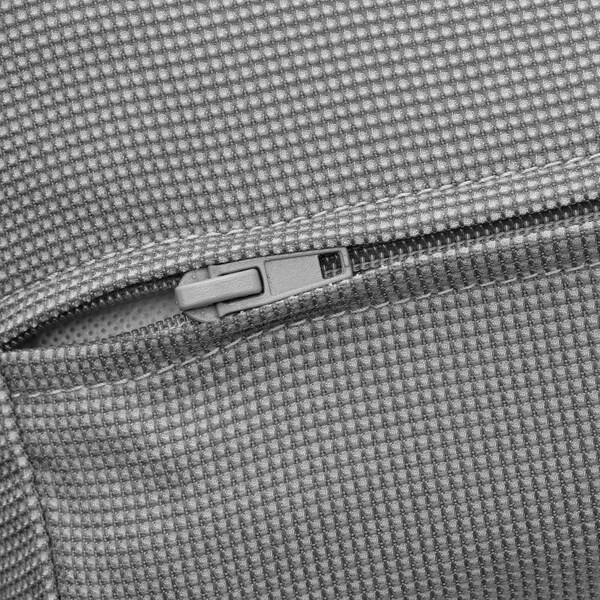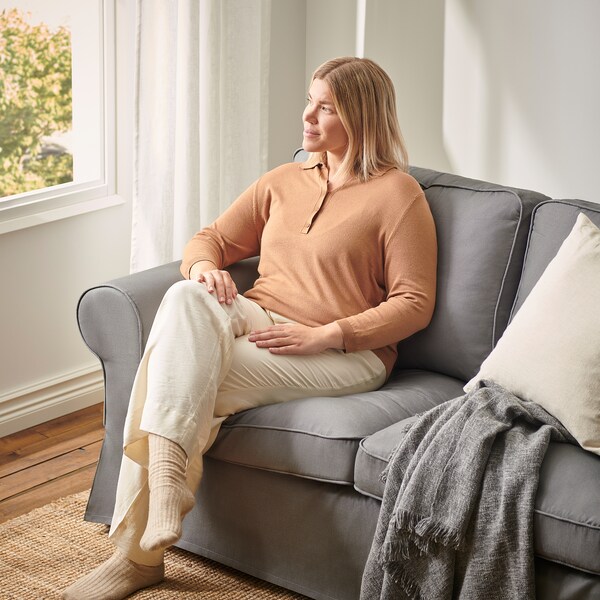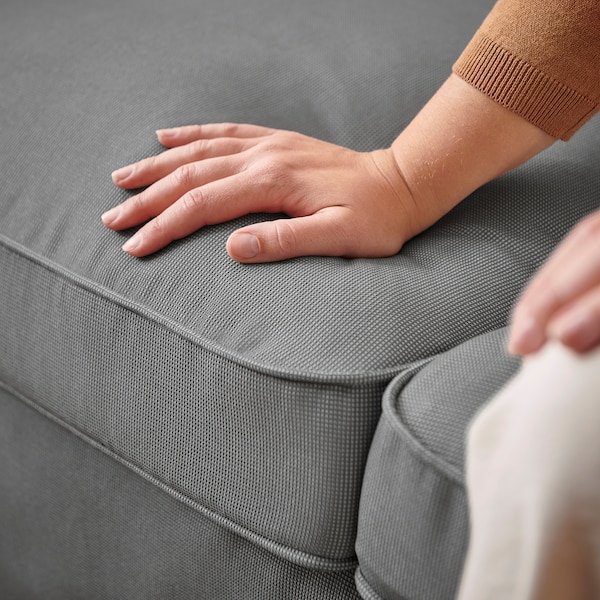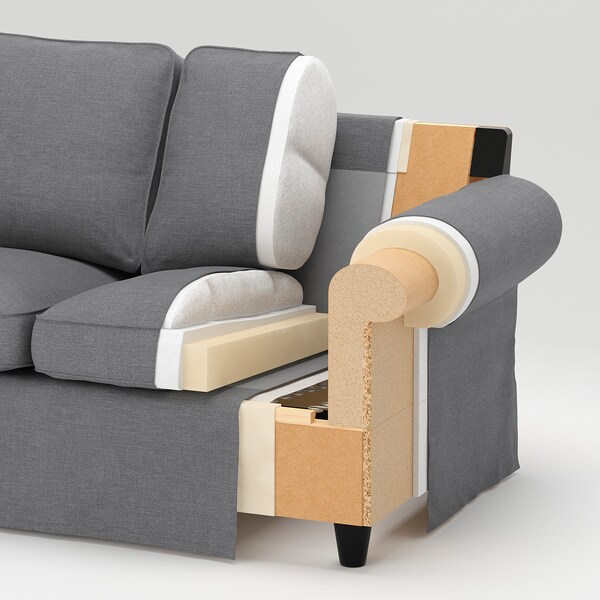 Our beloved EKTORP seating has a timeless design and wonderfully thick, comfy cushions. The covers are easy to change, so buy an extra cover - or two, and change according to mood or season.
Article number
193.200.54
Product details
10 year guarantee. Read about the terms in the guarantee brochure.
Reversible back cushions filled with polyester fibres provide soft support for your back and two different sides to wear.
Seat cushions filled with high resilience foam and polyester fibre wadding give comfortable support for your body, and easily regain their shape when you get up.
The cover is easy to keep clean as it is removable and can be machine washed.
A range of coordinated covers makes it easy for you to give your furniture a new look.
Please refer to packaging label for country of origin.
This cover's ability to resist abrasion has been tested to handle 15,000 cycles, which is suitable for furniture that should withstand everyday use in the home.
Designer
IKEA of Sweden
Three-seat sofa frame

Back and seat frame:

Fibreboard, Particleboard, Plywood, Laminated veneer lumber, Polyurethane foam 20 kg/cu.m.

Armrest:

Polyurethane foam 20 kg/cu.m., Polyurethane foam 25 kg/cu.m., Polyester wadding, Fibreboard, Particleboard, Laminated veneer lumber, Cardboard

Seat cushion:

Polyester wadding, Non-woven polypropylene, Highly resilient polyurethane foam (cold foam) 35 kg/cu.m., 30% cut polyurethane foam/ 70% polyester fibres, Polyester hollow fibres

Back cushion:

Polyester hollow fibres, Non-woven polypropylene

Cover for 3-seat sofa

Fabric:

100% polyester (min. 90% recycled)

Back fabric:

100 % polyester

Frame

Three-seat sofa frame

Wipe clean with a cloth dampened in a mild cleaner.

Wipe dry with a clean cloth.

Lining

Three-seat sofa frame

Clean with a duster or vacuum lightly using the soft brush attachment.

Cover for 3-seat sofa

Polyester can be recycled multiple times, reducing our environmental footprint. All products containing recycled materials meet the same quality and safety demands as we have on all our products.

By using recycled polyester in this product, we consume less new raw materials and lower our environmental impact while existing materials get new life.

We want to have a positive impact on the planet. That is why by 2030, we want all materials in our products to be recycled or renewable, and sourced in responsible ways.

This product consists ofmes as 2 packages.

EKTORP

Three-seat sofa frame

Article no:

801.850.28

Width: 88 cm

Height: 46 cm

Length: 204 cm

Weight: 74.00 kg

Package(s): 1

EKTORP

Cover for 3-seat sofa

Article no:

104.723.63

Width: 37 cm

Height: 7 cm

Length: 57 cm

Weight: 3.34 kg

Package(s): 1
Product size
Width: 

218 cm

Depth: 

88 cm

Height: 

88 cm

Seat depth: 

49 cm

Seat height: 

45 cm