IKEA ART EVENT 2018
What happens when you mash up the world of manga, designer toys and comics with the age-old techniques of handmade Swedish art glass?
We wanted to find out.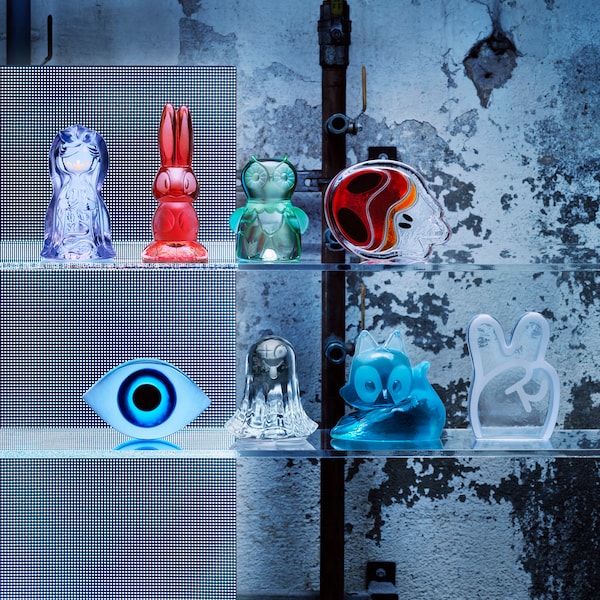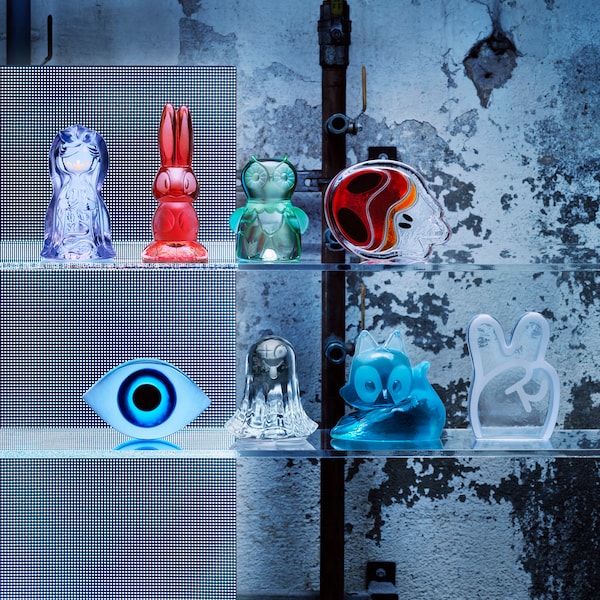 For the IKEA Art Event 2018 we invited eight contemporary artists, representing different artistic expressions, to each produce a crystal glass figurine. Most of the artists had never worked in glass before, and were keen to embrace the challenges and possibilities the material presents.
The result? A collection of eight crystal glass figurines that are playful, expressive and accessible - with a whole world inside of them.
"Drawing is the foundation for all my work, but this is exciting because it's a different type of product – in a material that has a real history to it. I didn't realise glassblowing is so human and such an organic process."
James Jarvis
"My figure is named Hira, which means "good dreams". It's an abstract visualization of the life that we've been through. A character entangled in a power struggle to emerge to the ultimate realm. I wanted to convey that life is simple."
Arkiv Vilmansa
"My piece is titled Soul Toy. I believe there is a soul within each piece of art. The eyes and tongue of Soul Toy hint the letters of "toy", while the shape of the figure itself suggests the form of a soul. I think this speaks to the piece in a witty way."
Michael Lau
"I like working with strong symbols like the eye. Turquoise signifies protection against the "evil eye". I like working with symbols because it allows me to start digging into history. They have layers and precise messages that many can relate to."
Ludvig Löfgren
"The owl is an important part of my Lithuanian heritage where it appears heavily in mythology. Owls are nocturnal and this one I call Sutemos, which means "nightfall". That is also the time of day when I'm most creative, when my ideas flow."
Nathan Jurevicius
"I wanted to make a simple, but beautiful figurine inspired by vintage collectable figurines and toys from late 60s to early 70s. I named her Nocturnal because I'm a night person. I worked on the design at night, too!"
Junko Mizuno
"My very first design was a bunny. People really reacted to him. He was sort of autobiographical. And he really put me on the map in the designer toy world. So, it felt natural to make a bunny out of glass."
Joe Ledbetter
"We asked "What about the fox who is not so clever, who does not want to trick others"? This fox is shy, vulnerable, afraid of the world. Always on the alert, but never ready to attack, she's an outsider among her species."
Coarse