An unforgettable DIY wedding: party ideas
We've already helped our happy couple with planning tips. Now let's see how our interior designer Emma translated their wishes and wants into different party zones, ideas and activities. And it's all within the loose theme of a romantic forest film with touches of space.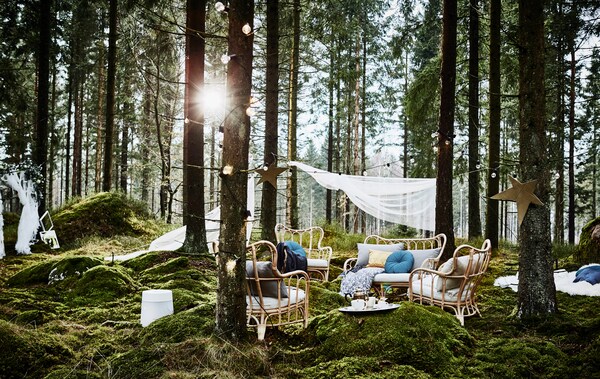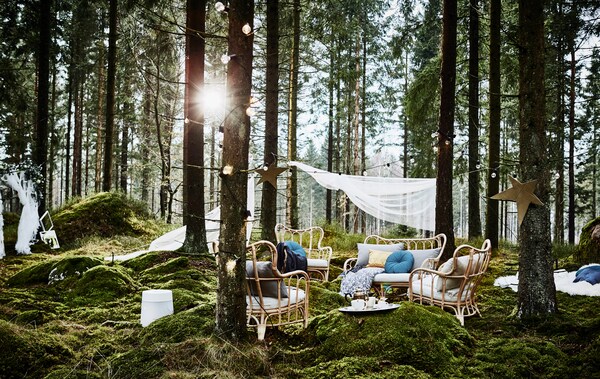 Set a scene. Emma crafted an entryway/backdrop for a photobooth, which Brunella and Lukas wanted but can be costly. To make this DIY one, Emma painted a wooden stick, draped lacy curtains over it, stapled them on and cut them into strips. Then she added artificial flowers. It's romantic and dramatic with 'special effects' painted on plastic frames. Guests pick a frame, take a photo, tag it and share it for printing later.
"
I want guests to feel happy and welcome to do what they want. It's important to have fun, enjoy the day and be together.
"
Brunella, future bride
Encourage an introduction. Guests don't always know each other, especially when they're from different countries like our couple's friends and family. Put them at ease with a mingle spot. When everyone comes in, they can grab a drink and an appetizer. It's a chance to say hello and chat before finding seats at the dining table. Emma used a sheer lace curtain as a tablecloth to match the other lacy decor. The moon and stars are a little bit galactic and cinematic.
Leave a message. Along with photos, our couple wanted a scrapbook with wishes and notes from guests. Emma turned a tree into a message station by stringing up gift tags and using an easy-to-take-home box for the finished notes. During the wedding, it's an activity and a talking point for guests. After, Brunella and Lukas can relive the day and appreciate their loved ones. It's unique and definitely looks like something from a movie!
Create a lounge. Our pair dreamed about live music and dancing but also wanted an area to talk and relax. Emma found a natural nook and put in easy-to-carry rattan armchairs and sofas around the moon-like boulders. The light colours and tealight lanterns add charm; just like the simple stars, lighting chains and flowing curtains feel a little out-of-this-world. Cushions and sheepskins soften up the ground. A tray and a stool can be used as side tables.
We love to see our customers get creative with our products. Go for it! But please note that altering or modifying IKEA products so they can no longer be re-sold or used for their original purpose, means the IKEA commercial guarantees and your right to return the products will be lost.
Made by
Interior designer: Emma Parkinson
Photographer: Andrea Papini
Writer: Marissa Frayer