Mattresses
Foam & Latex Mattresses
Find the foam or latex mattress that's right for you
All our latex and foam mattresses offer great support, but comfort is a personal choice. So it's just a matter of choosing one that's right for your body and budget. All of our foam and latex mattresses come in both firm and medium firm and in all standard sizes. They work with both our mattress bases and our adjustable slatted bed bases too.
Sprung Mattresses
Find the right sprung mattress for you
Sprung mattresses offer great support, by distributing your body weight evenly. You won't feel too warm either, as the open spring construction allows air to circulate. To find your perfect sleeping solution, choose a firm or medium firm mattress, paired with a slatted bed base or mattress base. Sprung mattresses are very hardwearing, and a mattress topper will both enhance comfort and protect you mattress for years to come.
Mattress Pads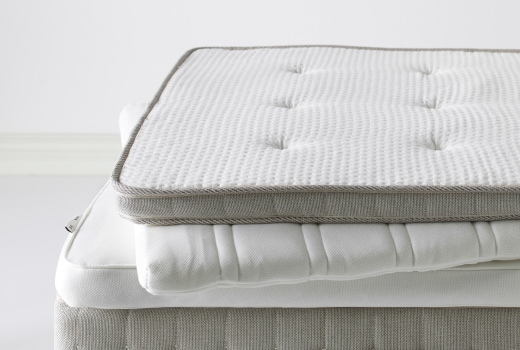 A little layer of luxury
Place a pad on your mattress for an even greater night's sleep. It'll help keep your mattress in better condition too. You can choose between various fillings and materials – but all of our pads are easily removed to air and clean. So you can keep your bed fresh and inviting every day.
Mattress & Pillow Protectors
Let your bedding live longer
Our protectors help your mattress and pillows to stay fresher and cleaner for longer, while reducing general wear-and-tear. They're really convenient to use – quickly removed and fully machine washable. We have a few types of mattress protector to choose from, including one with a lining that regulates temperature and another that's waterproof.
Slatted Bed Bases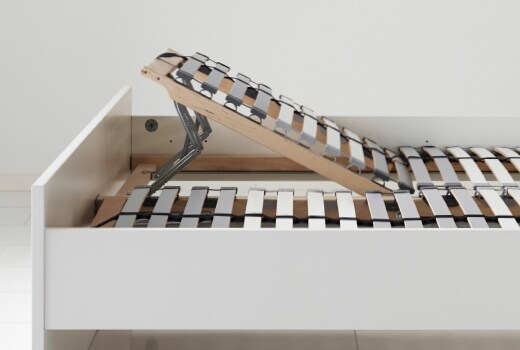 A firm foundation for sleep
Combine our slatted bed bases with one of our sprung or foam mattresses and one of our bed frames. It extends the lifetime and comfort of your mattress by absorbing most of the stress and weight on your bed. With some bases you can adjust the slats for firmness. We even have a base with adjustable foot and head sections, so that you can get comfy when sitting up in bed, for example.
It feels good to start your day with a smile.
Here's how to do it!
Focused, refreshed, feeling full of the joys of spring? How well your day goes dependsa lot on how well you slept last night. A new mattress is a great starting point, butit's when you combine it with the right pillow and quilt that you'll feel its full effects,so we've included them on this page, too. Our product range is designed to suitdifferent physiques and personal preferences, to offer total comfort, tailored to suityou. You can even bring everything you need home today, and be waking up with a bigsmile on your face by tomorrow morning.
How to Choose a Mattress
Sprung, latex or foam? Find what's right for you.
Foam and latex mattresses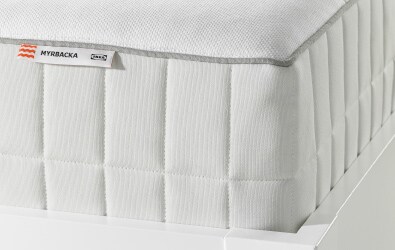 If you want your mattress to mould to the contours of your body and give you personalised support, then foam and latex are for you. Both materials absorb movement, so are ideal if you share the bed with a fidgety sleeper. Plus, these soft, flexible, resilient mattresses are long lasting because they can be turned regularly.
All our foam and latex mattresses come with stretchable, knitted ticking on top that boosts point-elasticity, relieving stress on your hips, shoulders and neck.
Sprung mattresses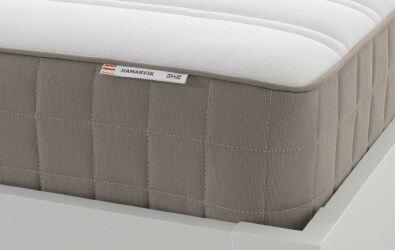 Sprung mattresses are great at distributing weight, so they'll be no undue pressure on any part of your body, giving you a restful, supported night's sleep. If you're a hot sleeper, then sprung mattresses are a great choice as they offer outstanding air circulation, feeling cooler and drier than latex and foam. Plus, sprung mattresses are extremely durable, so offer great value for money too.
---
Try it for 90 days. Enjoy it for 25 years.
We're sure you'll love your new mattress. But just in case, you have 90 days to exchange it and try another. Once you've found the perfect one for you, we guarantee it will last for 25 years.
Learn more about our 'love or exchange' policy