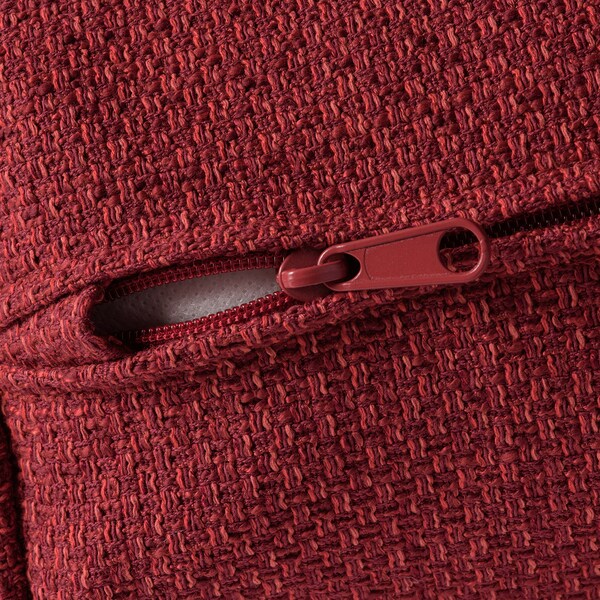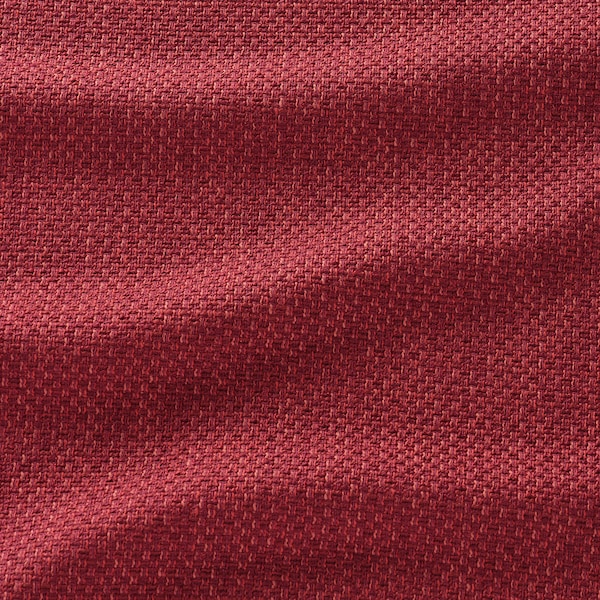 The VIMLE sofa series has sections that can be combined as you like into a customised solution for you and your home. This one has a sofa-bed which is super easy to convert with a thick, cosy mattress.
593.176.53
Product details
This soft and cosy sofa will have a long life as the seat cushions are filled with high resilience foam that gives good support for your body and quickly regains its original shape when you get up.
The footstool has an extra storage space under the seat for all those little things you have in your home.
The cover is easy to keep clean since it is removable and machine washable.
The sofa is quickly and easily transformed into a spacious bed by removing the seat and back cushions and pulling out the underframe. You can use the sofa's back cushions to get a comfortable back support to lean against in the bed.
The sofa-bed has a 12 cm thick bed mattress in high resilience foam that provides comfortable support to your body and a smooth sleeping surface without disturbing joints.
The bed slats work together with the mattress to give a more flexible comfort and nice sleep support.
The mattress is easy to keep clean since you can remove the mattress cover and machine wash it.
You can complete with VIMLE headrest to extend the backrest of the sofa, so that you sit even more comfortably with a nice support for your neck.
10 year guarantee. Read about the terms in the guarantee brochure.
25 year guarantee. Read about the terms in the guarantee brochure.
Easy to bring home since the mattress is roll packed.
Easy to keep clean since you can remove the fabric and wash it by machine.
Get all-over support and comfort with a resilient foam mattress.
Rest your feet on the footstool or attach it to your sofa to get an open end so that, for example, you can get a large sofa to feel a little neater.
The zipper is child-safe since we took away the tab on the zip. To open and close, insert a paper clip through the loop. Make sure you always remove the paper clip afterwards.
Please refer to packaging label for country of origin.
Designer
Ehlén Johansson/IKEA of Sweden
Sofa-bed frame

Seat cushion:

Polyester wadding, Highly resilient polyurethane foam (cold foam) 35 kg/cu.m.

Lining/ Lining:

Non-woven polypropylene

Back frame:

Plywood, Polyurethane foam 20 kg/cu.m., Polyester wadding, Particleboard, Solid wood, Fibreboard

Front rail:

Plywood, Polyurethane foam 20 kg/cu.m., Particleboard

Back cushion:

30% cut polyurethane foam/ 70% polyester fibres

Sofa-bed mechanism

Layer glued slats:

Moulded layer-glued wood veneer, Adhesive resin as coating

Seat frame/ Seat frame:

Steel, Epoxy/polyester powder coating

Frame footstool with storage

Frame:

Plywood, Polyurethane foam 20 kg/cu.m., Fibreboard, Particleboard, Melamine foil

Seat cushion:

Highly resilient polyurethane foam (cold foam) 35 kg/cu.m., Polyurethane foam 20 kg/cu.m., Polyester wadding

Metal parts:

Steel, Epoxy/polyester powder coating

Leg:

Polypropylene plastic

Frame armrest

Frame:

Plywood, Polyurethane foam 30 kg/cu.m., Polyester wadding, Fibreboard, Particleboard, Solid wood

Leg:

Polypropylene plastic

Foam mattress

Ticking:

64% polyester, 36% cotton

Comfort material:

Polyester wadding

Lining:

Non-woven polypropylene

Comfort material:

Polyurethane foam 28 kg/cu.m.

Cover for 2-seat sofa-bed section

Cover, other surfaces:

100% polyester

Fabric:

71% cotton, 8% viscose/rayon, 21 % polyester

Back fabric:

100 % polyester

Cover for armrest/ cover for footstool with storage

Fabric:

71% cotton, 8% viscose/rayon, 21 % polyester

Back fabric:

100 % polyester

Frame

Frame footstool with storage/frame armrest

Wipe clean with a cloth dampened in a mild cleaner.

Wipe dry with a clean cloth.

Mattress cover

Foam mattress

Machine wash, max 60°C, normal process.

Do not bleach.

Do not tumble dry.

Do not iron.

Do not dryclean.

Sofa-bed mechanism

Wipe clean with a cloth dampened in a mild cleaner.

Wipe dry with a clean cloth.

Cushion

3-seat sofa-bed

Do not wash.

Do not bleach.

Do not tumble dry.

Do not iron.

Do not dryclean.

Lining

Frame footstool with storage/frame armrest

Clean with a duster or vacuum lightly using the soft brush attachment.

Removable cover

Cover for 2-seat sofa-bed section/cover for armrest/cover for footstool with storage

Machine wash, max 40°C, normal process.

To be washed separately.

Do not bleach.

Do not tumble dry.

Iron, max 150°C.

Professional dry cleaning in tetrachloroethene and hydrocarbons, normal process.

Foam mattress

Product is possible to recycle or use for energy recovery, if available in your community.

This product consists ofmes as 8 packages.

VIMLE

Sofa-bed frame

Article no:

703.971.20

Width: 104 cm

Height: 29 cm

Length: 165 cm

Weight: 32.80 kg

Package(s): 1

SMEDSBYN

Sofa-bed mechanism

Article no:

504.179.30

Width: 94 cm

Height: 31 cm

Length: 168 cm

Weight: 42.34 kg

Package(s): 1

VIMLE

Frame footstool with storage

Article no:

604.428.30

Width: 77 cm

Height: 44 cm

Length: 103 cm

Weight: 25.30 kg

Package(s): 1

VIMLE

Frame armrest

Article no:

804.428.67

Width: 65 cm

Height: 17 cm

Length: 97 cm

Weight: 10.65 kg

Package(s): 1

MALFORS

Foam mattress

Article no:

302.723.01

Length: 157 cm

Weight: 13.80 kg

Diameter: 32 cm

Package(s): 1

VIMLE

Cover for 2-seat sofa-bed section

Article no:

004.685.78

Width: 37 cm

Height: 9 cm

Length: 56 cm

Weight: 3.86 kg

Package(s): 1

VIMLE

Cover for armrest

Article no:

304.685.72

Width: 23 cm

Height: 4 cm

Length: 37 cm

Weight: 0.71 kg

Package(s): 1

VIMLE

Cover for footstool with storage

Article no:

204.685.77

Width: 23 cm

Height: 7 cm

Length: 37 cm

Weight: 1.20 kg

Package(s): 1
Product size
Bed height: 

53 cm

Height including back cushions: 

83 cm

Height backrest: 

68 cm

Width: 

246 cm

Depth: 

98 cm

Total depth folded out: 

241 cm

Seat depth: 

55 cm

Seat height: 

48 cm

Bed length: 

200 cm

Mattress thickness: 

12 cm
VIMLE
3-seat sofa-bed, with open end/Lejde red/brown
Price valid Dec 01, 2020 - Dec 24, 2020 or while supply lasts