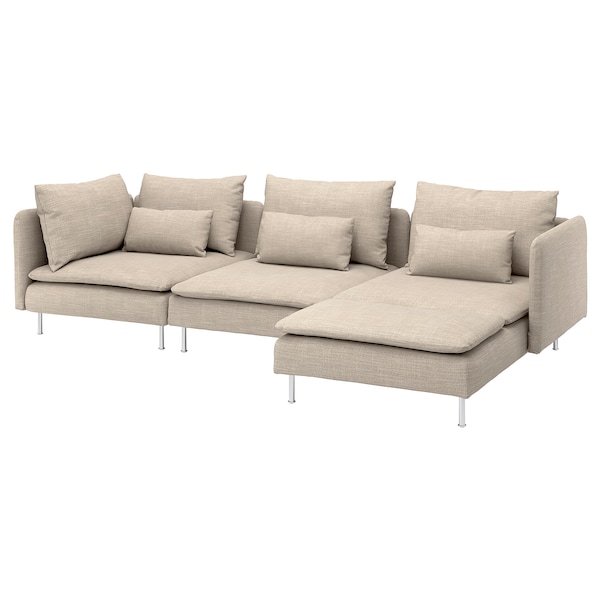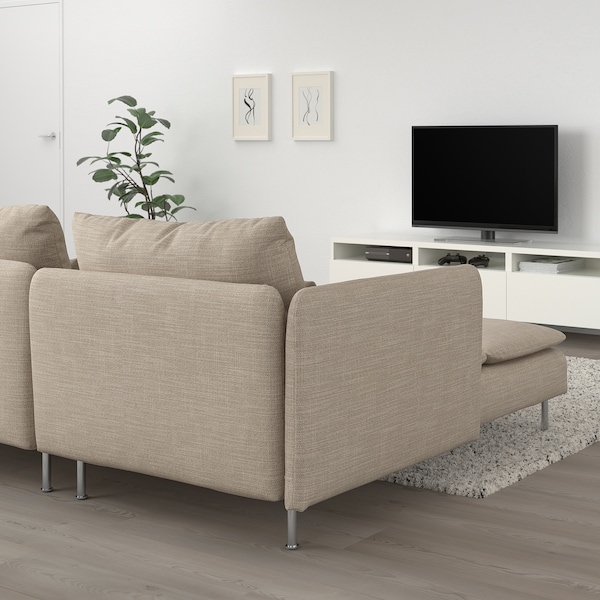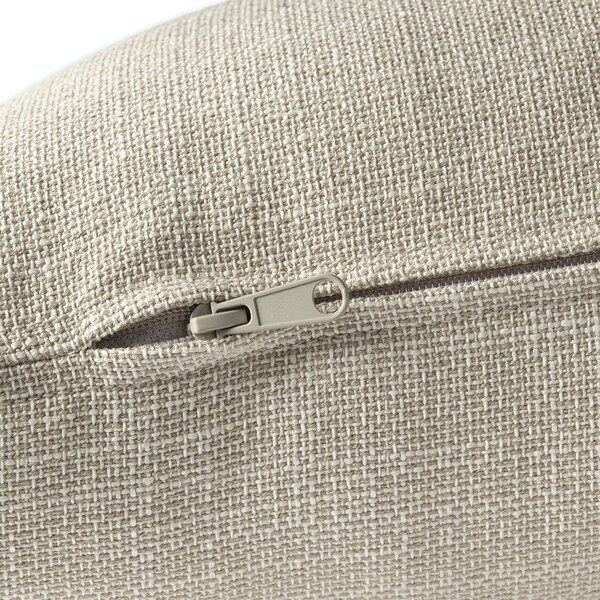 If you like the way it looks you have to try it! The deep seats, moveable back cushions and suspension fabric make this seating very comfortable. Create your own combination, sit back and relax.
Article number
193.189.18
Product details
All sections in the SÖDERHAMN sofa series can be used freestanding or put together into exactly the sofa combination you want and need ‒ both big as small.
You sit in comfort with a slight, pleasant resilience thanks to the elastic weave in the bottom and high resilience foam in the seat cushions.
SÖDERHAMN seating series allows you to sit deeply, low and softly with the loose back cushions for extra support.
The cover is easy to keep clean as it is removable and can be machine washed.
You can place the chaise longue section to the left or right of the sofa, and switch whenever you like.
10 year guarantee. Read about the terms in the guarantee brochure.
Please refer to packaging label for country of origin.
This cover's ability to resist abrasion has been tested to handle 25,000 cycles. A cover that withstands 15,000 cycles or more is suitable for furniture that should withstand everyday use in the home.
The cover has a lightfastness level of 5 (the ability to resist colour fading) on a scale of 1 to 8. According to industry standards, a lightfastness level of 4 or higher is suitable for home use.
Designer
Ola Wihlborg
Corner section frame/ chaise longue frame

Frame:

Plywood, Fibreboard, Non-woven polypropylene, Steel, Solid wood

Back cushion:

Polyester hollow fibres, Non-woven polypropylene

Upholstery material:

Highly resilient polyurethane foam (cold foam) 35 kg/cu.m., Polyurethane foam 20 kg/cu.m., Polyester hollow fibre wadding, Non-woven polypropylene

Laminated wadding:

Polyester hollow fibre wadding, Non-woven polypropylene

Hook and loop fastener:

100% nylon

Total composition:

100% polyester

Frame, 1-seat section

Frame:

Plywood, Fibreboard, Felt liner, Steel, Solid wood

Back cushion:

Polyester hollow fibres, Non-woven polypropylene

Upholstery material:

Highly resilient polyurethane foam (cold foam) 35 kg/cu.m., Polyurethane foam 20 kg/cu.m., Polyester hollow fibre wadding, Non-woven polypropylene

Laminated wadding:

Polyester hollow fibre wadding, Non-woven polypropylene

Bed slat holder:

Polypropylene plastic

Bed slats:

Layer-glued wood veneer, Birch veneer

Hook and loop fastener:

100% nylon

Total composition:

100% polyester

Frame armrest

Frame:

Fibreboard, Solid wood

Upholstery material:

Polyurethane foam 20 kg/cu.m.

Hook and loop fastener:

100% nylon

Laminated wadding:

Non-woven polypropylene, Polyester hollow fibre wadding

Cover for corner section/ cover for 1-seat section/ cover for chaise longue/ cover for armrest

55% cotton, 12% viscose/rayon, 8% linen, 25 % polyester

Frame

Corner section frame/frame, 1-seat section/chaise longue frame/frame armrest

Wipe clean with a cloth dampened in a mild cleaner.

Wipe dry with a clean cloth.

Lining

Corner section frame/frame, 1-seat section/chaise longue frame/frame armrest

Clean with a duster or vacuum lightly using the soft brush attachment.

Removable cover

Cover for corner section/cover for 1-seat section/cover for chaise longue/cover for armrest

Machine wash, max 40°C, normal process.

To be washed separately.

Do not bleach.

Do not tumble dry.

Iron, max 150°C.

Professional dry cleaning in tetrachloroethene and hydrocarbons, normal process.

This product consists ofmes as 8 packages.

SÖDERHAMN

Corner section frame

Article no:

002.239.01

Width: 98 cm

Height: 37 cm

Length: 105 cm

Weight: 34.45 kg

Package(s): 1

SÖDERHAMN

Frame, 1-seat section

Article no:

702.239.07

Width: 98 cm

Height: 26 cm

Length: 105 cm

Weight: 26.41 kg

Package(s): 1

SÖDERHAMN

Chaise longue frame

Article no:

602.238.99

Width: 101 cm

Height: 25 cm

Length: 150 cm

Weight: 30.75 kg

Package(s): 1

SÖDERHAMN

Frame armrest

Article no:

702.238.94

Width: 56 cm

Height: 9 cm

Length: 83 cm

Weight: 5.52 kg

Package(s): 1

SÖDERHAMN

Cover for corner section

Article no:

004.401.41

Width: 37 cm

Height: 7 cm

Length: 56 cm

Weight: 2.63 kg

Package(s): 1

SÖDERHAMN

Cover for 1-seat section

Article no:

104.401.31

Width: 23 cm

Height: 12 cm

Length: 37 cm

Weight: 1.97 kg

Package(s): 1

SÖDERHAMN

Cover for chaise longue

Article no:

904.401.46

Width: 23 cm

Height: 13 cm

Length: 37 cm

Weight: 2.46 kg

Package(s): 1

SÖDERHAMN

Cover for armrest

Article no:

004.401.36

Width: 23 cm

Height: 3 cm

Length: 37 cm

Weight: 0.41 kg

Package(s): 1
Product size
Height including back cushions: 

83 cm

Height backrest: 

69 cm

Depth chaise longue: 

151 cm

Width: 

291 cm

Depth: 

99 cm

Seat depth, chaise longue: 

122 cm

Free height under furniture: 

14 cm

Seat depth: 

70 cm

Seat height: 

39 cm
SÖDERHAMN
4-seat sofa, with chaise longue/Hillared beige