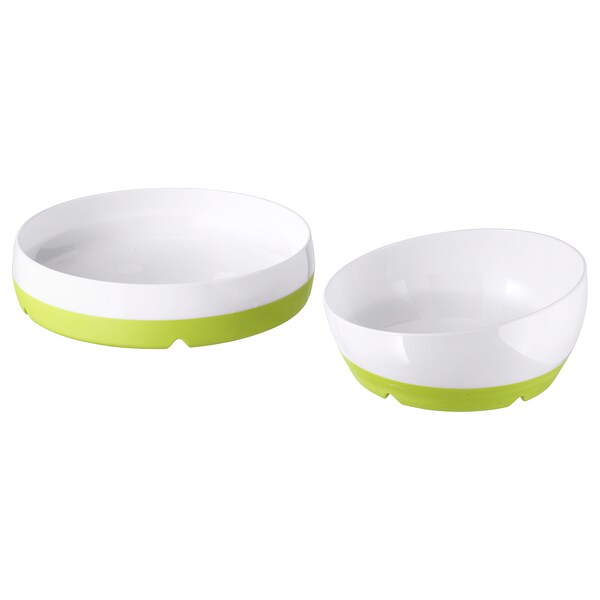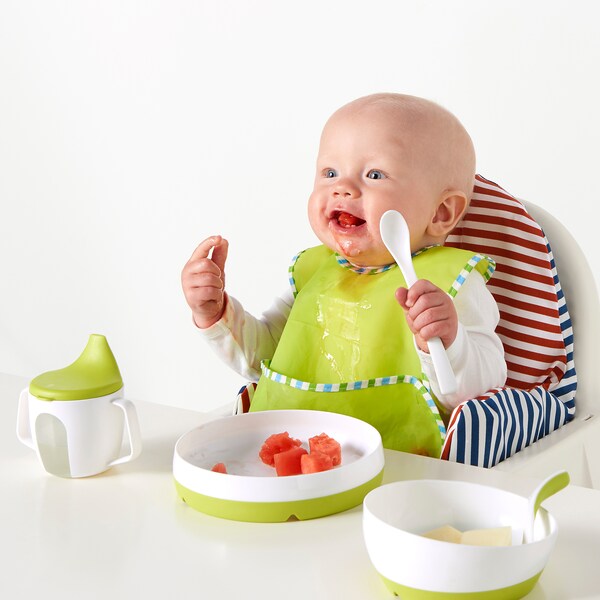 Baby-tested tools to tame mealtime chaos
Meals with babies and toddlers can be chaotic, to say the least, with mess, stress and frustrated, hungry little mouths. But when one of our creative innovators became a parent, ideas to make mealtimes less messy, less time-consuming and more fun were also born. The SMÅGLI plate and bowl and BÖRJA spoons and training mug are created based on insights from feeding tests with real families – and they give babies and their parents the tools to transform daily mealtime chaos into an enjoyable experience.
When product designer Wiebke Braasch became a mother, she experienced the challenge of feeding a baby first-hand. First, there was the mess. Then there was the distress of watching her son struggle heroically to get peas from his plate to his mouth only to have them fall off at the last moment. It inspired her, and the result are BÖRJA and SMÅGLI – baby tested and approved.
Real-life tests with real families
Learning to eat is important for developing fine motor skills, and Wiebke felt that better tools could give babies and their parents some help along the way. She pooled her insights with product designer Ina Tidbeck Sjöblom, and together they began to sketch out ideas and carry out feeding and eating tests with babies and their parents. "We visited families in their homes and observed children being fed and feeding themselves," Wiebke explains. "We wanted to find out what kind of spoons, plates and mugs they used, how they used them and how they felt about them." They watched as the babies explored everything – squishing the food, banging the mug on the table and moving the plate around. Much of the food ended up anywhere and everywhere but the babies' mouths. Porridge was on the floor. Fruit and vegetable purées of every colour were on clothes, on baby faces and in hair.
Stable plate and bowl with smart curves
"Our research confirmed our experiences at home," Wiebke says. "We understood the parents' desire for less cleanup and a more meaningful experience with their children. Based on that, we created tools with shapes that help babies learn more quickly and make feeding easier and less messy." They gave the SMÅGLI plate and bowl high sides and an inward curve, so when children push food against the sides it practically falls back into their spoons, instead of over the edge. In tests, they observed how attempts to keep plates on the table – with suction – failed spectacularly and resulted in the children fighting to pull the plates off the table. Once they got them loose, which they always did, the parents had to clean food off of walls, instead of floors. So the materials – heavy on top and soft on the underside – are also carefully chosen to help the plate and bowl sit firmly on the table.
Small details make all the difference
The BÖRJA feeding spoon was given a long handle for reaching to the bottom of baby food jars, and a sharp angle between the handle and bowl of the spoon that's adapted to the feeding movement. Babies hold a spoon with their whole hand, switch hands often and eat from the sides of a spoon more often than from the front, so the BÖRJA baby spoon has a short and chunky handle for a better grip and a shallow, wide design to make it easier for them to get the spoon in their mouths from any angle. The spout of the BÖRJA training mug has been given very small holes instead of the typical spill-proof mechanism. The tight-fitting lid prevents big spills, but when turned upside down, liquid can still run out through the spout. This also lets children control the flow of liquid themselves. And since we found that children like to see what they're drinking, part of the mug is transparent.
Improving life for babies and parents
"We only create products that meet the highest safety standards and that we feel confident about using with our own children. They are made from the same safe plastic material as baby bottles and have no BPA added. We tested the prototypes and the final products at home, and we are convinced that SMÅGLI and BÖRJA will help other parents make eating sessions less messy and time-consuming – and much more enjoyable," Wiebke concludes. "This is design based on real life experiences to improve the daily life of babies and their parents."
---