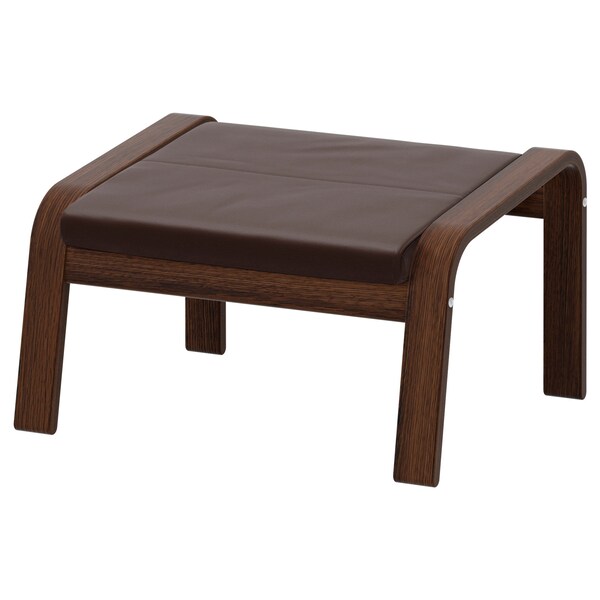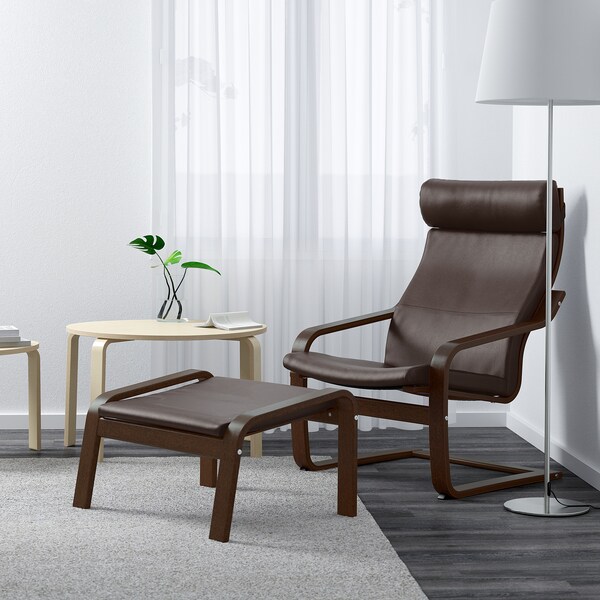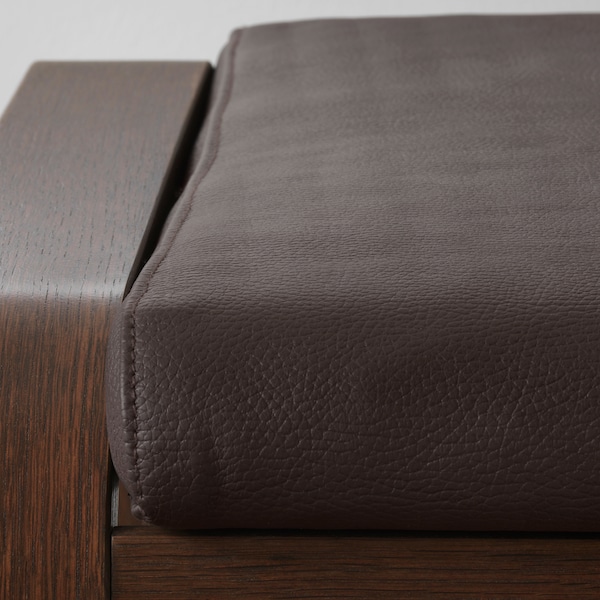 Product details
A range of various seat cushions makes it easy to change the look of your POÄNG and your living room.
Soft, hardwearing and easy care leather which is practical for families with children.
10 year guarantee. Read about the terms in the guarantee brochure.
Please refer to packaging label for country of origin.
Designer
Noboru Nakamura
Footstool frame

Moulded layer-glued wood veneer with surface of, Oak veneer, Stain, Clear acrylic lacquer

Footstool cushion

Basematerial:

Through dyed grain leather from cattle, with a treated, embossed and pigmented surface

Cushion:

Polyurethane foam 30 kg/cu.m., Polyester wadding

Hook and loop fastener, soft part:

100% nylon

Frame

Footstool frame

Wipe clean with a cloth dampened in a mild cleaner.

Wipe dry with a clean cloth.

Leather

Footstool cushion

Vacuum clean.

Protect from direct sunlight to prevent drying-out.

For best possible result, wipe clean and treat the surface regularly with ABSORB leathercare set.

Footstool frame

Renewable material (wood).

Product is possible to recycle or use for energy recovery, if available in your community.

Footstool cushion

All leather in IKEA products is chrome-free since 2017. This prevents any risks of chrome VI which can be harmful to workers in production and to the environment when a product reaches its end-of-life.

This product consists ofmes as 2 packages.

POÄNG

Footstool frame

Article no:

401.638.39

Width: 47 cm

Height: 8 cm

Length: 57 cm

Weight: 5.00 kg

Package(s): 1

POÄNG

Footstool cushion

Article no:

701.703.86

Width: 51 cm

Height: 7 cm

Length: 57 cm

Weight: 1.21 kg

Package(s): 1
Product size
Width: 

68 cm

Depth: 

54 cm

Height: 

39 cm

Seat width: 

54 cm

Seat depth: 

54 cm

Seat height: 

38 cm