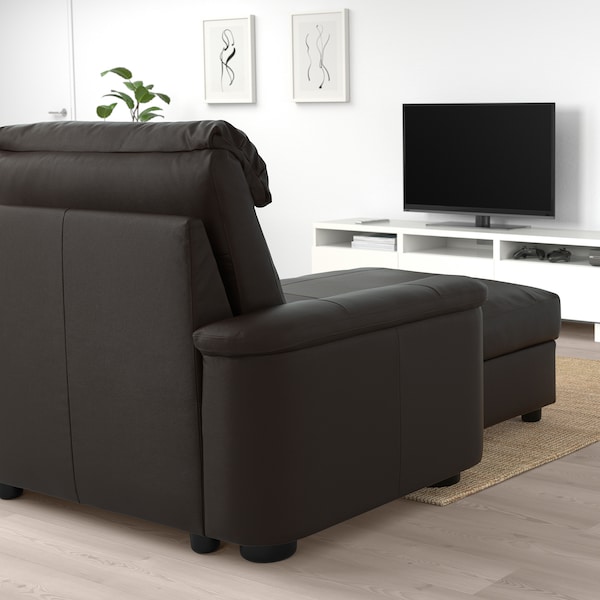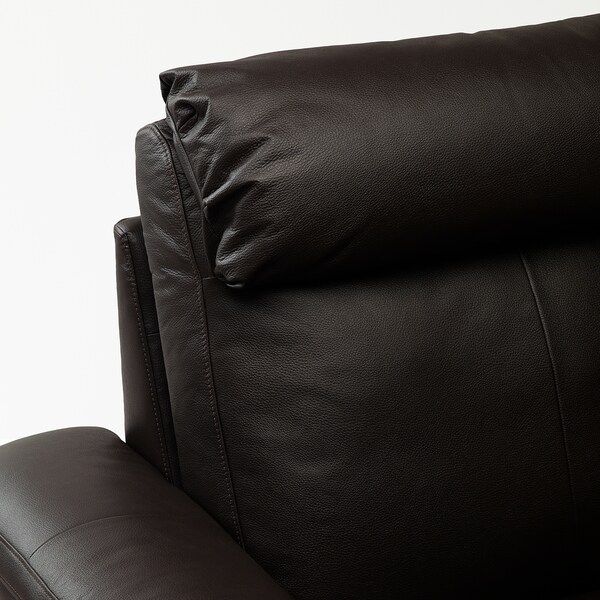 Product details
You sit comfortably thanks to the pocket springs that support the right places and follow the body exactly. The chaise lounge feels extra soft and cosy to sit in thanks to the top layer of ball fibre. The high back and neck support increases the comfort.
The armrests with extra filling are designed to be comfortable for you to lean against or rest your head on when lying down.
Storage space under the seat. The lid stays open so you can safely and easily take things in and out.
10 year guarantee. Read about the terms in the guarantee brochure.
Please refer to packaging label for country of origin.
Designer
Henrik Preutz
Chaise longue section

Basematerial:

Through dyed grain leather from cattle, with a treated, embossed and pigmented surface

Coated fabric parts:

25% cotton, 75% polyester, 100% polyurethane

Zig-zag spring/ Pocket spring unit:

Steel

Frame:

Solid wood, Plywood, Particleboard, Polyester wadding, Non-woven polypropylene, Fibreboard, Polyurethane foam 20 kg/cu.m., High-pressure melamine laminate

Metal parts:

Steel, Epoxy/polyester powder coating, Galvanized

Seat cushion:

Highly resilient polyurethane foam (cold foam) 35 kg/cu.m., Non-woven polypropylene, Polyester wadding, Felt liner, Polyester fibre balls

Back cushion:

Highly resilient polyurethane foam (cold foam) 23 kg/cu.m., Polyurethane foam 30 kg/cu.m., Non-woven polypropylene, Polyester wadding, Polyester wadding, Polyester fibre balls

Pillow:

Non-woven polypropylene, Polyester fibre balls

Armrest

Frame:

Solid wood, Plywood, Particleboard, Unbleached paper, Polyester wadding, Non-woven polypropylene, Fibreboard, Polyurethane foam 30 kg/cu.m., Polyurethane foam 25 kg/cu.m.

Basematerial:

Through dyed grain leather from cattle, with a treated, embossed and pigmented surface

Coated fabric parts:

25% cotton, 75% polyester, 100% polyurethane

Frame

Vacuum clean.

Wipe clean with a damp cloth.

Chaise longue section/armrest

All leather in IKEA products is chrome-free since 2017. This prevents any risks of chrome VI which can be harmful to workers in production and to the environment when a product reaches its end-of-life.

This product consists ofmes as 4 packages.

LIDHULT

Chaise longue section

Article no:

204.058.77

This product has multiple packages.

Width: 96 cm

Height: 43 cm

Length: 148 cm

Weight: 53.35 kg

Package(s): 1

Width: 79 cm

Height: 22 cm

Length: 94 cm

Weight: 13.07 kg

Package(s): 1

LIDHULT

Armrest

Article no:

304.070.22

Width: 58 cm

Height: 26 cm

Length: 102 cm

Weight: 14.33 kg

Package(s): 2
Product size
Height including back cushions: 

102 cm

Height backrest: 

74 cm

Width: 

138 cm

Depth: 

160 cm

Free height under furniture: 

7 cm

Seat width: 

90 cm

Seat depth: 

128 cm

Seat height: 

42 cm