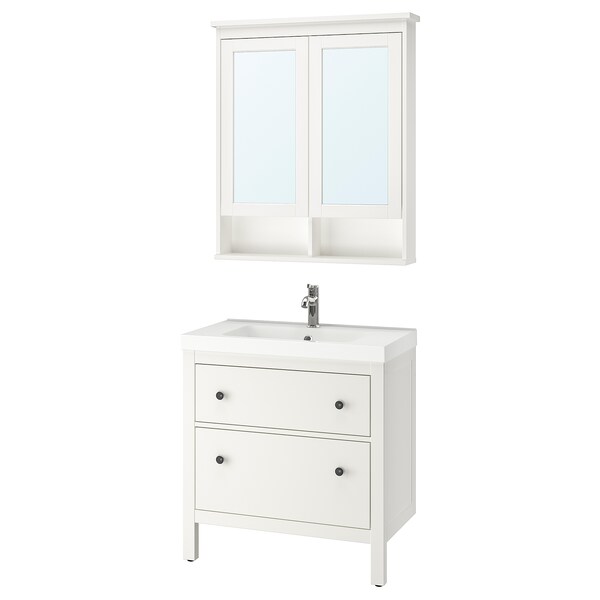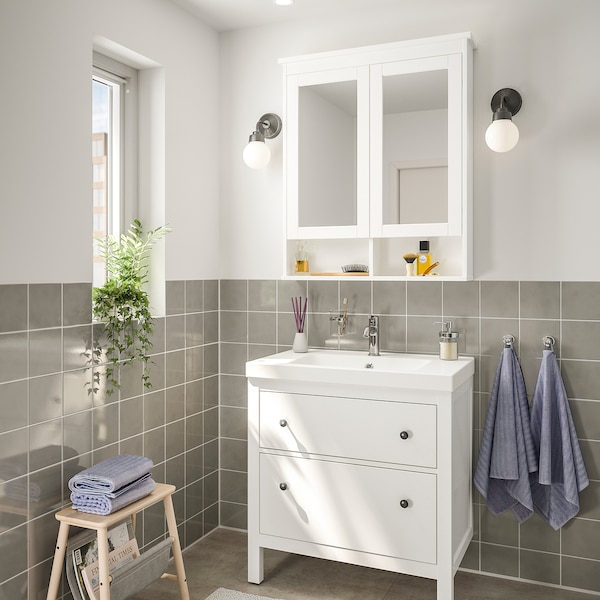 A simple, crafted look with Scandinavian appeal combined with modern function like smooth-running drawers and water-saving mixer tap. The framed mirror cabinet enhances the traditional look.
Article number
993.199.09
Product details
Coordinates nicely with other products in the HEMNES series.
The straightforward, crafted look of the drawers and knobs enhances the Scandinavian expression.
Smooth, durable and easy-to-clean ceramic wash-basin with space for toothbrushes, soap dispenser and other smaller things on the wide edges.
The drawers are rigorously tested to make sure they can be opened and closed over many years of morning rush hour.
The smooth-running drawers with pull-out stop, open all the way for a good overview without falling out.
You can sense the calm every time you close the drawers thanks to the soft-closing mechanism. No worries about fingers getting trapped.
The deep bottom drawer has space for larger things like towels and hairdryer. The top drawer is suitable for smaller items like brushes, creams, sprays and accessories.
You can make good use of the space inside the drawers thanks to the smart design of the water trap that leads the piping into the far back of the cabinet.
You save water and energy every time you lift the lever of the mixer tap thanks to the aerator device that prevents unnecessary use of water.
The framed mirror cabinet reinforces the traditional look of the bathroom. It has a handy shelf beneath where you can unload your cell phone or glasses while washing up.
The mirror has a safety film to prevent glass shattering and causing damage.
Please refer to packaging label for country of origin.
Knobs included.
Strainer and water-trap are included.
Secure that the material in your bathroom walls can support the weight of the furniture. If you are uncertain about the installation, contact a professional.
Two persons are needed for the assembly of this furniture.
The washbasin is resistant to most chemicals, except for strong acids and strong alkalis.
Please note that the wash-basin may be up to 2 cm wider than the wash-stand to protect it from water leakage.
Designer
H Preutz/N Karlsson/Magnus Elebäck/T Christensen/K Legaard
Wash-stand with 2 drawers

Frame/ Support rail:

Fibreboard, Pigmented polyester powder coating

Filling, side:

Particleboard, Melamine foil, Acrylic paint, Melamine foil

Drawer sides/ Drawer back:

Solid pine, Clear acrylic lacquer

Drawer bottom:

Particleboard, Melamine foil, Melamine foil, Plastic edging

Supporting leg:

Solid birch, Acrylic paint

Single wash-basin

Water trap/ Washer:

Polypropylene plastic

Screw:

Brass, Chrome-plated

Strainer/ Stopper/ Knob:

Stainless steel

Seal:

Synthetic rubber, Polyethylene foam

Basematerial:

Ceramics, Coloured glaze

Wash-basin mixer tap with strainer

Mirror cabinet with 2 doors

Frame/ Door frame:

Fibreboard, Pigmented polyester powder coating

Adjustable shelf:

Tempered glass

Back panel:

Fibreboard, Acrylic paint

Wipe clean with a cloth dampened in a mild cleaner.

Wipe dry with a clean cloth.

Wet marks should always be dried off as soon as possible to stop moisture penetration.

Do not use scouring powder, steel wool, hard or sharp tools which can scratch the surface of the washbasin.

Mirror cabinet with 2 doors

At least 50% (weight) of this product is made from renewable materials.

We have clear requirements for all the wood we use, including a ban on illegally harvested wood. By 2020, we want all our wood to come from more sustainable sources, defined as certified or recycled.

Lead-free mirrors – No lead added in manufacturing of our mirrors.

Possible to separate for recycling or energy recovery if available in your community.

Wash-stand with 2 drawers

We have clear requirements for all the wood we use, including a ban on illegally harvested wood. By 2020, we want all our wood to come from more sustainable sources, defined as certified or recycled.

Single wash-basin

The material in this product may be recyclable. Please check the recycling rules in your community and if recycling facilities exist in your area.

Wash-basin mixer tap with strainer

By creating all our taps and showers in a way that helps people use less water and energy, we contribute to enabling a more sustainable life at home.

This product consists ofmes as 4 packages.

HEMNES

Wash-stand with 2 drawers

Article no:

602.176.62

Width: 56 cm

Height: 14 cm

Length: 85 cm

Weight: 28.90 kg

Package(s): 1

ODENSVIK

Single wash-basin

Article no:

901.808.03

Width: 54 cm

Height: 19 cm

Length: 87 cm

Weight: 23.00 kg

Package(s): 1

VOXNAN

Wash-basin mixer tap with strainer

Article no:

103.430.88

Width: 21 cm

Height: 7 cm

Length: 35 cm

Weight: 1.68 kg

Package(s): 1

HEMNES

Mirror cabinet with 2 doors

Article no:

102.176.74

Width: 45 cm

Height: 9 cm

Length: 99 cm

Weight: 24.00 kg

Package(s): 1
TECHNICAL INFORMATION
HEMNES / ODENSVIK
Bathroom furniture, set of 4
| | |
| --- | --- |
| Type of mixer tap | Wash-basin mixer tap |
| Max. flow rate at 3 bar | 4.5 l/min (1.2 gpm) |
| Max. static pressure | 10 bar (145.0 psi) |
| Tested up to a max. static pressure | 16 bar (232.0 psi) |
| Min. working pressure | 1 bar (14.5 psi) |
| Recommended working pressure | 1-5 bar (14.5-72.5 psi) |
| Max. hot water temperature | 80˚C (176˚F) |
| Recommended hot water temperature | 60-65°C (140-150°F) |
| Recommended cold water temperature | 10-15˚C (50-59˚F) |
| Connection hoses length | 450 mm (17 3/4 '') |
| Hose connection size | G1/2" |
| Max. countertop thickness | 50 mm (2'') |
| Mounting hole measurement | 34-37 mm (1 3/8-1 7/16") |
| Noise level | I |
| Strainer included | Yes |
Product size
Width: 

83 cm

Wash-stand width: 

60 cm

Depth: 

49 cm

Height: 

89 cm
HEMNES / ODENSVIK
Bathroom furniture, set of 4, white/Voxnan tap
83 cm
Price valid Dec 10, 2020 - Jan 20, 2021 or while supply lasts