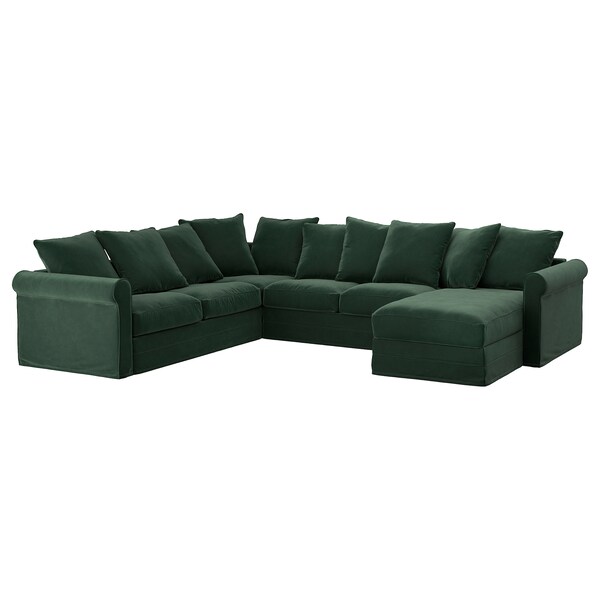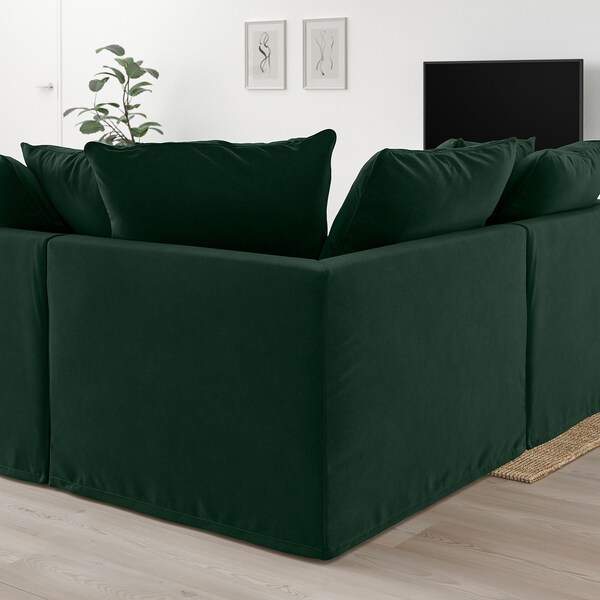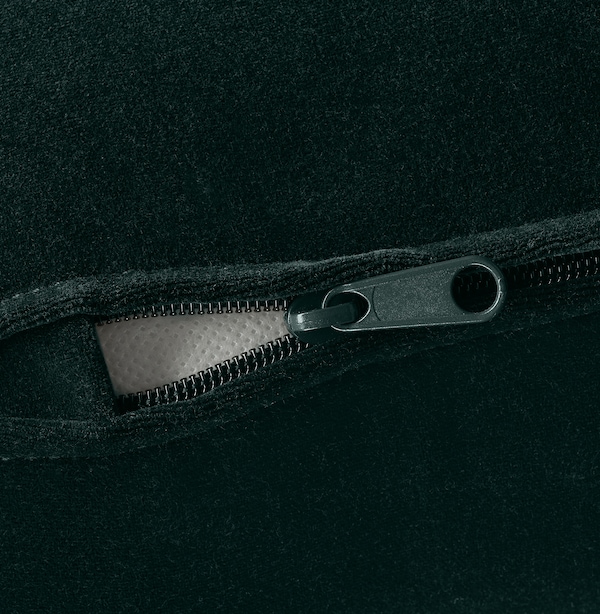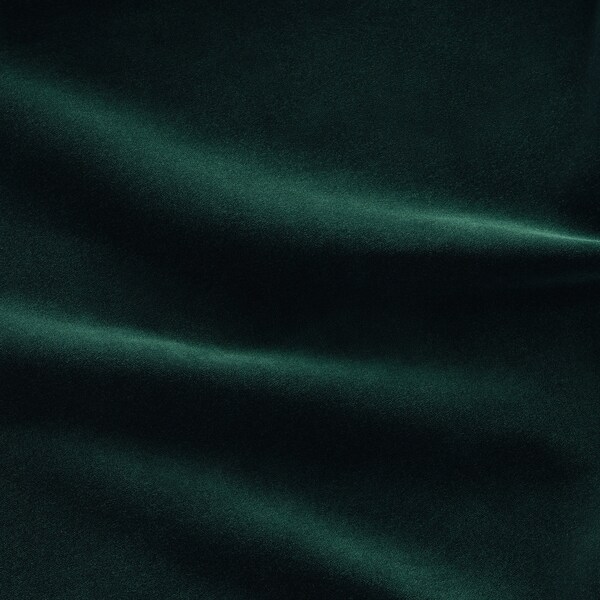 Snuggle up, feel warmly embraced and enjoy cosy nights and lazy days. This sofa is extra deep, has soft and moveable back cushions, and comes in various sizes and shapes – everything for your comfort.
Article number
093.146.09
Product details
The sofa's sections can be combined in different ways to get a size and shape that suits you. If you ever need a larger sofa, you can always add a section or two.
Deep seat cushions with a top layer of fibre balls and plenty of comfortable back cushions make GRÖNLID sofa feel soft and inviting.
Storage space under the chaise longue. The lid stays open so you can safely and easily take things in and out.
You can place the chaise longue section to the left or right of the sofa, and switch whenever you like.
The cover is easy to keep clean since it is removable and machine washable.
10 year guarantee. Read about the terms in the guarantee brochure.
Please refer to packaging label for country of origin.
10 back cushions are included.
The seat depth and total height depend on how you angle the loose back cushions.
Designer
Ehlén Johansson/Francis Cayouette
Frame 2-seat section

Frame:

Solid wood, Plywood, Fibreboard, Polyester wadding, Polyurethane foam 20 kg/cu.m., Non-woven polypropylene, Particleboard

Fitting:

Polypropylene plastic

Back fabric:

100 % polyester

Frame armrest

Frame:

Solid wood, Plywood, Fibreboard, Polyurethane foam 30 kg/cu.m., Polyester wadding, Particleboard, Polyurethane foam 20 kg/cu.m.

Leg:

Polypropylene plastic

Frame chaise longue section

Frame:

Solid wood, Plywood, Fibreboard, Polyurethane foam 20 kg/cu.m., Polyester wadding, Solid hardwood, Particleboard, Laminate (melamine)

Back cushion:

30% cut polyurethane foam/ 70% polyester fibres

Seat cushion:

Highly resilient polyurethane foam (cold foam) 35 kg/cu.m., Polyester wadding, Polyester fibre balls

Metal parts:

Steel, Epoxy/polyester powder coating, Galvanized

Leg:

Polypropylene plastic

Cover for chaise longue section/ cover for armrest

38% viscose/rayon, 62 % polyester

Corner section frame

Frame:

Solid wood, Fibreboard, Plywood, Polyurethane foam 20 kg/cu.m., Polyester wadding, Particleboard

Leg:

Polypropylene plastic

Back fabric:

100 % polyester

Inner seat cushion/ inner seat cushion corner section

Highly resilient polyurethane foam (cold foam) 35 kg/cu.m., Polyester wadding, Polyester fibre balls

Inner back cushion

30% cut polyurethane foam/ 70% polyester fibres

Cover for 2-seat section/ cover for corner section

Cover, other surfaces:

100% polyester

Back fabric:

100 % polyester

Fabric:

38% viscose/rayon, 62 % polyester

Cushion

Inner seat cushion/inner seat cushion corner section/inner back cushion

Do not wash.

Do not bleach.

Do not tumble dry.

Do not iron.

Do not dryclean.

This product consists ofmes as 26 packages.

RÅTORP

Frame 2-seat section

Article no:

803.509.47

Width: 76 cm

Height: 33 cm

Length: 148 cm

Weight: 33.25 kg

Package(s): 2

GRÖNLID

Frame armrest

Article no:

903.961.91

Width: 62 cm

Height: 19 cm

Length: 95 cm

Weight: 10.50 kg

Package(s): 2

GRÖNLID

Frame chaise longue section

Article no:

003.962.18

This product has multiple packages.

Width: 90 cm

Height: 46 cm

Length: 149 cm

Weight: 42.70 kg

Package(s): 1

Width: 65 cm

Height: 24 cm

Length: 86 cm

Weight: 11.01 kg

Package(s): 1

GRÖNLID

Cover for chaise longue section

Article no:

804.688.24

Width: 37 cm

Height: 9 cm

Length: 56 cm

Weight: 2.24 kg

Package(s): 1

LJUSTORP

Corner section frame

Article no:

904.050.44

Width: 96 cm

Height: 41 cm

Length: 97 cm

Weight: 36.70 kg

Package(s): 1

STUBBHULT

Inner seat cushion

Article no:

703.994.02

Width: 72 cm

Height: 24 cm

Length: 76 cm

Weight: 3.59 kg

Package(s): 4

STUBBHULT

Inner seat cushion corner section

Article no:

403.994.08

Width: 74 cm

Height: 23 cm

Length: 74 cm

Weight: 3.70 kg

Package(s): 1

UBBHULT

Inner back cushion

Article no:

803.987.08

Width: 69 cm

Height: 5 cm

Length: 69 cm

Weight: 1.34 kg

Package(s): 8

GRÖNLID

Cover for 2-seat section

Article no:

004.688.18

Width: 37 cm

Height: 10 cm

Length: 57 cm

Weight: 2.87 kg

Package(s): 2

GRÖNLID

Cover for armrest

Article no:

604.688.20

Width: 37 cm

Height: 3 cm

Length: 56 cm

Weight: 0.83 kg

Package(s): 2

GRÖNLID

Cover for corner section

Article no:

404.688.21

Width: 37 cm

Height: 8 cm

Length: 56 cm

Weight: 2.10 kg

Package(s): 1
Product size
Height including back cushions: 

104 cm

Depth chaise longue: 

164 cm

Depth: 

98 cm

Seat depth, chaise longue: 

126 cm

Width right: 

252 cm

Width left: 

333 cm

Free height under furniture: 

7 cm

Armrest width: 

18 cm

Armrest height: 

68 cm

Seat depth: 

60 cm

Seat height: 

49 cm
GRÖNLID
Corner sofa, 5-seat, with chaise longue/Djuparp dark green