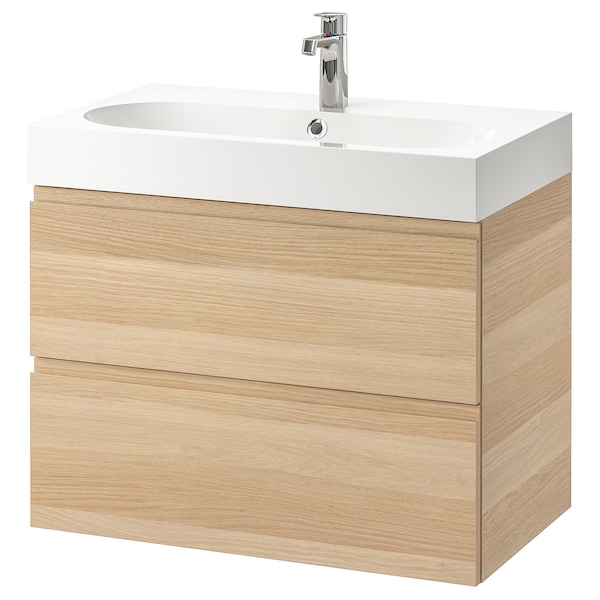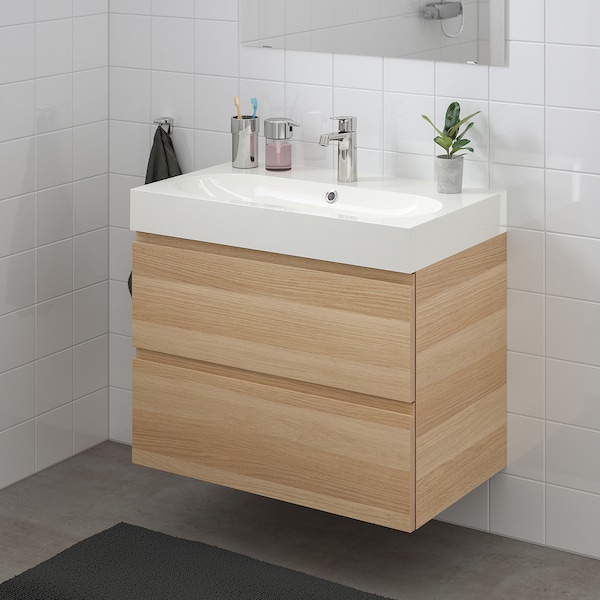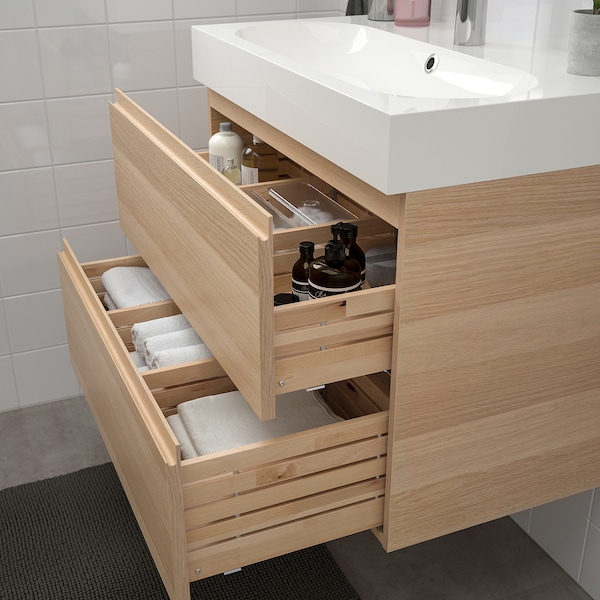 Clean, simple and efficient. This bathroom furniture set covers your essential needs from roomy drawers to water and energy-saving mixer tap. An easy match with many colours and styles.
Article number
692.924.02
Product details
Great value for money and guaranteed to outlast at least 10 years of everyday use. Read about the terms in the guarantee brochure.
The clean and simple expression is easy to combine with other furniture in the room.
The matte surface on the bathroom cabinet creates a sense of calm.
The drawers are protected from water damage thanks to a smart production technique. Foil is wrapped vertically around the particleboard so there are no unprotected edges where water can penetrate.
Cleaning the floor is a breeze since this solution is wall mounted and there are no legs that get in the way.
The smooth-running drawers with pull-out stop, open all the way for a good overview without falling out.
You can sense the calm every time you close the drawers thanks to the soft-closing mechanism. No worries about fingers getting trapped.
The deep bottom drawer has space for larger things like towels and hairdryer. The top drawer is suitable for smaller items like brushes, creams, sprays and accessories.
You can make good use of the space inside the drawers thanks to the smart design of the water trap that leads the piping into the far back of the cabinet.
The simple construction makes the drawers easy to assemble.
This crushed marble wash-basin has precise, clean lines and a distinct, modern expression thanks to the production technique and materials used.
Please refer to packaging label for country of origin.
Mixer tap and strainer are included.
Designer
Eva Lilja Löwenhielm/H Preutz/N Karlsson/IKEA of Sweden
Wash-stand with 2 drawers

Frame/ Back rail:

Particleboard, Foil, ABS plastic

Drawer front:

Fibreboard, Foil, Foil, ABS plastic

Drawer sides/ Drawer back:

Solid birch, Clear acrylic lacquer

Drawer bottom:

Particleboard, Melamine foil, ABS plastic

Single wash-basin

Water trap/ Washer:

Polypropylene plastic

Screw:

Brass, Chrome-plated

Strainer/ Stopper/ Knob:

Stainless steel

Seal:

Synthetic rubber, Polyethylene foam

Basematerial:

Polyester/crushed marble, Polyester

Wash-basin mixer tap with strainer

Wipe dry with a clean cloth.

Wet marks should always be dried off as soon as possible to stop moisture penetration.

Wipe clean with a soft cloth dampened in water and a mild non-abrasive washing-up detergent or soap, if necessary.

Do not use scouring powder, steel wool, hard or sharp tools which can scratch the surface of the washbasin.

Wash-stand with 2 drawers

At least 50% (weight) of this product is made from renewable materials.

We have clear requirements for all the wood we use, including a ban on illegally harvested wood. By 2020, we want all our wood to come from more sustainable sources, defined as certified or recycled.

Possible to separate for recycling or energy recovery if available in your community.

Single wash-basin

The material in this product may be recyclable. Please check the recycling rules in your community and if recycling facilities exist in your area.

Wash-basin mixer tap with strainer

By creating all our taps and showers in a way that helps people use less water and energy, we contribute to enabling a more sustainable life at home.

This product consists ofmes as 3 packages.

GODMORGON

Wash-stand with 2 drawers

Article no:

202.262.01

Width: 58 cm

Height: 12 cm

Length: 87 cm

Weight: 27.90 kg

Package(s): 1

BRÅVIKEN

Single wash-basin

Article no:

301.808.01

Width: 57 cm

Height: 14 cm

Length: 86 cm

Weight: 18.50 kg

Package(s): 1

BROGRUND

Wash-basin mixer tap with strainer

Article no:

403.430.82

Width: 21 cm

Height: 7 cm

Length: 35 cm

Weight: 1.68 kg

Package(s): 1
TECHNICAL INFORMATION
GODMORGON / BRÅVIKEN
Wash-stand with 2 drawers
| | |
| --- | --- |
| Type of mixer tap | Wash-basin mixer tap |
| Max. flow rate at 3 bar | 4.5 l/min (1.2 gpm) |
| Max. static pressure | 10 bar (145.0 psi) |
| Tested up to a max. static pressure | 16 bar (232.0 psi) |
| Min. working pressure | 1 bar (14.5 psi) |
| Recommended working pressure | 1-5 bar (14.5-72.5 psi) |
| Max. hot water temperature | 80˚C (176˚F) |
| Recommended hot water temperature | 60-65°C (140-150°F) |
| Recommended cold water temperature | 10-15˚C (50-59˚F) |
| Connection hoses length | 450 mm (17 3/4 '') |
| Hose connection size | G1/2" |
| Max. countertop thickness | 50 mm (2'') |
| Mounting hole measurement | 34-37 mm (1 3/8-1 7/16") |
| Noise level | I |
| Strainer included | Yes |
Product size
Width: 

80 cm

Wash-stand width: 

80 cm

Depth: 

48 cm

Height: 

68 cm
GODMORGON / BRÅVIKEN
Wash-stand with 2 drawers, white stained oak effect/Brogrund tap
80x48x68 cm