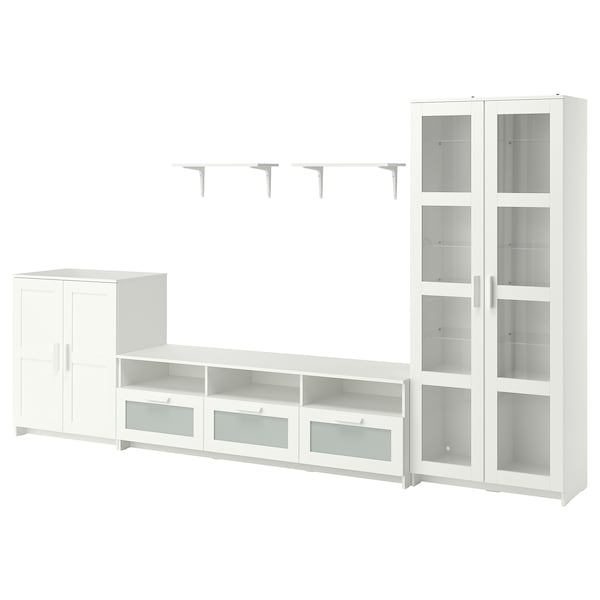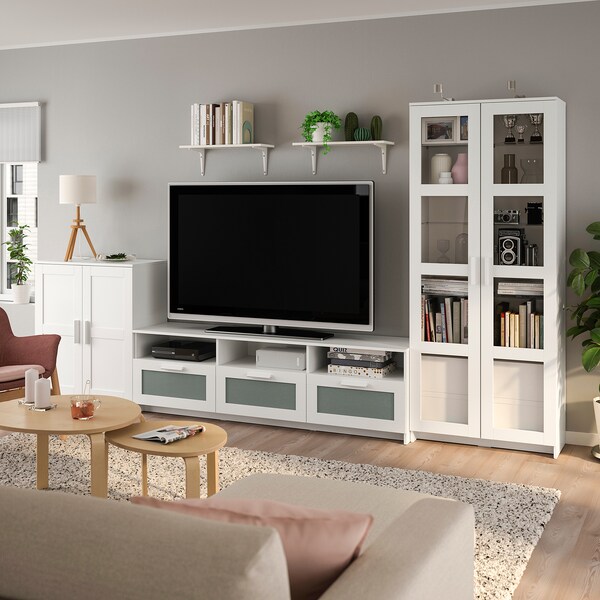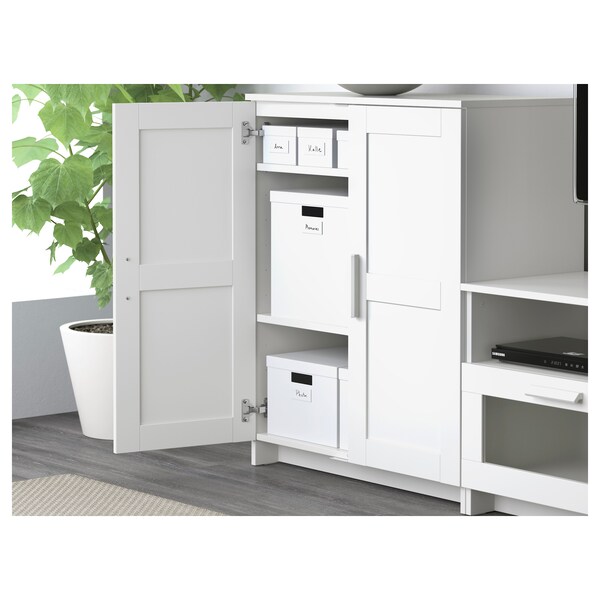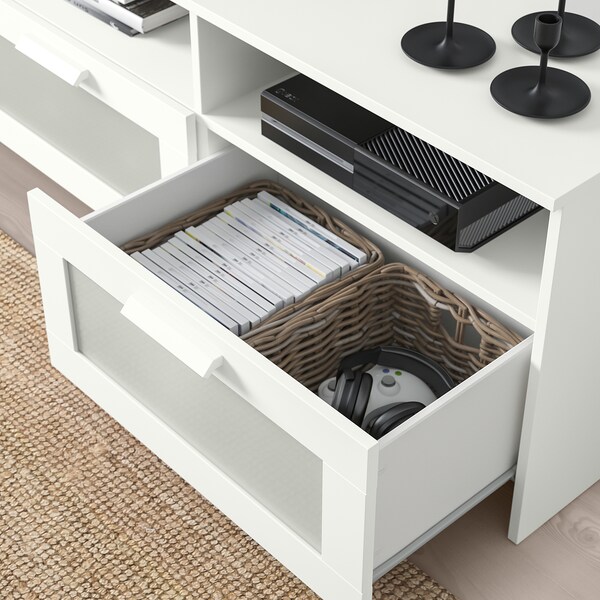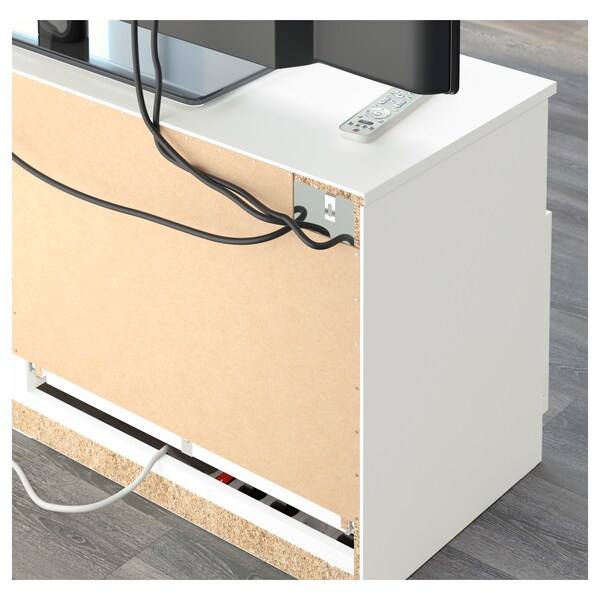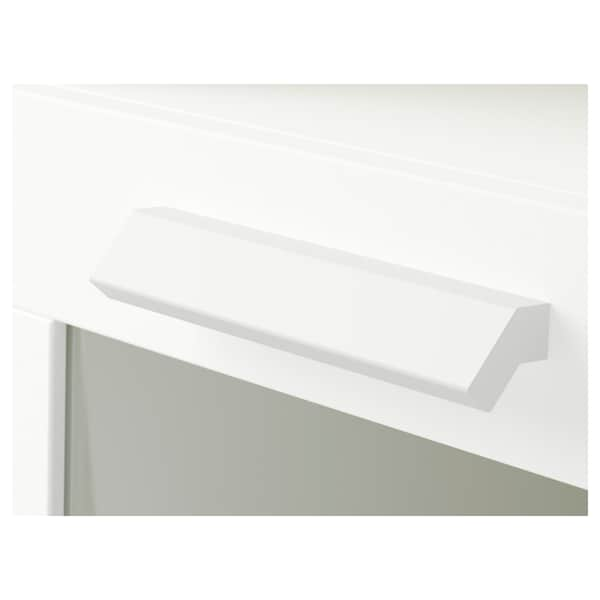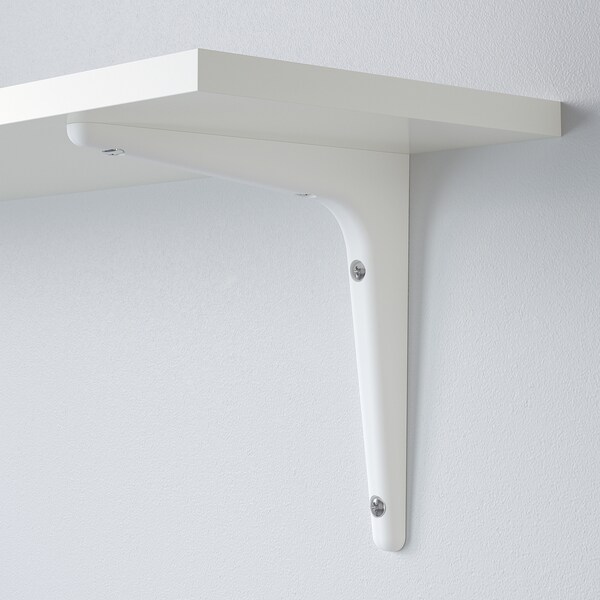 Sometimes it's nice to have the job done for you. This spacious, ready-made combination has a long TV bench, wall shelves, cabinets and a tall bookcase with glass doors. You just decide how to use it!
693.987.00
Product details
This TV-bench has large drawers that make it easy to keep remote controls, game controllers and other TV accessories organised.
Cable outlets make it easy to lead cables out the back, so they're hidden from view but close at hand when you need them.
Adjustable shelves, so you can customise your storage as needed.
With a glass-door cabinet you can show off as well as protect your glassware or your favourite collection.
You can customise your storage since the 10 glass shelves are adjustable.
If you complete with cabinet lighting you get a nice light that shines through the glass shelves and creates a cosy atmosphere in the room.
A simple and practical wall shelf that you can use for storage and as a display shelf.
Please refer to packaging label for country of origin.
This furniture must be fixed to the wall with the enclosed wall fastener.
Handle with care! A damaged edge or scratched surface can cause the glass to suddenly crack and/or break. Avoid collisions from the side - this is where the glass is most vulnerable.
The shelf carries a max. of 10 kg when properly mounted on the wall.
Max. load refers to the max. weight before the shelf is risking to slant. Distribute the weight evenly on the shelf to avoid the risk of slanting.
Different wall materials require different types of fixing devices. Use fixing devices suitable for the walls in your home, sold separately.
If you are uncertain about what type of fixing devices to use, please contact your local hardware store.
Shelf

Particleboard, Paper foil, Plastic edging

Glass-door cabinet

Top/ Stile:

Particleboard, Paper foil, Plastic edging

Back panel:

Fibreboard, Acrylic paint

Side panel/ Partition/ Rail/ Bottom rail/ Bottom:

Particleboard, Paper foil

Shelf:

Particleboard, Tempered glass, Paper foil

Glass panel:

Tempered glass

Cabinet with doors

Top panel/ Stile:

Particleboard, Paper foil, Plastic edging

Top rail/ Side panel/ Shelf/ Door panel/ Rail/ Bottom panel/ Bottom rail:

Particleboard, Paper foil

Back:

Fibreboard, Acrylic paint

TV bench

Top panel:

Particleboard, Paper foil, Plastic edging

Partition/ Side panel/ Fixed shelf/ Rail/ Plinth/ Drawer side/ Drawer back:

Particleboard, Paper foil

Back/ Drawer bottom:

Fibreboard, Paper foil

Drawer front:

Tempered glass, Particleboard, Fibreboard, Paper foil, Plastic edging

Bracket

Polypropylene plastic (min. 20% recycled), Reinforced polypropylene plastic (min. 20% recycled)

Shelf/cabinet with doors/bracket

Wipe clean with a cloth dampened in a mild cleaner.

Wipe dry with a clean cloth.

Glass

Glass-door cabinet/TV bench

Wipe clean with a cloth dampened in water or window-cleaner.

Wipe dry with a clean cloth.

This product consists ofmes as 12 packages.

BURHULT

Shelf

Article no:

704.305.20

Width: 20 cm

Height: 2 cm

Length: 59 cm

Weight: 1.27 kg

Package(s): 2

BRIMNES

Glass-door cabinet

Article no:

304.098.89

This product has multiple packages.

Width: 39 cm

Height: 8 cm

Length: 97 cm

Weight: 23.70 kg

Package(s): 1

Width: 41 cm

Height: 5 cm

Length: 194 cm

Weight: 19.50 kg

Package(s): 1

Width: 41 cm

Height: 6 cm

Length: 194 cm

Weight: 22.90 kg

Package(s): 1

BRIMNES

Cabinet with doors

Article no:

003.518.61

Width: 42 cm

Height: 15 cm

Length: 99 cm

Weight: 32.85 kg

Package(s): 1

BRIMNES

TV bench

Article no:

504.098.93

This product has multiple packages.

Width: 41 cm

Height: 6 cm

Length: 182 cm

Weight: 24.00 kg

Package(s): 1

Width: 43 cm

Height: 6 cm

Length: 186 cm

Weight: 26.10 kg

Package(s): 1

SIBBHULT

Bracket

Article no:

704.502.40

Width: 18 cm

Height: 3 cm

Length: 18 cm

Weight: 0.07 kg

Package(s): 4
Product size
Depth: 

41 cm

Height: 

190 cm

Width: 

338 cm
BRIMNES / BURHULT
TV storage combination, white
338x41x190 cm