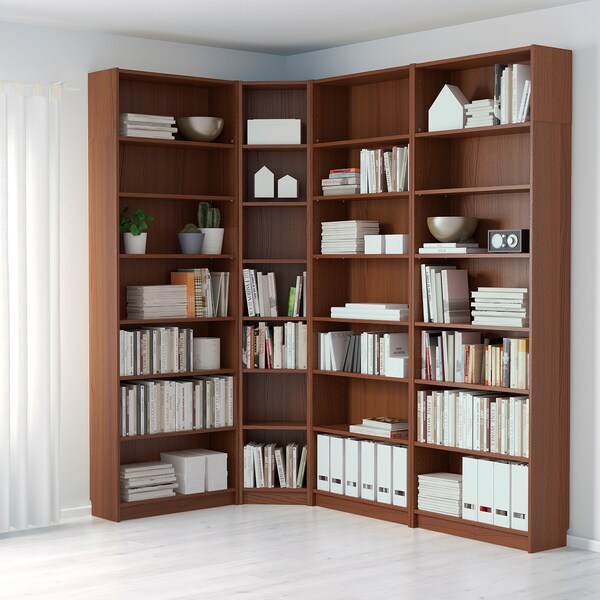 Product details
Make use of the room's maximum surface area with corner shelving.
This bookcase has a height extension unit, allowing you to make the most of the wall area.
Adjustable shelves; adapt space between shelves according to your needs.
Surface made from natural wood veneer.
Please refer to packaging label for country of origin.
Different wall materials require different types of fixing devices. Use fixing devices suitable for the walls in your home, sold separately.
This furniture must be fixed to the wall with the enclosed wall fastener.
Designer
Gillis Lundgren/IKEA of Sweden
Bookcase

Basematerial/ Side panel:

Particleboard, Ash veneer, Stain, Clear acrylic lacquer

Back:

Fibreboard, Paper foil

Basematerial:

Particleboard, Ash veneer, Stain, Clear acrylic lacquer

Height extension unit

Basematerial:

Particleboard, Ash veneer, Ash veneer, Stain, Clear acrylic lacquer

Side panel/ Back panel:

Particleboard, Ash veneer, Stain, Clear acrylic lacquer, Ash veneer

Particleboard, Ash veneer, Ash veneer, Stain, Clear acrylic lacquer

Wipe clean with a cloth dampened in a mild cleaner.

Wipe dry with a clean cloth.

Corner fittings

At least 50% (weight) of this product is made from renewable materials.

Product is possible to recycle or use for energy recovery, if available in your community.

This product consists ofmes as 9 packages.

BILLY

Bookcase

Article no:

903.515.26

Width: 38 cm

Height: 7 cm

Length: 207 cm

Weight: 25.31 kg

Package(s): 1

BILLY

Bookcase

Article no:

503.515.28

Width: 29 cm

Height: 13 cm

Length: 206 cm

Weight: 33.80 kg

Package(s): 3

BILLY

Corner fittings

Article no:

601.819.55

Width: 20 cm

Height: 1 cm

Length: 22 cm

Weight: 0.24 kg

Package(s): 1

BILLY

Height extension unit

Article no:

803.515.36

Width: 36 cm

Height: 8 cm

Length: 38 cm

Weight: 4.66 kg

Package(s): 1

BILLY

Height extension unit

Article no:

603.515.37

Width: 36 cm

Height: 6 cm

Length: 78 cm

Weight: 7.33 kg

Package(s): 3
Product size
Width: 

280 cm

Depth: 

28 cm

Height: 

237 cm

Width right: 

215 cm

Width left: 

135 cm

Max. load/shelf: 

30 kg
BILLY
Bookcase, brown ash veneer
215/135x28x237 cm
Price valid Aug 13, 2020 - Jul 31, 2021 or while supply lasts
You have 365 days to change your mind. Read More