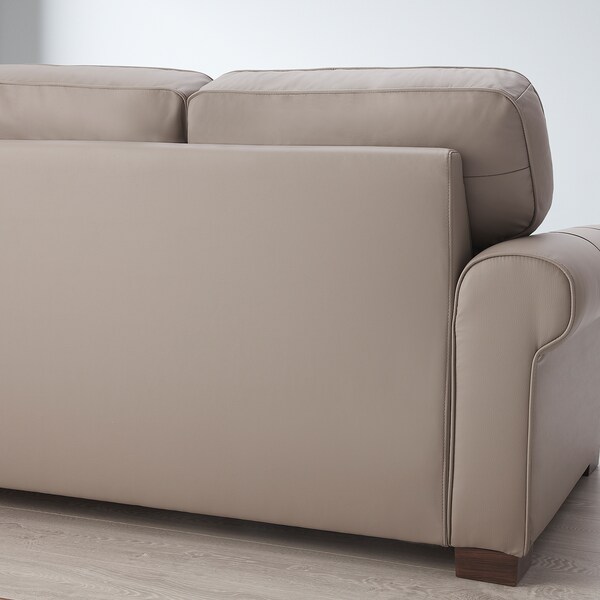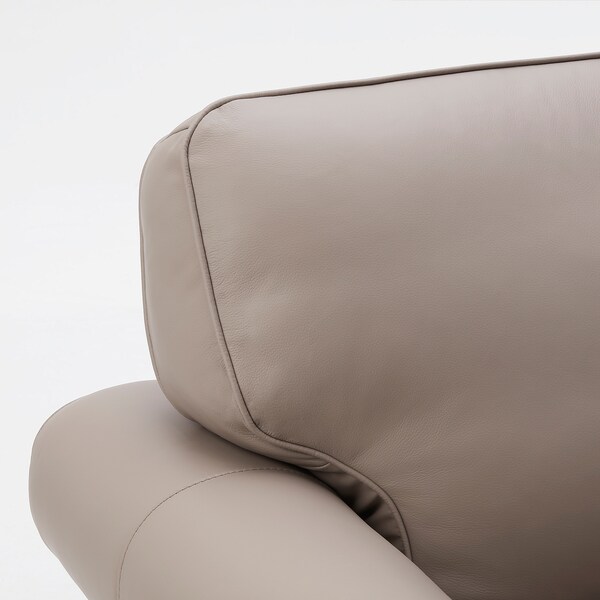 Luxury our way. ÅKETORP sofa has thick grain leather on the contact areas and durable coated fabric elsewhere to keep the price down. The 2-seater is nice and comfy for 2-3 people.
104.646.93
Product details
10 year guarantee. Read about the terms in the guarantee brochure.
The cover is easy to keep clean as it can be wiped clean with a damp cloth.
The seat and back cushions provide comfortable support for your body and easily regain their shape because they're filled with high resilience foam and polyester fibres.
Seat cushions filled with high resilience foam and polyester fibre wadding provide great seating comfort.
Contact areas with soft, dyed-through 1.2 mm thick grain leather that is supple and smooth to the touch.
The outer surfaces are covered in a durable coated fabric with the same look and feel as leather.
Please refer to packaging label for country of origin.
Frame:

Laminated veneer lumber, Particleboard, Plywood, Fibreboard, Highly resilient polyurethane foam (cold foam) 35 kg/cu.m., Polyurethane foam 20 kg/cu.m., Polyester wadding, Non-woven polypropylene, Non-woven polypropylene

Back cushion:

Non-woven polypropylene, Polyester fibres

Armrest frame:

Laminated veneer lumber, Particleboard, Fibreboard, 100% recycled solid paperboard, Polyurethane foam 20 kg/cu.m., Polyurethane foam 25 kg/cu.m., Polyester wadding, Non-woven polypropylene

Hook and loop fastener:

100% nylon

Cover:

Grain leather from cattle

Cover, other surfaces:

53% polyester, 30% polyurethane, 17% cotton

Leg:

Polypropylene plastic

Basematerial:

Through dyed grain leather from cattle, with a treated, embossed and pigmented surface

Coated fabric parts:

25% cotton, 75% polyester, 100% polyurethane

Vacuum clean.

Wet marks should always be dried off as soon as possible to stop moisture penetration.

Light stains can be removed with textile cleaner or a sponge damped in water or a mild soapy solution.

Protect your sofa from direct sunlight.

Since September 2016, all coated fabric in IKEA products is free from DMF (dimethylformamid). DMF is a solvent that can be toxic for people in the production and to the environment.

All leather in IKEA products is chrome-free since 2017. This prevents any risks of chrome VI which can be harmful to workers in production and to the environment when a product reaches its end-of-life.

This product consists ofmes as 2 packages.

ÅKETORP

2-seat sofa

Article no:

104.646.93

This product has multiple packages.

Width: 97 cm

Height: 73 cm

Length: 133 cm

Weight: 41.00 kg

Package(s): 1

Width: 54 cm

Height: 38 cm

Length: 89 cm

Weight: 19.50 kg

Package(s): 1
Product size
Height including back cushions: 

89 cm

Height backrest: 

75 cm

Width: 

174 cm

Depth: 

95 cm

Free height under furniture: 

6 cm

Armrest height: 

60 cm

Seat width: 

130 cm

Seat depth: 

54 cm

Seat height: 

44 cm
ÅKETORP
2-seat sofa, Grann/Bomstad dark beige