Home visit: inspiration for your festive table
Welcome everyone to the table with these super simple, super festive ideas from the home of interior stylist Johanna Flyckt Gashi.
Keep it simple
"Making a table setting should be fun – it's a chance to play and enjoy yourself," says Johanna. "Don't worry about rules that say how it should be, instead do what you like. Use what you have and don't make it difficult. Pick things from the garden, mix up your plates and glassware. And remember some simple things always make a table feel special – a touch of nature, candlelight and fabric."
"Linen is such a beautiful material, just throw some on the table and it feels special. I have the IKEA AINA metre fabric. It's so easy, you don't even have to iron it – in fact it's nicer when it's crumpled!"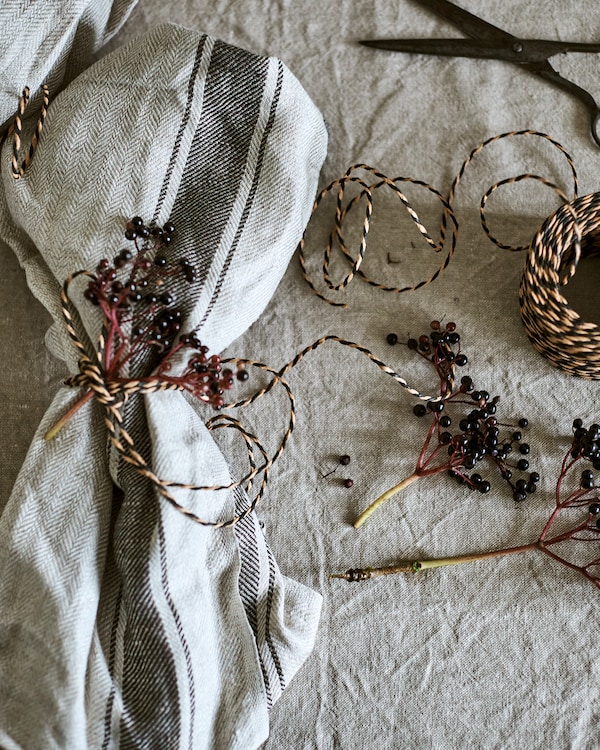 Make it special
"Fabric is such a simple way to add some feeling to a table. I've ripped big pieces of fabric up into squares before but what I really like to do is use tea towels as napkins because they are so much bigger than ordinary napkins. And sometimes if you want a special colour, it's easier to find in a tea towel."
Decorate your napkins
"Adding a tie to each guest's napkin is a nice touch. You can make them extra special by weaving berries or small flowers around twine and tying that round your napkin. Or make it super personal by giving each guest a different decoration."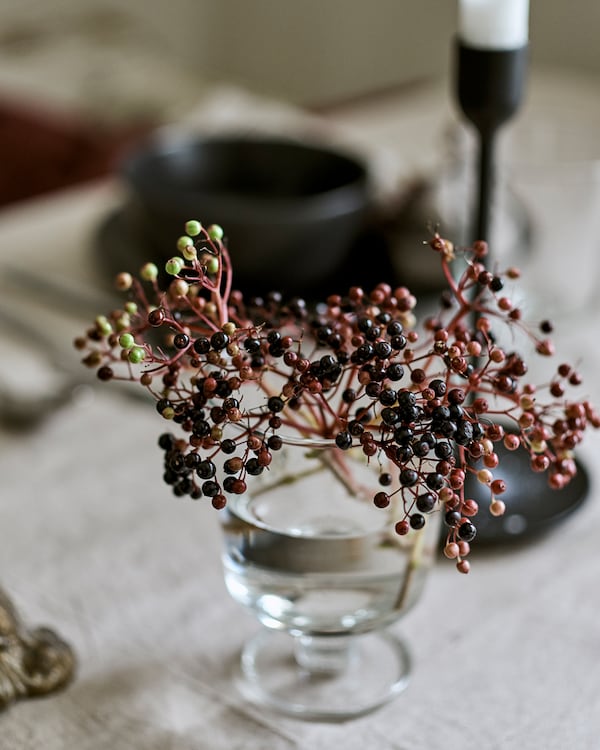 Downsize your bouquets
"I'm not a fan of big bunches of flowers. They're nice but they can get in the way – when you sit at the table and try to talk, you have to look round them. That's one tip for helping conversation flow, keep things on the table at a low level so you can see the person opposite you and talk to them! If you use a drinking glass for a vase, you'll have an arrangement that's the perfect height."
"It's so nice to bring nature in if you do a Christmas table. Go outside and see what you can find – maybe some beautiful berries. Or get lovely green holly and ivy and run it down the middle of the table."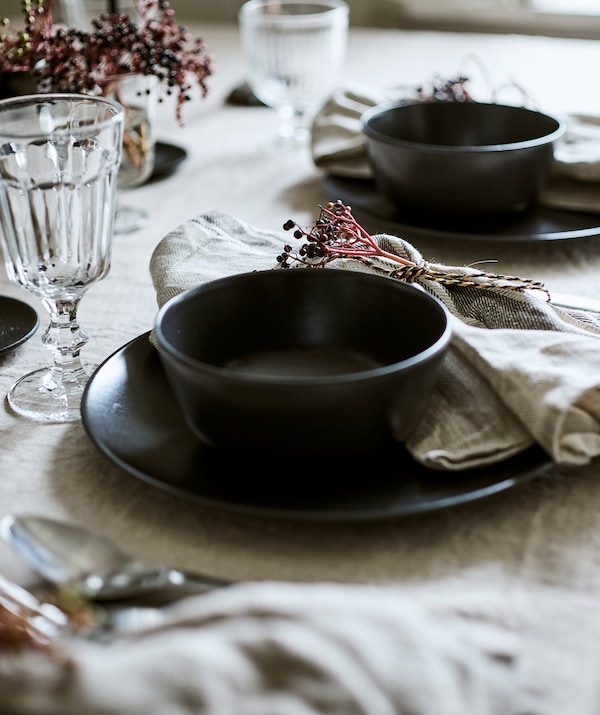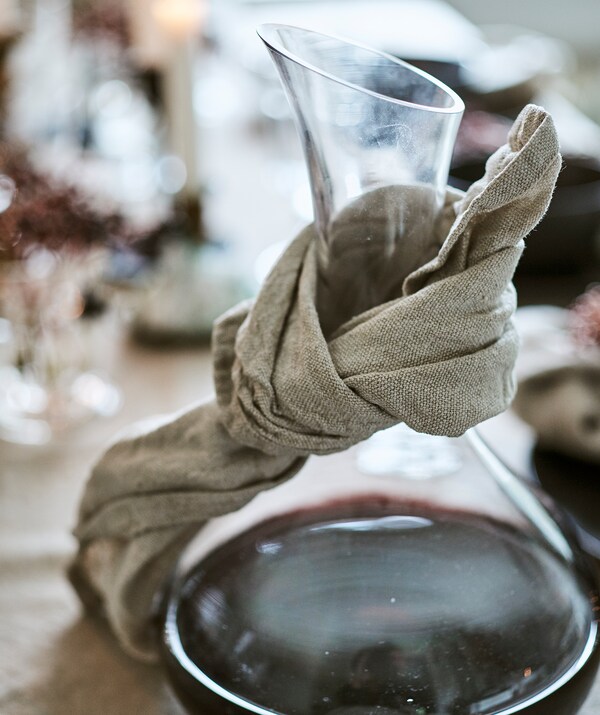 "Tie a napkin round the neck of your carafe. It will catch any drips when you pour and save you from wine on your table cloth."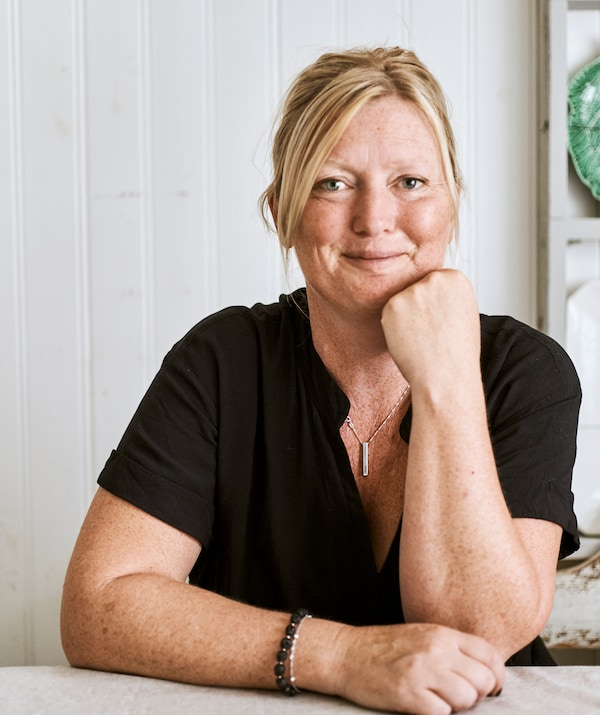 The stylist's view
"I like the idea of people having fun when they set their table! The expectations on a host can be big, but this part of it should be enjoyable and stress-free! You want your table to feel relaxed so relax when you make it. For me it's the best part. I'm not great at standing and cooking – I leave that for my husband. Instead I go round and play with decorations," says Johanna.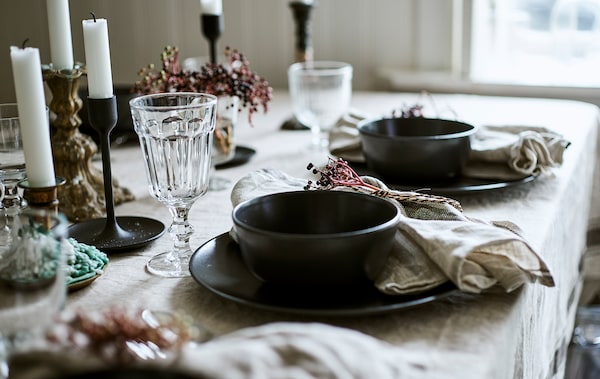 We love to see our customers get creative with our products. Go for it! But please note that altering or modifying IKEA products so they can no longer be re-sold or used for their original purpose, means the IKEA commercial guarantees and your right to return the products will be lost.
Made by
Interior designer: Johanna Flyckt Gashi
Photographer: Benjamin Edwards
Art director: Jules Rogers
Writer: Helen Bazuaye
Follow Johanna @johannas3