Product Recycling Fund
The price of this item includes a contribution to a Product recycling fund to ensure that waste electrical and electronic equipment is collected and recycled in a responsible manner.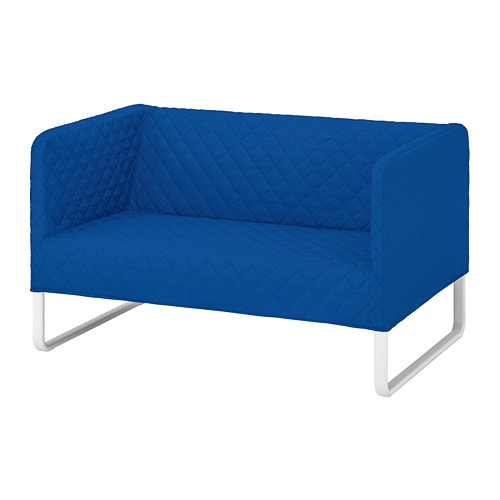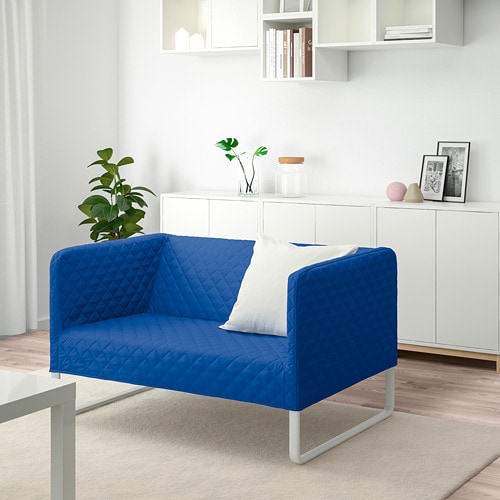 Energy & resources


Comfort without the extra padding
For KNOPPARP sofa, less is more. We've stretched the fabric over the metal frame, making the need for foam unnecessary. Using less material, yet keeping it comfortable and sturdy.
Designer thoughts
Designer Nike Karlsson
"Just as comfortable as lying on your back on a trampoline! Once we got the idea of using the same technology as in trampolines for KNOPPARP sofa we were able to develop the form very quickly. The really big challenges came later. Besides the attractive design, the sofa should also have a low price. Be good from an environmental perspective. Be packaged so smartly that it could be taken home on a bus. And be easy to assemble, robust and easy to keep clean. The result is a sofa that exudes honesty – what you see is what you get."
More
An easy-to-carry innovator
All IKEA products have affordability as a key part of their design, but we create certain products from the beginning to be especially so. We call them "breath-taking items" or BTIs. "We'd tried to make a BTI sofa before," product developer Jerry Svensson explains, "but never got the price right." So when creating KNOPPARP, the team had to try something completely different. Who would've thought that the inspiration would come from a trampoline?
So, where is the money spent when making a sofa? "The biggest expenses come in three parts," says Jerry. "The wood needed to make a frame, the fixtures you need to put the sofa together, and the foam to make it comfortable."
A jump in the right direction
Walking home one day, engineer Gerd Rodhe could see his neighbour's kids stretched out relaxing on a trampoline. He realized that stretching a fabric between a metal frame would make a comfortable seat without expensive materials. Jerry picks up the story. "We started breaking down what we needed to make a sofa without adding a high cost to the final price. We landed on using a metal frame, the trampoline-like seat, and to cut down on foam we developed a fabric cover that's quilted for comfort." Also, most of the screws were swapped for metal parts that can click together making the sofa easy to assemble.
Light, easily carried – and sustainable
KNOPPARP should be easy to transport, too. "It became almost like a competition to work out different ways to divide it so the packaging became smaller," Jerry says. We ended up with a packaging light and small enough to make it easier to bring home. Jerry's proudest moment with KNOPPARP though is its sustainability. One part of this is that we've used as little material as possible, but the sofa is still strong and durable and will serve you for many years. "It's almost completely recyclable, too, making it a real innovator for more sustainable sofas in the future."
More Two-seat sofas
KNOPPARP sofa is very durable thanks to the metal construction and strong supporting fabric. Thanks to the innovative construction, we can use less materials and foam when we make KNOPPARP sofa, while the padded cover ensures that the comfort is maintained. A sofa with small, neat dimensions which is easy to furnish with, even when space is limited. This cover is made from KNISA fabric in polyester, which is dope-dyed. It's a durable material which has a soft feel. The dope-dyeing process reduces consumption of water and dyestuff compared to traditional dyeing techniques. The cover is easy to keep clean as it is removable and can be machine washed. Easy to bring home if you choose to carry it on your own. The packaging is just over one metre in height and weighs 17 kg. 10 year guarantee. Read about the terms in the guarantee brochure.
https://www.ikea.cn/cn/en/images/products/knopparp-seat-sofa-blue__0713941_PE729856_S4.JPG
KNOPPARP 2-seat sofa, Knisa bright blue
https://www.ikea.cn/cn/en/catalog/products/90424655/
904.246.55
IKEA
¥ 799.00