Product Recycling Fund
The price of this item includes a contribution to a Product recycling fund to ensure that waste electrical and electronic equipment is collected and recycled in a responsible manner.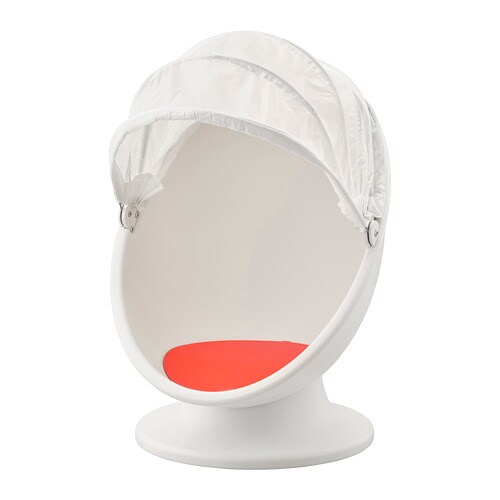 More
A cosy place with a twist
Since 2003, children throughout the world have spun, hidden and created their own cosy space in LÖMSK swivel armchair. Designer Monika Mulder got inspiration for the armchair from her own childhood. It was not allowed at home to spin around in her father's large swivel armchair in leather – to Monika's great disappointment. At the time, neither of them knew that the desired spinning could not only have been a fun game, but would have actually contributed to developing her balance.
"As a child I was constantly doing handstands and I loved rocking and spinning. My father's armchair was enticing, so as an adult I had the idea that there should be swivel armchairs adapted for children", Monika explains. But when she had the opportunity to develop an armchair for the first IKEA PS collection for children, making it possible to spin was not enough for her. The egg-shaped LÖMSK armchair was also given a hood that can be pulled down so that the armchair turns into a secret hiding place or a cosy space to read in peace. Proof that Monika, and the engineers who helped her develop LÖMSK, were on the right track is seen every time she visits Children's IKEA at a store. "The armchair is never empty, a child is actually always sitting in it."
Spinning that develops balance
Child psychologist Barbie Clarke, who has extensively researched children and their development, has also seen how LÖMSK acts like a magnet to children in the store. Barbie believes one of the reasons is that it can be transformed with the hood. "Children love things that change into something else. It stimulates the imagination and gives a feeling of having magical powers. With the hood pulled down, children can hide or get some alone time." But spinning in the armchair is not just a fun game, it also contributes to important physical development, explains Barbie. "When children climb, hang upside down, run, balance and spin, their sensory systems develop ─ particularly their balance. It's important since it gives children a sense of security and control over their movements. They then find it easier to keep their balance and avoid falls and accidents."
An armchair for more imagination and play
Since developing LÖMSK, Monica has had four children of her own who have all played with the armchair – and not always in ways she had in mind. "In our home, it has been used as a toy stove, so that sometimes when the room is to be quickly cleaned, everything from the floor is hidden under the pulled down hood. Later in the evening, LÖMSK often looks like a glowing ball when one of the children sits inside it with a tablet." For Monika, the fact that children use LÖMSK in unexpected ways is positive. As a designer, she wants to contribute to more imagination and games. "Through play, children learn many important things. In a pretend world, they can comfortably prepare for adult life ─ with nothing predetermined. It's the imagination of children that decides what LÖMSK should be. I'm perfectly fine with it if they want to turn it on its side and use the round base as a steering wheel."
More Small chairs
With the hood pulled down the armchair is a secret hiding-place for the child. The fabric lets light in so it's never completely dark under the hood. Spinning round helps the brain to sort sensory impressions. Add a cushion or pad for more comfort.
https://www.ikea.cn/cn/en/images/products/ikea-ps-lomsk-swivel-armchair-red__0726690_PE735385_S4.JPG
IKEA PS LÖMSK Swivel armchair, white, red
https://www.ikea.cn/cn/en/catalog/products/90407137/
904.071.37
IKEA
¥ 499.00