Product Recycling Fund
The price of this item includes a contribution to a Product recycling fund to ensure that waste electrical and electronic equipment is collected and recycled in a responsible manner.
More URSKOG collection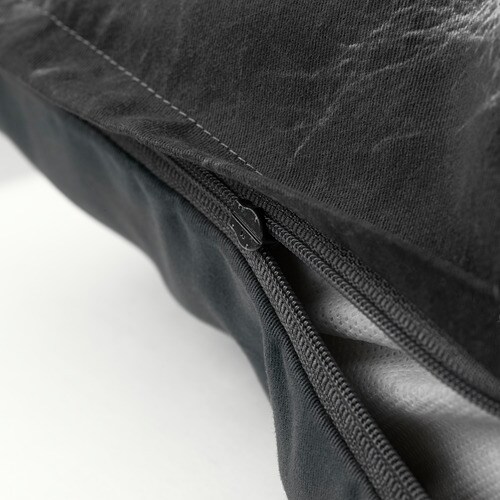 A tribute to colourful nature
With the URSKOG/DJUNGELSKOG textile collections, we want to shed light on the wild animals which fascinate us so much, especially children. Beautiful, independent animals which, in many parts of the world, are threatened by us humans and which we all need to pull together to protect. This will help the panda, the zebra, the tiger and other animals can continue living in their natural habitats. With our duvet covers, towels and other textiles, all children can get to know these wild animals up close.
"The tiger is a symbol of a healthy ecosystems", says product developer Anna Edlundh. Before work started on the URSKOG/DJUNGELSKOG textile collections, Anna participated in a workshop where the World Wildlife Fund (WWF) organisation shared their expert knowledge regarding endangered species. It inspired Anna and her colleagues to have a print of the magnificent tiger on a duvet cover in comfortable lyocell and cotton. "As a predator at the top of the food chain, the tiger has an important role in maintaining a balance in nature." Through their encounter with WWF, Anna and her team also came up with ideas for other wild animals that should have more light shed on them, and which can fascinate children of all ages. The panda, the zebra and the gorilla were some of the animals chosen.
Colourful and a multitude of impressions
URSKOG/DJUNGELSKOG are our tribute to nature and its diversity. Everything from duvet covers and pillows to towels and rugs are colourful and have a multitude of impressions – just as nature itself. Anna and her colleagues at Children's IKEA always focus on the environment. For them, it's a given to choose materials and production methods that are neither harmful to children or our environment. "With these collections which focus on nature, it felt particularly good that we use materials such as the cellulose fibre called lyocell, cotton from more sustainable sources and polyester made from recycled plastic", says Anna. Today, all cotton products which IKEA sells have a marking so that the cotton can be traced back all the way to the farmers. It's a guarantee that the cotton actually comes from sustainable production.
Stripes which last a lifetime
In Pakistan, a country with an extensive textile tradition, there is a great deal of expertise when it comes to different printing techniques. Abdul Majid Khan, who works at our office in the provincial capital Karachi, says that many of the patterns in the collections are printed with a pigment print. It's a technique that we are choosing more and more due to its environmental benefits. "The advantage with it is that we can skip a large washing step during production", says Abdul Majid. "And in this reduces water consumption by 30-40% compared with the reactive printing technique. For a single duvet cover with a pillow case, it means that we save at least 30 litres of water." From the experts at WWF, Anna learned that the colours of the wild animals which inspired our textile collections are completely unique. "Did you know that every tiger has its own pattern? Personal stripes that it keeps its whole life."
More Children's cushions & blankets
The cushion is nice for tired small heads and soft against your child's cheek. With some extra decorative cushions on the bed, sofa or in a cosy corner, the child's room feels more cosy. The zippers on our children's products have no pull tabs. This makes them safer for small children, but just as easy to open for older children. Also looks nice as a decorative cushion with other cushions in the same collection. The polyester filling keeps its shape and provides soft support for tired, small heads. Tested and contains no substances, phthalates or chemicals that can harm your child's skin or health. The washable cushion cover is easy to remove since it has a zipper. Easy to clean; machine wash, warm (40°C).
https://www.ikea.cn/cn/en/images/products/urskog-cushion-grey__0552849_PE659099_S4.JPG
URSKOG Cushion, lion, grey
https://www.ikea.cn/cn/en/catalog/products/90393913/
903.939.13
IKEA
¥ 59.00