Product Recycling Fund
The price of this item includes a contribution to a Product recycling fund to ensure that waste electrical and electronic equipment is collected and recycled in a responsible manner.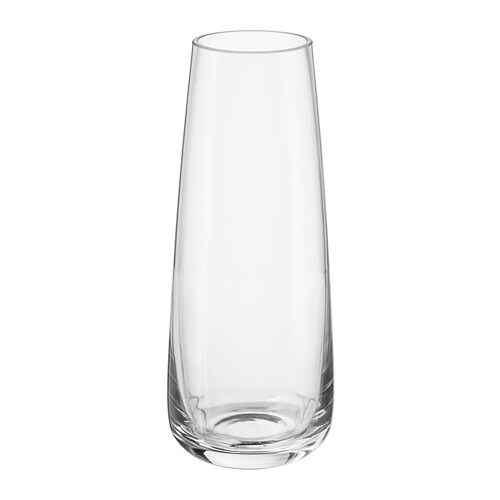 Material matters

Carefully shaped by skilled glassblowers
To make our mouth blown glass, we collaborate with skilled glassblowers who have developed the art of creating finished products over many years. At the glassworks, the glassblower gathers molten glass on a pipe and carefully shapes the glass. The talent, experience and creativity put into production makes each product personal – a piece of art in your home.
More PARTY TIME collection
Making new vases from a global bouquet of insights
Anh Linh is Swedish but has lived and worked in other countries, too. She works at IKEA to make products for home decoration. When she helped create new BERÄKNA vases, she had to figure out what vases were best for certain flowers. She knew from experience that countries differ, but brought in an expert florist to learn even more about how people buy and use flowers worldwide.
Anh remembers her first flower bouquet delivery in the United States, more than five years ago. She and her boyfriend were headed to her home, where 12 long-stem, red roses waited by the door in a tall, cylindrical vase. He insisted they weren't from him. She opened the card. Someone else sent her flowers! From that day, she says, her boyfriend gave her flowers. "Every time I get back from a business trip, there are always fresh flowers for me at home." She laughs about the experience now, knowing it taught her an important lesson about life in the USA—a bouquet usually comes with a vase. In developing BERÄKNA vases, she's learned a lot more, too. "Home decoration was completely different for me when I started at IKEA. For almost 9 years, I had worked in fashion and made athletic clothes."
 Insights from an expert
To gain more perspective, Anh and the team consulted Ragnhildur Fjeldsted, a professional florist in Iceland, who has worked in many countries. She helped them understand what sorts of flowers people buy and how they're used. In Denmark, Ragnhildur says people buy a lot of ready-made, hand-tied bouquets. She says the Dutch buy big bunches of flowers, say 20 to 50 stems, and make arrangements themselves. "They are clever at it," she adds. London residents, she says, prefer floral centrepieces to put on a plinth or a table. "But they also use a lot of different greenery like eucalyptus or monstera leaves to decorate a nice glass vase only with greenery." Deliveries come in vases, too.
  Lessons in vases
Based on Ragnhildur's insights, the team realised BERÄKNA needed at least a single stem vase, a tulip vase and a lily vase. They added a bowl, a taller vase for long stems and a floor vase, too. "I use single stem vases for parties, hotels and restaurants that do not have big budgets," Ragnhildur says. "At home, they're great on trays with candles and small bunches of flowers." She calls a tulip vase 'the vase' because flowers stay in place instead of falling to the sides and leaving a gap. A lily vase, she explains, is balanced and stable so long-stemmed, top-heavy flowers don't tip the vase over.'
Ties to fashion
Despite her distance from home decoration at the start, Anh now sees its connection to her previous work in fashion. "You use both to renew," she says. "Fashion is about being on track, and I think home decoration has to be treated the same way". Ragnhildur agrees. "Flowers and vases hold hands with fashion. Just look in a fashion magazine. You'll be surprised to see how often they use flowers for their photo shoots.
More Vases
You can easily make a beautiful floral arrangement with just a single flower or a twig since the opening of the vase is small. The glass vase is mouth blown by a skilled craftsperson.
https://www.ikea.cn/cn/en/images/products/berakna-vase__0639826_PE699591_S4.JPG
BERÄKNA Vase, clear glass
https://www.ikea.cn/cn/en/catalog/products/80327947/
803.279.47
IKEA
¥ 29.90