Product Recycling Fund
The price of this item includes a contribution to a Product recycling fund to ensure that waste electrical and electronic equipment is collected and recycled in a responsible manner.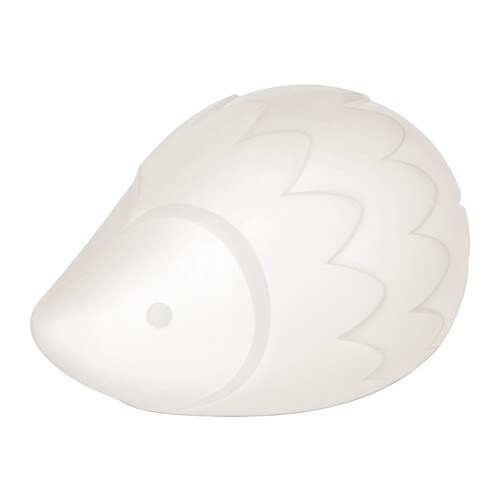 More
Making new lights and new friends, too
Countless children have scared away monsters with ghost-shaped SPÖKA night lights. Even though the lights are loved, we wanted to make improvements—like switching the silicone bodies to recyclable materials and using more white light than colours. At IKEA, we question old solutions and are willing to change if we have a better idea. We wondered what else we could do with LURIGA LED night lights as we say good night to SPÖKA.
To find out, we brought in ABOVE, a design and technology agency in Sweden who had worked on other IKEA lighting. A small group of their designers examined SPÖKA and interviewed parents who had them. "We wanted an even more useful light that children could interact with, without it being a toy," ABOVE designer Casper Asmussen says. "We wanted adults to be able to tell kids a story about the light, too." How could a night light tell a story?
Shaping night's friends
A story needs characters. From lots of existing IKEA drawings, the team chose six friendly animals that would light up well and stand up nicely. ABOVE turned the drawings into clay forms. One designer's niece tested that the designs fit child-sized hands. Then came feedback. Cecilia Sondell Banke, an engineer who worked on LURIGA, interviewed kids at her child's daycare to see which they liked best. Adults chimed in, too. The raccoon was the clear but confusing favourite! "We don't have raccoons in Sweden, so to some it was a fox," she explains. "An ABOVE designer thought it was a cat." The hedgehog became the raccoon's companion. "It was the best animal for a story," Casper says. "They felt like a classic couple—Tom and Jerry or Laurel and Hardy."
Exploring light's emotions
A story needs feeling, too. ABOVE had many ideas like a shield to fend off monsters or a torch to find a lost toy. Another came from Casper's children, who fall asleep to a rotating mirror ball lamp. "They challenged us with things we hadn't thought of before," says Cecilia. "That's why we love collaboration." The story became more than a night light to take to bed. The team created a story about what friends do best—radiate security. Once they're on, an extra press on the raccoon's head starts a tiny red heartbeat—just like the hedgehog's body pulses green from another press on its back. The calming rhythms remind kids of a mother's heartbeat. Pokes on the hedgehog's nose and squeezes to the raccoon's belly brighten or dim their lights. "There's comfort without pushing buttons or waking up an adult," Casper says.
Meeting life's needs
A light needs attention to detail, especially a child's one. To fine tune everything, ABOVE made a zoo of 3D-printed raccoons and hedgehogs. "It's a fun challenge to design for kids," Casper says. "The safety requirements mean something, and you have to get it right." The team secured important details like ears and noses that won't break, soft bodies that wipe clean and replaceable batteries that can't be easily accessed. We think the teamwork behind LURIGA LED night lights led to better ideas—and hope our friends lead to better nights for kids and adults, too.
More Children's lighting
Makes a pulsating light that reminds the child of a heartbeat. Press the hedgehog´s back once to light up and twice for the soft, pulsating light. Tested and approved for children. Perfect for scaring little night monsters away. LED bulbs make great night lights, especially since they last up to 25,000 hours. Your children will most likely outgrow their fear of the dark before the lights go out.
https://www.ikea.cn/cn/en/images/products/luriga-led-night-lamp-for-children-white__0527306_PE645398_S4.JPG
LURIGA LED night lamp for children, white, hedgehog
https://www.ikea.cn/cn/en/catalog/products/80325830/
803.258.30
IKEA
¥ 99.00