Product Recycling Fund
The price of this item includes a contribution to a Product recycling fund to ensure that waste electrical and electronic equipment is collected and recycled in a responsible manner.
More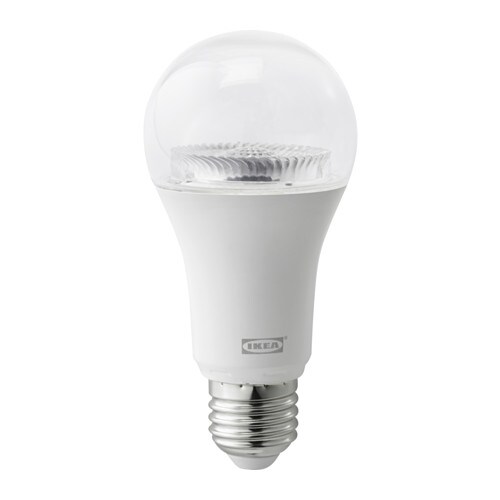 Easy and affordable home lighting technology
Rebecca Töreman is facing a group of journalists. They're visiting the headquarters of IKEA design with hopes of glimpsing innovative products. They bustle to see and touch what Rebecca and her team have spent the last two years creating: the IKEA Smart lighting range.
Rebecca is ready. She knows the reasoning and effort behind every aspect of the range, and she can explain how it will change life at home for the better. But her audience is enthralled with something she forgot could be exciting. "People were amazed with the remote," says Rebecca. "That you could steer your lamps from wherever you are." She laughs, pleased to be reminded it can be a delight to control the brightness or tone of a bulb remotely. "When you work with it so closely you get used to the products and the things they can do," says Rebecca. "So, when you hear people 'oh' and 'ah' over the design and function of the remote—which I see every day—you feel very proud of what you've accomplished."
Improving life at home
Smart lighting is one way we're using technology to improve life at home. Imagine a cosy weekday family dinner, lights glowing soft and warm. When the meal is done, the table is cleared for homework, which calls for clean, bright light. The goal of Rebecca and the Smart lighting team is to make that transition simple and smooth. Literally, it can be at the touch of a button. "Lighting is such an important part of life at home," says Rebecca. "You do so many activities every day at home and the light needs to support you in doing all these things." The range is made up of products that can be combined to create a personalised home lighting solution. It includes LED bulbs, panels and cabinet doors that can all be controlled by a remote. You can dim them and even change the tone of the light, from warm to cold. One remote can control up to 10 Smart lighting products.
Making home tech affordable
Smart lighting technology isn't new, but so far it hasn't been so accessible. "It's been very expensive and complicated," says Rebecca. "If we can develop Smart lighting that's easy to understand and affordable, it actually becomes accessible to the many people." When it comes to cost, Rebecca and her team set a personal goal. "What would we want to pay for a light bulb like this?" asks Rebecca. "We've been going back to this idea throughout the whole process." Working with large volumes has helped lower costs. And, by collaborating with experienced tech suppliers, we've been able to find smart ways to save. Those savings are then passed on to the customer.
User friendly and convenient
By offering "kits" that have everything you need to get started, we make it easier to have Smart lighting in your home. And, if you end up wanting to expand your solution, it's simple. "You can start with the function that suits you and your family's life, and you can build on that," says Rebecca. You can look forward to even more Smart lighting products from IKEA in the future. "There will be upgrades and new things customers can do to improve and build on the system," says Rebecca, who sees a fuss-free future where very little can interrupt a lazy afternoon. "If you sit in your sofa and want to turn on the light, but the light switch is over on the wall, well, obviously with the wireless remote you don't actually have to get up!"
More Wireless LED bulbs
With a smart LED bulb you can adapt your lighting to different activities, for example a warmer light for dinner and a brighter, colder light for working. You can use TRÅDFRI remote to control up to 10 LED light bulbs, LED light panels or LED light doors which will react in the same way - dim, switch off, turn on, and switch from warm to cold light in 3 steps. When you add TRÅDFRI gateway and IKEA Home smart app, you can create several groups of light sources and control them in different ways. The LED light source consumes up to 85% less energy and lasts 20 times longer than incandescent bulbs. Helps lower your electric bill because dimming the lights saves energy.
https://www.ikea.cn/cn/en/images/products/tradfri-led-bulb-e-lumen__0609529_PE684580_S4.JPG
TRÅDFRI LED bulb E27 950 lumen, wireless dimmable, white spectrum clear
https://www.ikea.cn/cn/en/catalog/products/60318270/
603.182.70
IKEA
¥ 149.00