Product Recycling Fund
The price of this item includes a contribution to a Product recycling fund to ensure that waste electrical and electronic equipment is collected and recycled in a responsible manner.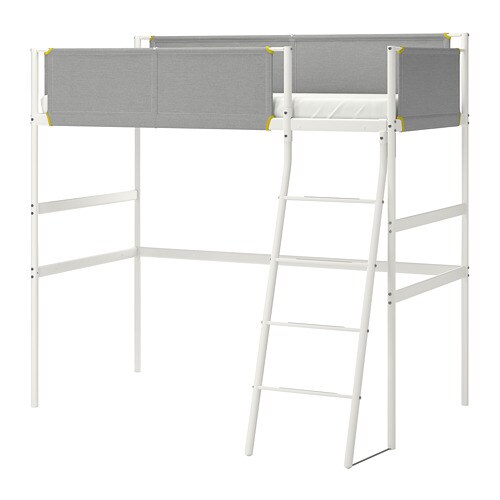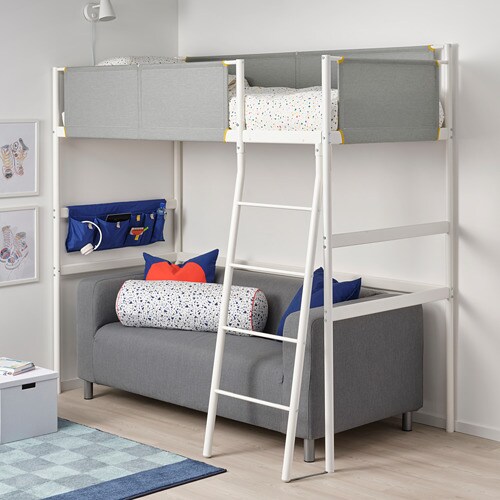 Behind the design

More relaxing, less materials
The idea with VITVAL loft bed and bunk bed was to make comfortable and cosy beds for all children who like hanging out with their phones, tablets and friends. But we also wanted to save on nature's resources and limit the amount of metal in the beds. So how do you achieve two so different goals at the same time? Our solution was to make the bed edges out of a strong polyester fabric that gave the bed a nice and cosy feel ― and we thereby reduced the metal by 30% in each bed.
More
More relaxing, less materials
Where do your children spend most of their waking hours at home? Quite likely the answer is in their bed. Because when life for slightly older children today often revolves around phones, tablets and friends, a lot more space than that "hub" isn't really needed. With VITVAL loft bed and bunk bed, we wanted to make comfortable and cosy beds for all children who prefer hanging out there. But the goal was also to considerably reduce the amount of materials to save on nature's resources.
Metal is a durable and stable material and really suited VITVAL bed frames. The question was just how much we could reduce the amount of the metal used without decreasing stability and safety. Product developer Anna Carme and her colleagues performed detailed calculations and safety tests. "We came a long way", says Anna. "But it was not enough ― we thought the bed frames were still too heavy."
30% less metal
Experimenting with materials led to the team replacing the bed's edges with fabric. This meant that they managed to reduce the amount of metal by almost one third compared to similar beds. "We found a strong polyester material that also gives the bed a nice and cozy feel ― both when the children hang out there with friends and when it's time to sleep."
Easy to assemble
"The fabric is mounted on the frame", explains Anna. "And to ensure that the assembly is simple for all parents, we invited a number of people to test it out." The tests then led to the team dividing the fabric into sections and making the yellow edge bands more flexible so that they are easier to pull on. "I love playing detective, to look for and investigate what we have for different alternatives", says Anna. "Nothing beats the feeling when you finally find a good solution."
More Children's loft beds
By making the guard rails out of textiles, we use less of the earth's resources since the amount of metal decreases by 30% per bed(!) compared to similar beds – good for our environment. Easy to assemble since the fabric is divided into sections and the edge bands are elastic. If you want to make the bed even more comfortable and personal, you can complete with MÖJLIGHET pillow and bed pocket – they are dimensioned for the VITVAL series. The construction is light but steady, and has soft shapes. You can use the space under the bed for working or studying by completing with VITVAL desk top, or create a cosy spot for seating. The ladder mounts on the right or the left side of the bed.
https://www.ikea.cn/cn/en/images/products/vitval-loft-bed-frame-white__0688136_PE722331_S4.JPG
VITVAL Loft bed frame, white, light grey
https://www.ikea.cn/cn/en/catalog/products/50339367/
503.393.67
IKEA
¥ 1,299.00