Product Recycling Fund
The price of this item includes a contribution to a Product recycling fund to ensure that waste electrical and electronic equipment is collected and recycled in a responsible manner.
More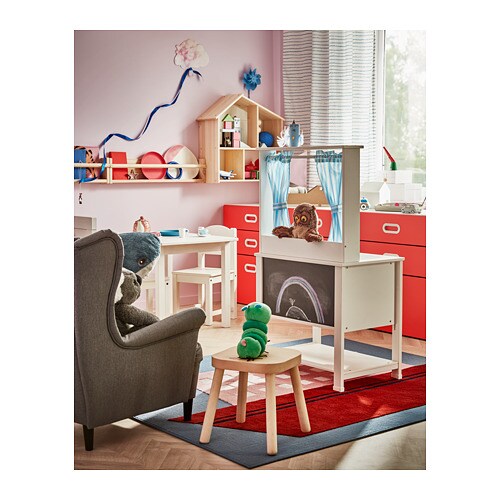 A small kitchen for endless play
Children have always loved copying adults near them. You probably did it too when you were little, and now maybe it's your children who are transforming the living room into a café or shop. The idea with SPISIG toy kitchen was to encourage this role playing, and we asked designer Maria Gustavsson to see how we could create a small toy kitchen that maximises play.
Copying adults and role playing everyday situations is important for children throughout the world. Especially during the years aged three to seven, role playing is an enjoyable way for the small child to process impressions, understand the world around them and practice being a social being
Play from two sides
Designer Maria Gustavsson has two children aged six and ten, and had their most intense phases of role playing fresh in her memory when she was asked to develop SPISIG toy kitchen. "Besides cooking make-believe food, my children liked to pretend running a shop and restaurant. It gave me the idea of using the back of the toy kitchen and adding a board to write menus on."
A kitchen that can live a long time
A shop, café, restaurant or puppet theatre ... by making SPISIG multifunctional, Maria wanted to inspire different games where both children and adults can easily interact with each other. Many families have limited space and it's an advantage if the same toy can be used in different ways – and by several children at the same time. "It feels good contributing to children's play", Maria says. "And hopefully your child's SPISIG will eventually be passed on to siblings or friends for even more play."
More Role play
We call it a play kitchen, but what it actually is – that's up to little imaginations. Maybe it will be a restaurant, café, shop or puppet theatre. Or something completely different. Play from two directions – on one side a complete kitchen and on the other a blackboard to write the dish of the day or this evening's puppet show. And in between there's a window with curtains, or why not a theatre drape. The stove's knob clicks when the hobs are turned on and off, just like on a real stove. The curtains can be drawn together when it's time to close for the day. Made of durable and sturdy material that lasts for more than one generation of food creators, shop owners and theatre directors. Role playing is a fun-filled way for children to process impressions and imitate adults in order to understand their surroundings.
https://www.ikea.cn/cn/en/images/products/spisig-play-kitchen-with-curtains__0687812_PE722137_S4.JPG
SPISIG Play kitchen with curtains
https://www.ikea.cn/cn/en/catalog/products/40427816/
404.278.16
IKEA
¥ 399.00