Product Recycling Fund
The price of this item includes a contribution to a Product recycling fund to ensure that waste electrical and electronic equipment is collected and recycled in a responsible manner.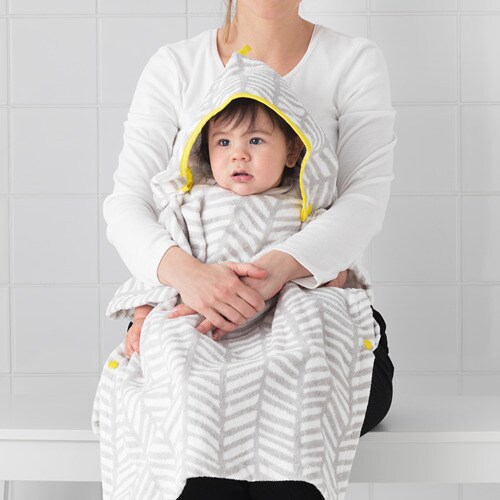 Smart functions

Warm and comfortable after a bath
After a bath or shower, your child quickly gets cold from the water on their head and body, which can feel uncomfortable, especially for a toddler. That's why this towel with a hood is comfortable to get into. The practical hood helps keep heat in while keeping the towel in place when the child moves or runs around. And since the child can be completely wrapped in it, you can get them dry and changed into clothes quickly ‒ at home or at the beach.
More KLÄMMIG collection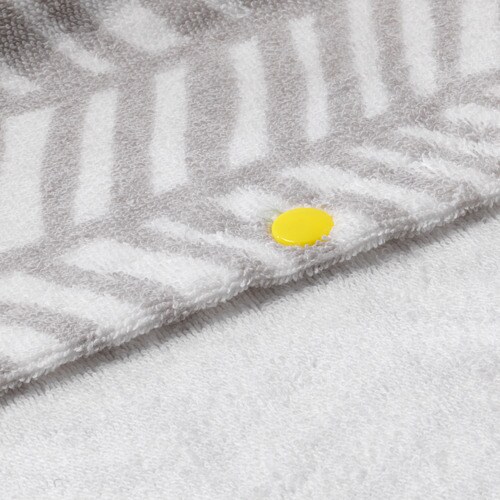 Smooth and safe for the littlest ones
New parents throughout the world share the same focus: the desire to give their child a really good and safe start in life. This was the starting point when we developed KLÄMMIG, a collection with the most important fabrics for those first months. Fabrics which are not only functional, but also safe for your baby and sustainable in the long term for the environment.
Smooth velvet, smart jersey and soft terry towel. The KLÄMMIG collection includes bath towels, linens, sleeping bags and other products for the littlest ones. Everything in the material feels warm and comfortable against a baby's skin. Irene Odd has been involved in developing KLÄMMIG based on the needs that she and her colleagues have seen by visiting families with children throughout the world. "As a product developer, I've made many home visits, and even if traditions and surroundings seem different, new parents themselves are quite similar throughout the world. They all want to give their child the very best that the family can offer", says Irene.
Materials from more sustainable sources
For those of us who work at Children's IKEA, with many of us being parents ourselves, it's obvious that the fabrics in our products should have good quality and be safe for both the child and the environment. Since 2016, all cotton in our range comes from more sustainable sources. This means that the cotton is either recycled or has been grown with less water consumption, chemical fertilisers and pesticides than conventional cotton, while farmers receive higher profit margins. For LENAST, the collection's quilt, we've chosen to use a large amount of lyocell, an environmentally friendly material made of natural fibre. "Lyocell has good absorbency and feels comfortable since it breathes", says Irene. It's made of fibres from the eucalyptus tree, which requires less water than conventional cotton for both its cultivation and production processes."
Reliability and functionally
Just like the rest of the range at Children's IKEA, all items in the collection have undergone rigorous safety tests all the way through the development process. "We have far more stringent requirements than the authorities in many of the countries where we sell our products," says Irene. KLÄMMIG includes a dozen or so products to choose from so that you can find what suits you and your baby best. Maybe you prefer the sleeping bag, which is practical when travelling since it creates a familiar environment for the baby, or the soft blanket is also a great choice to have at home or when travelling. "At Children's IKEA we actually have a fairly small range compared to other departments, but we strive to ensure that everything we develop serves a special purpose - special just for children", says Irene. It's not just about having something that looks good, it should be reliable, playful and functional."
More Baby towels & washcloths
A terry cloth with a hood for babies and toddlers. Made of 100% sustainably grown cotton ‒ a soft and natural material that feels good against your child's skin. Tested, approved and completely free from harmful substances and additives. Warm and comfortable to get into after a bath, at home or at the beach since the child can be completely wrapped in the towel which is also highly absorbent so that your child gets dry quickly. The practical hood helps keep heat in after a nice bath while keeping the towel in place when the child moves or runs around. The loop makes it easy to hang on a knob or hook.
https://www.ikea.cn/cn/en/images/products/klammig-towel-with-hood-grey__0535544_PE649461_S4.JPG
KLÄMMIG Towel with hood, grey, yellow
https://www.ikea.cn/cn/en/catalog/products/40373187/
403.731.87
IKEA
¥ 69.00