Product Recycling Fund
The price of this item includes a contribution to a Product recycling fund to ensure that waste electrical and electronic equipment is collected and recycled in a responsible manner.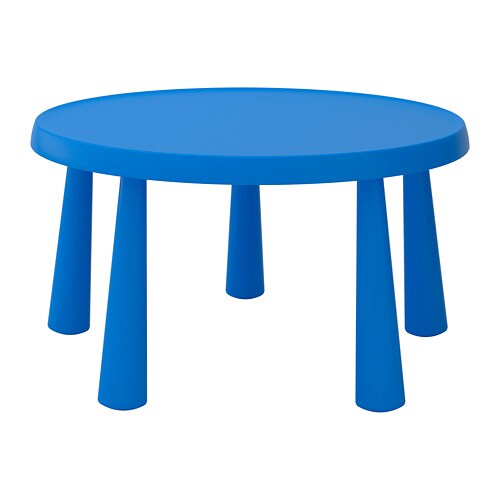 More MAMMUT series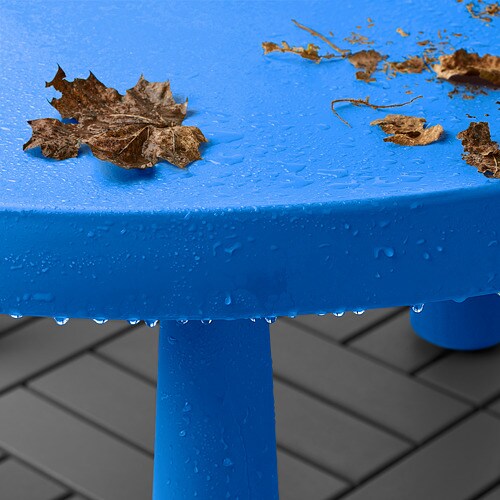 The children's furniture we constantly want to improve
The colourful MAMMUT stools, chairs and tables have been around since the early 2000s. Through the years, we've improved the products by reducing the material used and by making them always stay ahead of the world strictest safety demands. When we realized that many children like to take the furniture outdoors, it was time for yet another improvement – to reinforce the plastic with UV protection.
Sarah Pattison is an engineer at Children's IKEA who has worked with improving the MAMMUT series. For example, today the tables contain less plastic than when they were introduced. "Thanks to new technology, we could scale away some plastic inside the table top without compromising on its stability. This change hasn't affected its look, but it means we use less material."
High demands on safe plastic
All MAMMUT parts are made of polypropylene, a plastic particularly suitable for children's products. "When children play, their skin often comes in contact with things and that's why the plastic we use always meets the world's highest set chemical requirements by a good margin," says Sarah. But plastic is slowly broken down by the sun's UV rays, which can affect both colour and quality when using the furniture outdoors. "When we understood that children like to carry the furniture outdoors, we reinforced the plastic with UV protection, which of course also complies with our chemical requirements."
Safety tests every year
The furniture also goes through annual safety tests. New knowledge about materials and safety constantly surfaces and needs to be adapted to. So why has MAMMUT survived for so long? "I think it's the cheerful colours and the appeal of shapes that feel like they came out of a comic book", says Sarah. "My daughters have used them for countless teatimes and building play forts over the years."
More Children's tables
Perfect for small children to sit at and play, draw, do crafts or set the table for a cosy picnic in the garden. The furniture is light but steady, and your child can carry them from room to room or out into the garden. Made from harmless plastic, the same material used in in baby bottles, disposable nappies and food boxes. Also perfect for outdoor use since it is made to withstand rain, sun, snow and dirt. Easy to assemble – you just click the components together.
https://www.ikea.cn/cn/en/images/products/mammut-children-s-table-blue__0735844_PE740211_S4.JPG
MAMMUT Children's table, in/outdoor blue
https://www.ikea.cn/cn/en/catalog/products/40365187/
403.651.87
IKEA
¥ 349.00