Product Recycling Fund
The price of this item includes a contribution to a Product recycling fund to ensure that waste electrical and electronic equipment is collected and recycled in a responsible manner.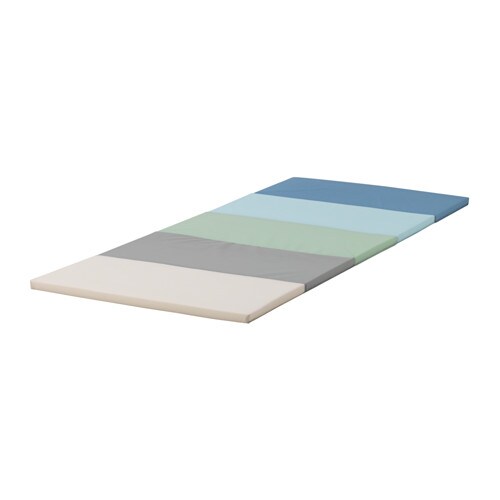 More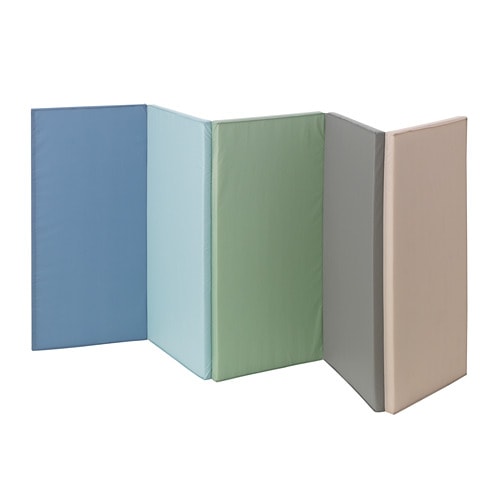 Physical play builds better brains
Children don't just love spinning, tumbling, swinging and jumping. They actually need it. Physical play is essential to their development, and that's why we're serious about play. We do research with experts, parents and children around the world, to help us design products that encourage more indoor physical play. One resulting product, the PLUFSIG folding gym mat, provides happy landings at home to do just that.
Besides building strong bodies and self-confidence, physical play helps children develop the skills they need to navigate their everyday lives. "During their first seven years of life especially, children need to move a lot to stimulate their sense of balance and spatial orientation, deep in the centre of their brain," says Children school manager at IKEA, Jessica Bondesson. "This develops the fine and gross motor skills they need to coordinate their movements."
World's largest play study
In addition to input from experts on the importance of physical play, we interviewed nearly 30,000 parents and children in 25 countries about play. This represents the largest global study of play ever made. Our resulting Play Report gives insights into how design can help children and their parents play more at home. "We learned that more families are living in cities, in smaller spaces and with limited access to places to play outdoors," says Amanda Lundqvist, who works with PLUFSIG. "We also found that since digital play is on the rise, many parents wonder if their children are moving enough." While 71% of parents saw home as an important place for play, 47% of children actually said they didn't like playing inside their homes. However, both children and parents said they want it to be more fun to play at home together. And we believe that play at home is every child's right.
Designed to promote active play at home
Designed in collaboration with Swedish contemporary circus company Cirkus Cirkör, PLUFSIG is part of a play collection that aims to inspire children to play more actively at home. PLUFSIG is light and easy to move around for use in any room, enabling physical play no matter the access to space and to the outdoors. "PLUFSIG is great for practicing circus skills like balance, tumbling and gymnastics but it can also be whatever you want it to be," says Amanda. "We see children building forts and combining mats to create big, soft play surfaces." Parents also appreciate that PLUFSIG does double duty as sound insulation so active play doesn't disturb neighbours. "We wanted to create a fun and safe environment for physical play at home," Amanda adds. "And for the children that aren't able to play outside, for whatever reason, products like PLUFSIG that encourage movement indoors are important."
What triggers play is universal
Play is triggered by our brains' and our bodies' developmental needs – and since we all develop the same way wherever we are in the world and despite differences in culture, space and economic status – play is also universal. "We created PLUFSIG so that it can be used in exactly the same way wherever you are in the world and whatever space you have," says Amanda, "because active play every day builds better brains and a better, more fun, everyday life at home."
More Physical play
Jumping and somersaulting helps to develop a child's motor skills and coordination. Folds flat; space-saving when not in use. We know that children's skin is extra sensitive, but not to worry. This product has been tested, approved and is completely free from substances that may harm your child's skin or health. Wipe-clean quality.
https://www.ikea.cn/cn/en/images/products/plufsig-folding-gym-mat-blue__0524770_PE644542_S4.JPG
PLUFSIG Folding gym mat, blue
https://www.ikea.cn/cn/en/catalog/products/00377899/
003.778.99
IKEA
¥ 149.00