Product Recycling Fund
The price of this item includes a contribution to a Product recycling fund to ensure that waste electrical and electronic equipment is collected and recycled in a responsible manner.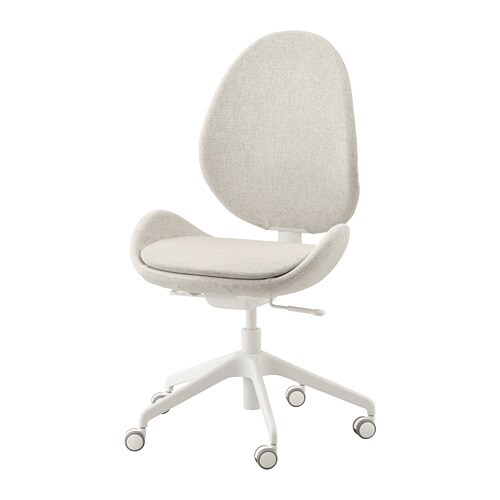 Designer thoughts
Designer: Monika Mulder
The idea with HATTEFJÄLL was to make a warm and soft chair that can be used both at home and at the office. I began with the shape and colour – and then added the technical and ergonomic solutions. The small wings on the seat make the chair welcoming and embracing – and the backrest's subtle middle gives the chair character and increases comfort. I want people to look twice when they see HATTEFJÄLL, and imagine how homely it can make a workplace.
More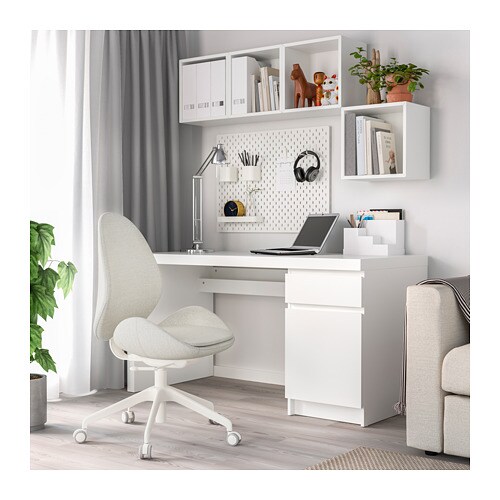 Looking twice at a simple office chair
HATTEFJÄLL swivel chair is deliberately different. We made it that way thanks to our team's ergonomic expertise and the fresh ideas of an experienced designer with a new challenge.
Name your closest work colleague. We think it's your office chair— silently supporting you. Developing one is complex because of how much it must adjust. So with HATTEFJÄLL swivel chair, we made a simple decision to design an ergonomic office chair that looks and feels like all the rest, right? We worked differently instead. "I didn't want the chair to look like anything else that existed," explains Ola Kristensson, a product developer who led the team. Why? More people work from home. And more people live in small spaces, so a home office can be in a kitchen or living room. More workplaces also want to feel homey. These changes called for a change of thinking and working. So Ola called in experienced designer Monika Mulder. This would be her first office chair. Ola knew it would be ergonomic thanks to the team's expertise—and look different thanks to her fresh eyes and new ideas.
Shaping the chair
Monika set out to design a new ergonomic office chair. Simple, right? Ola knew working this way could be a challenge, but he was sure the result would be right. When she presented her first sketches, nothing worked as-is. She had followed Ola's brief with images and keywords like 'modernistic, inviting and human.' But she hadn't separated the back and seat, so the chair wasn't very adjustable. Luckily, one sketch was a starting point, and they proceeded. She made a clay scale model to get a better feel for shape and paid close attention to the back—an office chair's most-seen part. "We wanted people to look twice at the chair, to turn around," Monika says. "HATTEFJÄLL has a very subtle waist. It indicates lower back support and brings in ergonomic and emotional comfort."
Ensuring the ergonomics
Ola and Monika visited the prototype maker to refine the chair's form. The rest of the process was simple, right? Maybe it would've been if HATTEFJÄLL only had to look different and welcoming. But it also needed to be ergonomic. So the team worked to secure adjustable functions like seat height, seat depth and lumbar support to properly fit and comfort a wide range of body sizes and personal preferences. "We'd test, change, sit, change, sit, discuss, measure, add, take away, get excited, get annoyed," Monika says. "As soon as we changed something for ergonomics, I adapted the shape." International industrial standards had to be met, too. So among other tests, the chair was swiveled hundreds of times, tilted, pushed, rolled, burned and even had weights dropped on it.
Passing the test
After HATTEFJÄLL went into production, the tests were over, right? Almost! The chair should pass a final test to see if the team achieved one of their goals. Would people look twice? It passed the test by its own designer! One day, Monika was at the IKEA office for another project. "I was going home when a chair caught my eye," she says. "I was like 'That's a nice chair. Oh! It's my chair!'" We hope it catches your eye and supports you whether you're at home or at the office. And we hope you've seen we don't always take the simple way, but it works.
More Desk chairs for home
10 year guarantee. Read about the terms in the guarantee brochure. You can lean back with perfect balance, as the tilt tension mechanism automatically adjusts the resistance to suit your weight and movements. The safety castors have a pressure-sensitive brake mechanism that keeps the chair in place when you stand up, and releases automatically when you sit down. Seat and backrest are adjustable in height and give you maximum support regardless of your body height. Your back gets the support it needs because the seat depth can be adjusted and the chair has built-in lumbar support. High-quality density foam will keep the chair comfortable for many years to come. Armrests are available as an extra option to relieve strain on your arms and shoulders.
https://www.ikea.cn/cn/en/images/products/hattefjall-office-chair-beige__0724691_PE734572_S4.JPG
HATTEFJÄLL Office chair, Gunnared beige
https://www.ikea.cn/cn/en/catalog/products/00320228/
003.202.28
IKEA
¥ 1,499.00