Product Recycling Fund
The price of this item includes a contribution to a Product recycling fund to ensure that waste electrical and electronic equipment is collected and recycled in a responsible manner.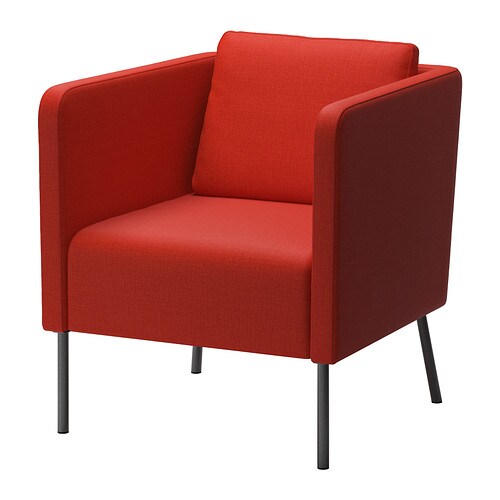 More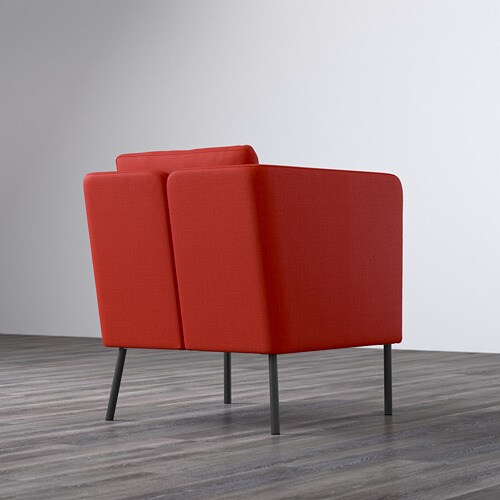 Backward design à la IKEA
The EKERÖ armchair comes across as neat and elegant. Yet, it's robust and strong. When designing it, we did what we always do. We started with the price and packaging and worked our way towards the final result. It's perhaps not easiest way of doing things, but it's the way we like it. It gives us products that probably would cost a whole lot more somewhere else.
Many armchairs come as they are and don't need to be assembled. But, we know that if we manage to make furniture that take up as little space as possible during transportation, we save both money and the environment. It means fewer lorries on the roads, and in turn a lower price.
Developing ideas on the factory floor
For designer Eva Lilja Lövenhielm, thinking of the packaging was a fun challenge. She and the entire product team travelled to the factory in Romania to begin their design journey. By working together with the supplier, they found new ways to use materials more intelligently. They noticed that less polyurethane foam was needed for the seat when using supporting fabric instead. That's good for the price, and the environment. And it gives an equally good seating comfort. The team also decided that the chair would have two side pieces that meet in the back. This allows EKERÖ to be packed in a smart way.
Fits most wallets and homes
Naturally, a lot of thought was put into colour, form and function as well. "EKERÖ is intended to be a strong, solitary piece of furniture. A neat armchair that fits just about anywhere. Even though it is a bit square, it can soften the style in your home. When you see all the colours together, it feels like walking into a sweet shop," says Eva. At the end of the day, it's perhaps not important how an armchair is designed, just as long as it suits many people's styles – without putting too much strain on their finances. EKERÖ is made just for that!
More Fabric armchairs
The reversible back cushion gives soft support for your back and two different sides to wear. The back cushion can be moved around to fit your sitting style. This cover is made from durable SKIFTEBO polyester fabric. It has a nice lustre and a two-tone effect with a light texture that feels firm to the touch. 10 year guarantee. Read about the terms in the guarantee brochure.
https://www.ikea.cn/cn/en/images/products/ekero-armchair-orange__0204751_PE359789_S4.JPG
EKERÖ Armchair, Skiftebo orange
https://www.ikea.cn/cn/en/catalog/products/00262884/
002.628.84
IKEA
¥ 999.00