Product Recycling Fund
The price of this item includes a contribution to a Product recycling fund to ensure that waste electrical and electronic equipment is collected and recycled in a responsible manner.
Together our own way
We all need time to ourselves. But that doesn't mean we want to be apart from someone we love. VALLENTUNA is a modular sofa series allowing you to create personal zones while staying only an arm's reach away. The series includes sofa bed modules, footstools and hidden storage for extra cushions. All wrapped in soft covers where all of the cotton used comes from more sustainable sources.
Learn about more sustainable cotton
Removable and washable cover
Choice of cover
Storage in selected modules
Built with pocket springs
Sofa bed
Learn more about our guarantees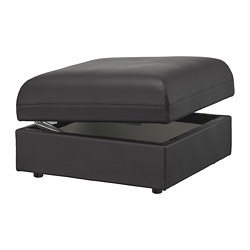 From private to social
VALLENTUNA sofa series consists of free-standing modules that can be combined into any shape, colour or size you want. Variate your seat depth, seat direction, height of back and ways of sleeping. Gather on the sofa but do your own thing - you don't even need to face the same direction or sit in the same way.
Complete personalisation
The ability to create so many combinations and choose colour where you want it makes VALLENTUNA our most customisable sofa series ever. Personalise one yourself with our planner.
Personalise with our VALLENTUNA planner
Nicely hidden
With the free-standing modules you can easily add smart functions like practical storage modules for bedding, computers, toys and all sorts of things at hand and choose covers to suit your style. The possibilities of creating a unique and personal sofa are endless.
"With VALLENTUNA sofa series, we wanted to create a fully flexible furniture series that adapts to all kinds of living situations, homes and needs. More people than ever before are living in cities, often in smaller spaces, while modern technology has changed the way we use our homes. Our idea was to make a sofa out of modules, so that you create your own personal solution for all seating, sleeping and storage needs. A creative and understanding sofa, full of democratic design!"
Designers Lisa Hilland, Eva Lilja Löwenhielm and Andreas Fredriksson
ALL DEPARTMENTS: